Manuel Antonio Area Offers Outdoor Adventures Galore
SOME who visit Manuel Antonio never get farther than its beach. With the warm sand exerting its unusually strong gravitational pull, it's all the hapless tourist can do to throw a towel down before he or she is rendered horizontal under the tropical sun, as the waves beat rhythmically against the shore only meters away.Others, however, need a bit more. Whether adventure and adrenaline is your bag or you are just looking for a pleasant afternoon hiking, kayaking or canopying, Manuel Antonio has much to offer.AMONG the area's many different tour operators is Ríos Tropicales H2O Adventures (www.aventurash2o.com). This outfit, which is a franchise of the larger Ríos Tropicales, offers kayaking and white-water rafting as well as guided nature walks."One very important point is we have a good name behind us," said Leonardo Vásquez, one of the owners of the enterprise. "People in Manuel Antonio and the area, they already know us. We've been doing this for three years here, and they know we do it well."If whitewater rafting floats your boat, Ríos Tropicales (www.riostropicales.com) has a variety of trips accommodating from two to 150 people. The company offers half-day, full-day and two-day trips, as well as weeklong rafting adventures.Half-day trips cost $70 per person, and go along the nearby Naranjo River. For a full day of rafting, the price is $90 per person, including breakfast and lunch, with a minimum of four people. Two-day trips cost $280 per person and include breakfast, lunch and dinner the first day, a night at Rafiki Safari Lodge (www.rafikisafari. com), 30 kilometers south of Quepos on the Savegre River, as well as breakfast and lunch the next day. The full-day and two day trips are done on the Savegre. For those interested in doing multi-day trips, the price ranges depending on where enthusiasts would like to go and what they would like to do, but Vásquez said prices do not run more than $150 a day.Sea kayaking tours leave at 8 a.m., run three to four hours and cost $65.All prices include transportation from hotels in Quepos. For more information on these and other tours, call 777-4092.IGUANA Tours (www.iguanatours. com) specializes in "ecological tours" and works with different charity organizations. In addition to white-water rafting trips on the Naranjo and Savegre rivers, the company offers kayak trips in the ocean and among mangroves – including night trips to the mangroves.Nighttime kayak trips are illuminated with special non-intrusive lights that owner Jorge Cruz says do not affect the mangrove ecosystem or its inhabitants. Kayak trips, either during daylight or under the cover of night, are $65. The day trip includes snacks, fruit and juice and a "delicious lunch," Cruz said. If kayaking isn't your thing, you can also visit the mangroves by boat, which is "non-polluting. It doesn't use oil, only gasoline, but the gasoline isn't mixed, which is better for the environment," Cruz explained. All mangrove tours are led by experienced, professional guides, he added.Out of the water, Iguana Tours offers guided tours of Manuel Antonio National Park for $44, including transportation, park entrance and a snack. Or, visitors can ride horses to waterfalls in the Londres Mountains, north of Quepos, for $60 including a snack at the waterfall and lunch upon return.Cruz told The Tico Times that Iguana Tours, which has been in Quepos for 16 years, takes an interest in the community. The company regularly cleans up trash on the beach and works with an organization to protect the endangered spider monkey, as well as the Roberta Felix Foundation, which works with disabled people in rural areas. In addition, Iguana Tours sponsors educational programs on protecting the mangroves for children and residents of nearby communities. For more information, call 777-1262.IF your idea of fun is seeing the beauty of the Manuel Antonio area from atop an all-terrain vehicle (ATV), Adrenaline Tours (www.adrenalinetours.com) has you covered. With helmets and goggles provided, once you've passed their safety-orientation training course, you will ride 2005 ATVs though "some of the most ecologically unspoiled rich land in Costa Rica," according to the company's Web site.Prices run $90 per four-by-four, with an extra $20 if two people ride the same ATV, to cover food and transportation. For more information, call 777-0117.Lynch Travel (www.lynchtravel. com), a veritable clearinghouse of tours in the Manuel Antonio area, offers everything from charter flights, white-water rafting, sea kayaking, sportfishing and dolphin tours to snorkeling off nearby Damas Island, scuba diving, horseback riding, rain-forest walks, river walks, canopy tours, sunset sails and other adventures.According to Orlando Albisetti, a Swiss native who says he fell in love with Costa Rica when he came here in 1994, the company's most popular outings are the dolphin watch, canopy tours and whitewater rafting.On the dolphin watch – $65 including lunch, drinks and snacks – tourists are taken out on the ocean on a speedy boat in search of dolphins or whales."They always see dolphins or whales," Albisetti said. "If there are no dolphins, it's because the whales are there."The canopy safari takes tourists along a course of ropes connecting elevated platforms in the forest near Manuel Antonio National Park. The $65 price tag includes a meal (breakfast for the morning excursion, lunch in the afternoon), snacks and transportation. For more information, call 777-1170 or 777-0161.
You may be interested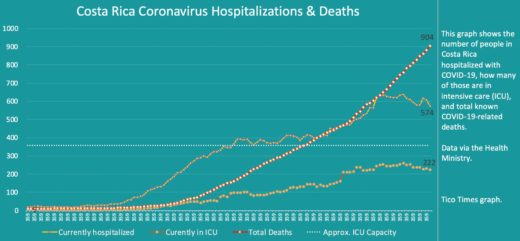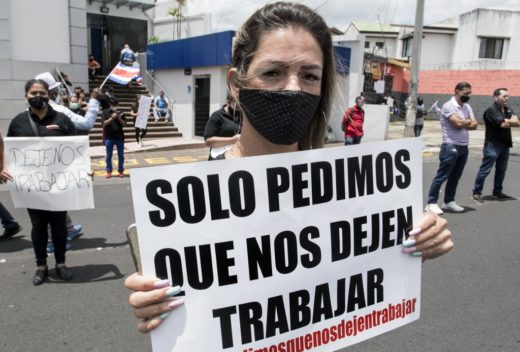 Business
3341 views
Some 34 million jobs lost in Latin America due to pandemic
Carlos MANDUJANO / AFP
-
September 30, 2020
The two aspirers for the presidency of Costa Rica, the evangelical preacher Fabricio Alvarado and the former minister Carlos Alvarado, reach the closing of the electoral campaign for April 1st with a technical draw, according to a poll disclosed this Friday.