It was in December 2015 that I received a call from Environment Ministry (MINAE) in Tortuguero. They were on their way with a mother and baby sloth who were critically injured. The mother had fallen out of a tree in a severe storm onto a concrete slab near the MINAE offices. Mother and baby were rushed to the Toucan Rescue Ranch — first by boat through canals and then by a bumpy car ride. To make matters worse, there was horrible rain and wind, and they were not only injured but also wet and hypothermic.
The wildlife officers drove up Toucan Rescue Ranch's driveway and, as always, I was nervous to see what the animals' conditions were after such a long journey. Upon arrival, the mother was unresponsive — we could see head wounds and it wasn't looking good. Her baby was a blonde ball of fur, weighing around 400 grams with an eye that looked like it was inside-out. I immediately alerted our veterinarian director, Janet Sandi, that the emergency had arrived, and she rushed to do an examination.
After a thorough check-up, we decided the mother needed intensive care and x-rays. Janet took the mother to her clinic to do treatments and evaluate further. Because of the mother's condition, we had to separate her and the baby. It was truly heartbreaking, because the mom knew, even in her horribly injured state, that we were separating them. I whispered to her we would return the baby very soon, but we needed to take care of her little one too.
It was very sad. I kept the baby, whom we named Chispa — a spark of life — and her mother went into the clinic for further treatment and recovery. The mom had a fractured skull and had started to convulse. After a few days, the mother returned to Toucan Rescue Ranch, and we were looking forward to the mother-daughter reunion. We placed little Chispa on her mother and she barely responded, and with more seizures happening more frequently, we could not risk Chispa's life with her wounded mom. After many days of fighting, the mother succumbed to her injuries and passed away. Meanwhile, Chispa had lost her eyesight and was not doing very well.
Sitting with orphaned Chispa in my arms and devastated we had lost her mom, I turned and looked at the other sloths in our care… and then it clicked. I had the idea of using one of them as a foster mother! Latte, who was also very blonde, had lost her mother and was now a thriving one-year-old. I started to cry and said, "Latte looks a little like your mom, Chispa. Latte, Chispa lost her mom too, so maybe you can look after her?" I gently placed Chispa on Latte's belly and she just looked at me, then at her, and wrapped her arms around Chispa and soon after, fell asleep. I was lucky Latte had accepted Chispa, and Chispa was happy to have a mother figure again.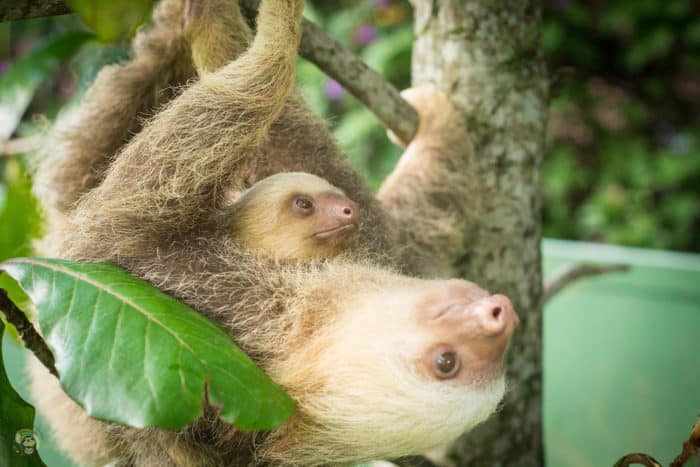 Since this newfound relationship, Latte would climb trees with Chispa on her just like a real mom. She even taught her how to eat leaves, just like she would've learned in the wild! Their bond was a great success. Since helping raise Chispa, Latte went on to help TRR raise many other orphaned sloths. Today, Latte is at our Release Site in Sarapiquí as a full-grown adult living back in the trees and thriving as a wild sloth.
What Latte and Chispa taught Toucan Rescue Ranch was paramount. By using older sloths in the program as surrogate moms or raising sloths with others of the same weight and age, they become much less dependent on humans and as a result, a much better release candidate for the future.
Chispa grew up and was released in June 2019. Although both adults now, Latte and Chispa still have that special friendship and are often seen near each other in the wild. As a part of the Saving Sloths Together Program, we do routine health checks on the sloths that have been released. When it was Chispa's turn about a month ago, we were very surprised by something she had been hiding from us.
The team was in our Release Site clinic when volunteers were doing their routine health examination. Our Release Site Veterinarian Manager, Yolanda, was with the whole team when Chispa climbed down to the ground. It seemed as though she had to go to the bathroom … but with a pleasantly shocking surprise, out popped a premature baby! The team could not believe what they were seeing and quickly called headquarters to report: Chispa had had a baby!
Chispa sprung into action, instinctively caring for her newborn, just as a wild sloth would. However, it was discovered that the baby was premature and under the normal weight for newborns. To make sure Chispa adjusted, we monitored the new family in the clinic for a few days. The baby started out strong, but then the team noticed it wasn't nursing as routinely as it should, and as a result, became weak and dehydrated. Due to this, we intervened with intermittent feedings for one week, and we are so happy to report that the baby has gained weight! With her added strength, she is feeding well and she and Chispa are both doing great! Now, there is no need for additional feedings.
We decided to name the baby Chispita! She now maneuvers all over Chispa while she climbs. Although she is just over three weeks old, she is trying different foods that Chispa is eating. It has been an honor to be a part of Chispa's rescue, rehabilitation, and release. And because of everyone's devotion to Chispa, she has grown a new life and her legacy continues with her offspring, Chispita. Because of stories like Chispa and Chispita, Toucan Rescue Ranch has come full circle, full of love and life and a gentle reminder of why we continue to fight for wildlife each and every day.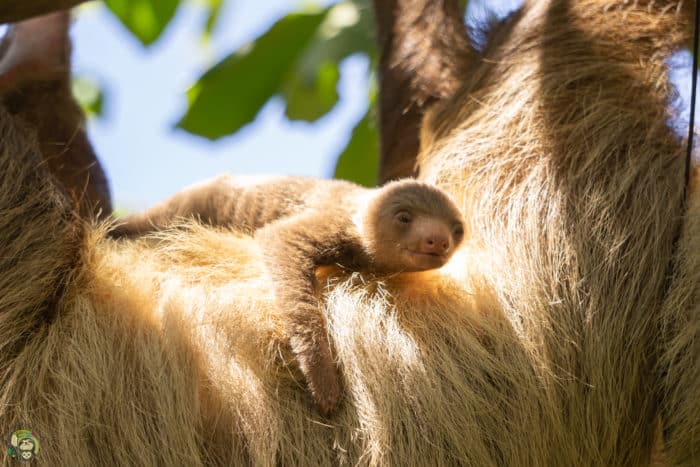 — Leslie Howle is the Founder of Toucan Rescue Ranch 

This article was produced by The Toucan Rescue Ranch. The Toucan Rescue Ranch specializes in helping wild animals recover so that they can be reintroduced into the wild. For more information or to donate, visit the Toucan Rescue Ranch website.