Spread throughout San José streets, avenues and pedestrian paths, hundreds of yellow-wheeled and white-framed bicycles have invaded Costa Rica's Greater Metropolitan Area.
With 700 bikes available for rent on-demand via an app and with plans to deliver 250 more in early 2020, Costa Rican fintech company OMNi says it's struggling to keep up with a growing challenge of ensuring enough bikes are available for its users.
"For us, it has been a successful experience, and we are very happy with the response," Nayid Aguilar, the Managing Director of OMNi Costa Rica, told The Tico Times. "OMNi is providing a service that is completely new to Costa Rica, which was designed in response to the changing mobility demands as commuting times keep increasing."
But OMNi's purpose, Aguilar claimed, isn't just about trying to enhance Costa Rica's public-transportation infrastructure with electric, pedal-assisted bicycles.
The company has lofty goals and ultimately hopes to digitize the Costa Rican economy through the its platform. But for now, OMNi's success quite literally rides on its first and flagship product, the OMNiBicis.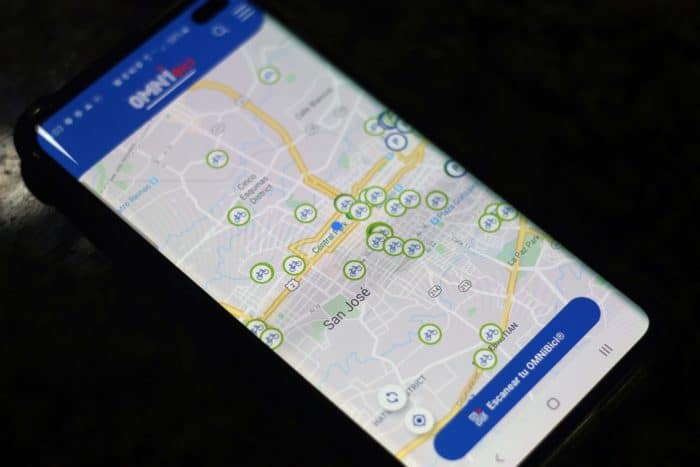 From app to transit: How the OMNiBicis are changing the way Costa Ricans travel
Parked outside coffee shops, in front of local businesses and left alongside its lesser-tech siblings in public bike racks, the OMNiBicis are present throughout the Central Valley.
Renting, using and returning an OMNiBici all starts and ends on a smartphone.
To begin, users download the OMNi app, which is available for both iOS and Android devices, and make an account on the platform.
Users have two choices of payment models: pay-as-you-go, where rentals start at 339 colones (about 60 cents) and increase in price based on time and distance traveled; or a subscription model which offers unlimited rides of any distance over a set period of time.
The app allows users to locate nearby bikes via an interactive map. Since every OMNiBici is equipped with a GPS monitoring system and SIM card, users can find the nearest bike and know exactly how much battery life it has remaining.
To unlock the bike, the app scans one of the QR codes found either in the basket or on the frame. After that, users are ready to begin their journey.
The experience is just like riding a conventional bicycle except for the boost from the electric motor that activates while pedaling. This becomes especially convenient on hills.
Biking is certainly a faster way to get around the city, and San José has dedicated bike lanes on some streets.
To improve safety, the bikes also include a bell, front- and rear-facing lights, and reflective pieces to increase visibility to others on the road. But OMNi doesn't provide helmets, though the company strongly recommends them.
Following a trip, riders can leave the bike in a non-obtrusive area (and preferably where other bikes are located). They then open the app one final time, scan the QR code and ensure the bike locks by listening for the ticking noises.
And that's it. Well, that is so long as a user can locate a bike close to him — a problem OMNi has said is a result of high demand and an initially limited supply of bikes.
"Our biggest issue has also been our biggest accomplishment: Our users are so excited with our service that we need more bikes faster than we can get them here," Aguilar said.
During the first six hours of the company's launch last October, Aguilar said there were more than 5,000 downloads of the app. Since then, the number has climbed to more than 70,000 users, and the company has reported that there have been more than 33,000 completed trips.
However, it hasn't been a completely smooth ride for the company. OMNi said around 2% of its bikes have been damaged. In response, a dedicated repair team goes out into the streets of San José every night to fix and relocate bikes.
Other challenges the company is facing involve educating customers, new and returning, about its business model and the different use cases public biking can offer, be it from daily commutes to weekly trips to the local market.
"Our biggest obstacles will be that the country is not ready to embrace technology as fast as it should be, and that happens in everything and institution that you try," Aguilar said. "If you're not in touch with technology and these types of things and you just think of technology as an app, the main thing for us is explaining what a 'super app' is."
But even for OMNi, the concept of its "super app" — many services under a single umbrella — will evolve. The company plans to launch additional ventures to coincide with its current bike-renting application.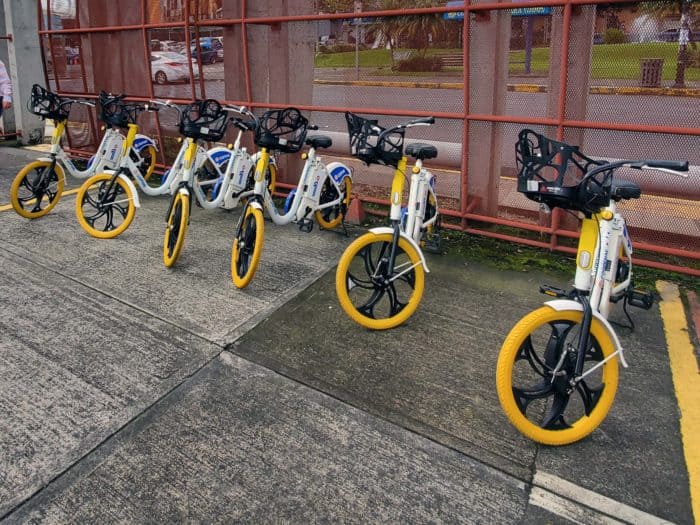 Beyond biking: OMNi's plan to digitize the Costa Rican economy
Renting and using OMNi's electric bikes is just the first phase of many that the company has planned as it rolls out additional services in the months ahead.
"We want to digitalize the economy, basically," Aguliar said. "That's the second phase of our application."
Aguilar said the company is in talks with public transportation companies to use the OMNi platform as a way to pay for bus and taxi fares throughout the Central Valley in what will be the first of many areas in which the company becomes more like a financial entity than a bike-renting one.
Other financial ventures include the launch of OMNi credit and debit cards. By March, the company hopes to expand into newer concepts like what Aguilar referred to as "dark kitchens," which provide cooking spaces and appliances for restaurants to exist solely in a carryout capacity and without seating space or waitstaff. OMNi aims to offer delivery options for its clients in this partnership, though the restaurants would still be able to pursue their own methods of delivery as well.
From there, the company hopes to expand its offerings internationally, but with an initial focus being more regionally oriented.
"This is not just a one-country application," Aguilar said. "We are doing the [entirety of] Central America and probably, afterward, we are going to other countries. We got a pipeline of about two years to do all of this in all of these countries. It's a lot."
While it has big plans to go abroad, the company insisted it will be keeping its roots in Costa Rica, which Aguilar touted as being one of OMNi's greatest strengths.
"We are doing everything local," Aguilar said. "For us, it's important to be here because we want the people to feel that we are an actual part of the economy and an actual part of the country. We are a company with a face, and you can talk to us, that's one of our biggest differences.
"You got a problem, just call us, you can write a WhatsApp, or you can write to us in the application and we will respond to you in less than five minutes, here in San José."
Aguilar said that the funds needed to reach this point has totaled more than $20 million which has come largely in part from a set of local, private investors who reside in Costa Rica and believe in OMNi's mission. A partnership with Grab, a ride-hailing, food delivery and payment company based in Singapore, has funded most of OMNi's technological efforts.
Ultimately, the success on the company depends on the Costa Rican people, Aguilar said, and whether they will adapt to make use of the many products and services OMNi hopes to offer.
For Aguilar, that's a bet worth taking.
"Ultimately that is our goal," said Aguilar. "To help Costa Rica become more efficient and, maybe, someday not so far away, we might see more bikes than cars."