Meet Oatmeal.
Oatmeal is a four-month-old, two-fingered sloth that was brought to Toucan Rescue Ranch as a young orphan. We receive many orphaned sloths here at TRR with similar stories: they fell from their mother, their mother was hit by a car, or they were abandoned. Oatmeal is similar to the other sloths in our release program, Saving Sloths Together, but a part of her past makes her very different from the others.
Oatmeal and her mother were both victims of electrocution. Near the TRR Release Site in Sarapiquí, Oatmeal was found clutching her dead mother after they fell from a wire overhanging the road. Her mother was killed instantly from electrocution, and Oatmeal was covered in fresh burn wounds.
She was rushed to TRR in critical care and was immediately given emergency treatment. Both of her arms, chest, nose, and trachea were completely burned. Her arms suffered third-degree burns. Oatmeal was hooked up to an IV to keep her hydrated while TRR veterinarians cleaned the wounds, wrapped her in special cooling bandages, and administered antibiotics and painkillers to help ease the pain and ward off infection.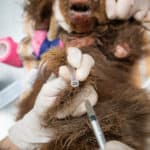 Due to the burns in her trachea, Oatmeal could not eat on her own. For her first couple of days in our care, she was hand-fed goat milk and green bean and carrot smoothies by our team of dedicated veterinarians. She was started on a special donated cell regenerative liquid special cream called which aids her body in regenerating the cells she needs to heal her wounds. Her bandages were — and still are — changed every single day to keep them clean and fresh.
The Oatmeal we are writing about was the Oatmeal that arrived three weeks ago. Today, she is showing major signs of progress in even the smallest ways! Oatmeal is now eating her green beans and carrots all by herself. She also has been taken out for exercise and was climbing all by herself, using her bandaged limbs to hoist herself up on branches and explore the outside world! We're so proud of her.
Her progress is amazing, but her journey at TRR will be a much longer and slower than the other orphaned sloths we receive. She will need months of treatment, medication, and rehabilitation as she learns how to use her healing limbs. Oatmeal will spend most of her time in the clinic and not with other sloths as her condition is one that needs to be monitored and controlled. Slowly but surely, we hope to one day start her on the road to release.
Oatmeal's story is one that we are very proud of. Although she is not our first orphaned sloth or our first burn victim, her story embodies exactly what every single one of us loves about working and volunteering here: hope. Places like the Toucan Rescue Ranch and other wildlife nonprofits are literally fueled by this hope that an animal can survive a horrible burn; hope that by staying up all night, another animal can be released back in the wild; hope that by offering educational walks, someone will leave with a stronger appreciation for wildlife; and hope that what we are doing every day at TRR is truly making a difference. Oatmeal is one of our little reminders to never lose hope!
Although she's made great progress so far, she is still in critical care and we ask you to keep her in your thoughts. If you would like to help Oatmeal receive her treatments, please consider symbolically adopting here at https://toucanrescueranch.org/adopt/
— Ally Chamberlin is a Marketing Intern at Toucan Rescue Ranch.

This article was produced by The Toucan Rescue Ranch. The Toucan Rescue Ranch specializes in helping wild animals recover so that they can be reintroduced into the wild. For more information or to donate, visit the Toucan Rescue Ranch website.