Every other Wednesday, we publish a short story from Sibu Wildlife Sanctuary.
* * * *
The electrocution of monkeys in the Guanacaste area is steadily growing. Unfortunately, many of the trees that they are accustomed to using as their highway are being cut down due to construction of housing or business development. This causes the monkeys to look at the power lines or the ground as their source of travel. If the lines are not insulated, the result is electrocution.
If you have a transformer that is not insulated or have recently purchased property to build on, please have your lines and transformer insulated, or best of all buried underground. Once a branch is touching the line it can become live … so please NEVER attempt to trim branches touching power lines or remove an injured or deceased monkey yourself as you could be at risk of electrocution.
Please contact us if you require the number for someone to trim back tree branches before they touch the power lines or if you see any injured or orphaned wildlife. Thank you for helping us keep the wildlife safe!
* * * *
Visit us at sibusanctuary.org to see how you can help! Sibu Wildlife Sanctuary is located in Santa Marta, located a few kilometers northwest of Nosara on the Nicoya Peninsula.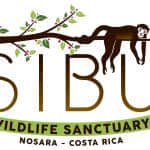 SIBU's mission is to rescue injured, orphaned, and displaced wild animals and provide them immediate medical care, rehabilitation, and eventual release into the wild. When the animals are determined to be strong, healthy and old enough to be re-integrated into the jungle they begin a step-down release program. Animals unlikely to survive in the wild receive a permanent enriching habitat for their life-term care.
Become a monthly donor here.