Flamingo, Guanacaste, is one of sportfishing's legendary destinations, an idyllic laid-back beach community located on Costa Rica's northern Pacific coast.
A short run to the fishing grounds brings excellent opportunities at all three species of marlin (blue, black and striped) as well as sailfish, tuna, wahoo and mahi-mahi, called "dorado" locally. Back inshore, there are roosterfish, jacks, grouper and snapper.
Based on this excellent fishing, as well as a desire to get back to the basics with a fun tournament, the Presidential Challenge Charitable Foundation is hosting the Presidential Flamingo Fishing Rodeo from August 9-11, 2019.
The tournament's mission statement is to publicize Flamingo as the fishing destination that it used to be. Proceeds will benefit marine conservation in Costa Rica and a local charity.
2019 Presidential Flamingo Fishing Rodeo schedule of events:
Early Registration: August 9, 2019; 3-5 p.m. at Marie's Restaurant.
Final Registration and Welcome Cocktail Party: August 9, 2019 – 6-8 p.m. Rules Meeting at 7 p.m. Hosted by Marie's Restaurant. Complimentary snacks, cash bar, live music and dancing.
Fishing: August 10-11, 2019. Weigh Station at boat ramp area. Complimentary refreshments, music, fun!
After-fishing Party: Saturday, August 10, 2019 – Scooter's is hosting an after-fishing party at their restaurant for all tournament participants. Cash bar, music, mini silent auction.
Awards Party & Conservation Auction August 11, 2019 – Hosted by Margaritaville Beach Hotel, "5'o clock Somewhere" from 7-10 p.m.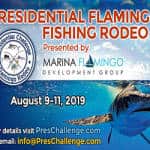 To learn more, and to enter the 2019 Flamingo Fishing Rodeo, click here, visit www.preschallenge.com or email info@preschallenge.com.
This story was sponsored.