Did you know that there is an internationally recognized holiday all about sloths?
That's right – there is, in fact, an International Sloth Day. On Oct. 20, Toucan Rescue Ranch kicks off this special occasion with its entertaining and unique fundraiser, the Sloth Ironman Games. Now going on its fourth year, TRR creates an enrichment game series focused on four chosen sloth athletes, otherwise known as slothletes.
The slothletes are revealed on Oct. 20 for International Sloth Day. For the rest of the week, they participate in a four-part series of enrichment challenges: the hibiscus eat-off (devour the flower), the poop-off challenge, the strong sloth challenge, and the one-meter dash. Entirely at their own mercy, the sloths compete in these games, which are administered by the sloths' caregivers and veterinarians. It is the fastest sloth who wins!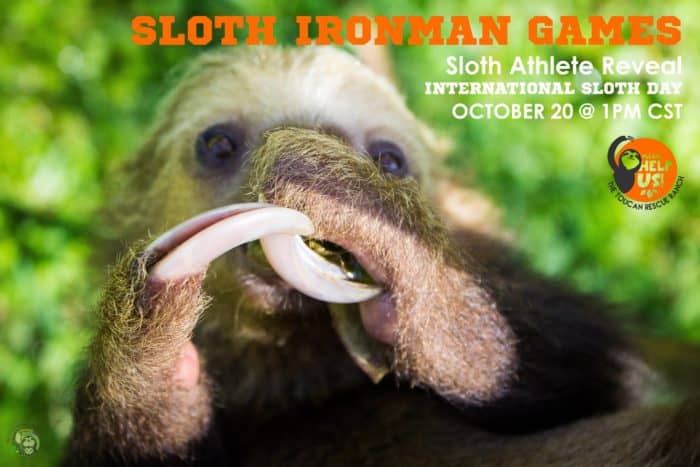 While the sloths enjoy carrying on with their routine of eating flowers, using the bathroom, climbing and sleeping, the goal of the games is to bring awareness to the issues that sloths face in today's world. Each slothlete is an orphaned sloth brought to the Toucan Rescue Ranch for a variety of reasons. Commonly, these include electrocution by power lines, car accidents, dog attacks, and human encroachment, such as deforestation and the illegal pet trade. Oftentimes, babies are found abandoned by their mother for unknown reasons (likely because the mother was involved in an accident).
This is when the Saving Sloths Together project by Toucan Rescue Ranch and The Sloth Institute of Costa Rica acts. We rescue hurt sloths and give them a second chance at life with the goal of releasing them back into the wild once they graduate from the rehabilitation and release program.
Last year, the 3rd Annual Sloth Ironman Games raised more than $3,000 for the Saving Sloths Together project. Toucan Rescue Ranch is excited to see what this year brings, and invites you to participate and enjoy the games!
The Sloth Ironman Games is a purely online event. You can tune in and watch the action on Toucan Rescue Ranch's Facebook and YouTube page! To donate, you can the Saving Sloths Together crowdfunding page and vote (donate) to your favorite slothlete!
You can watch the 2018 Sloth Ironman Games here!
— Zara Palmer is a Marketing Specialist at Toucan Rescue Ranch. 

This article was produced by The Toucan Rescue Ranch. The Toucan Rescue Ranch specializes in helping wild animals recover so that they can be reintroduced into the wild. For more information or to donate, visit the Toucan Rescue Ranch website.