Costa Rica's Health Ministry last week issued an alert over liquor that has been sold to the public containing deadly amounts of methanol.
Friday, the Health Ministry said it attributes 19 deaths in June and July to methanol poisoning, though the information is "preliminary as investigations continue."
Authorities are confiscating alcohol sold under the following brands: Guaro Montano; Guaro Gran Apache; Aguardiente Estrella; Aguardiente Barón Rojo; Aguardiente Timbuka; and Molotov Aguardiente.
The Health Ministry says the Guaro Montano, Timbuka Aguardiente and Molotov Brandy brands have all been registered for legal sale in Costa Rica, suggesting vendors are — perhaps unknowingly — selling counterfeit products.
The 19 deaths comprise 14 men and five women. Seven occurred in San José province; four in Cartago; three in Limón; two in Guanacaste; one in Heredia; and two remain unclassified.
The Health Ministry recommends the following:
Do not consume or purchase the aforementioned liquor brands until the health alert is lifted.
Report to the Ministry of Health (denuncias.drpis@misalud.go.cr) if you have symptoms of methanol poisoning after consuming alcohol.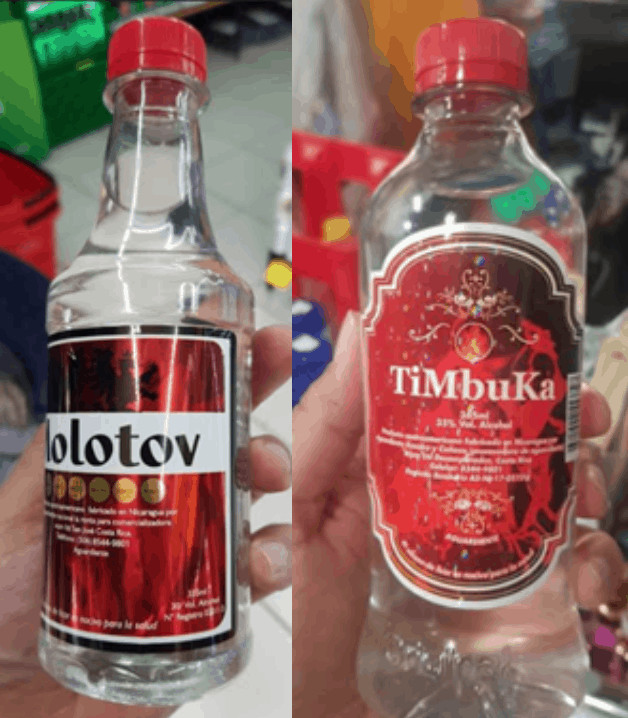 Donald Corella, head of emergency services at Calderon Guardia Hospital in San Jose, was quoted in the daily La Nacion saying that six people who were treated at his hospital had died, while four others survived but suffered "very serious after-effects" ranging from irreversible total blindness to brain lesions that cause tremors similar to Parkinson's disease.
President Carlos Alvarado said he "deeply regrets" the lives that have been lost and has instructed the Health Ministry and other authorities to collect "all possible data" in order to determine who is responsible.
Lamentamos profundamente las vidas que han sido cobradas a causa de la venta de bebidas con licor adulterado con metanol. He instruido al @msaludcr y demás autoridades a recabar todos los datos posibles para sentar responsabilidades.

— Carlos Alvarado Quesada (@CarlosAlvQ) July 20, 2019
According to the World Health Organization, a trace amount of methanol is common in fermented drinks. However, higher concentrations — such as when methanol is added deliberately to alcohol — can be deadly.
Symptoms of methanol poisoning may not appear immediately. They include acute abdominal pain, acute headache and ataxia (lack of coordination of body movements), according to the Health Ministry.
"After a variable period of time, victims start to develop headache, vomiting, abdominal pain and vertigo. They may start to hyperventilate and feel breathless," WHO says. 
This story was last updated at 8:45 a.m. Sunday with information from AFP and President Alvarado.