I was recently enjoying some summer weather at the beach, in Jacó, when I got a craving for some ceviche – a natural reaction when you spend time near the ocean.
I have a few Facebook friends in the area, so I posted on my page asking for the best ceviches in town. A few trustworthy sources replied, and a couple of them gave me the same answer: Pescadería Bertil.
Well, that settled that.
Not that Jacó is a big town, but I searched it online and found out that it was close to my hotel – perfect. I walked over in the late March heat that was reaching 32 degrees Celsius that day. My hunger grew as I went. If you're driving, you can find them on Waze.
I was so excited when I got there and noticed that the place is actually a fish market with a ceviche menu on the side. They definitely seemed to be more popular for their ceviches, about four or five people also stopped in for some ceviche in the short time I was there. The ceviches, which are made using the same fresh seafood that they sell, were flying off the shelf. Or, out of the ice chest.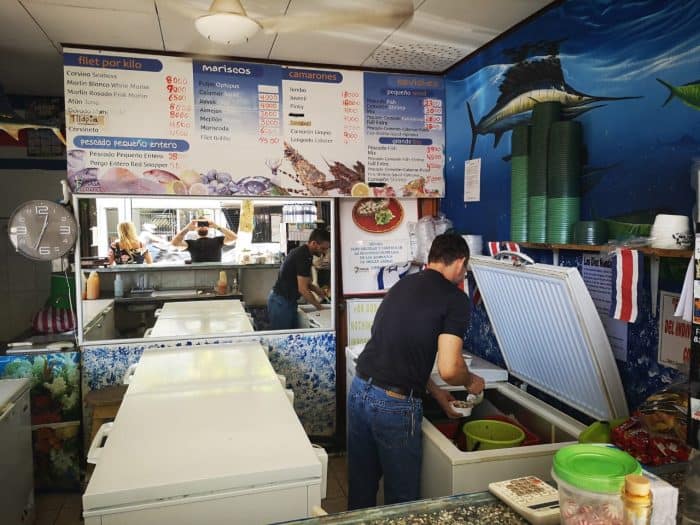 Now I understand why.
The fish is generally a rotating "catch of the day." It's always some kind of delicious, white flesh fish – which are the best when it comes to ceviche. I tried a fish ceviche, a shrimp ceviche, a mixed ceviche, and a caldosa – with the help of a couple of friends.
For those who have yet to try one, a caldosa is a Costa Rican street food delicacy. It's a match made in heaven between fish ceviche and Picaritas, a Costa Rican snack of toasted corn chips.
In this case, the ceviche is served on top of the chips, inside the bag that the chips came in. Just put a fork in it and you're ready to go. The salty crunch of the chips mixed with the soft chunks of fish and citrus is excellent.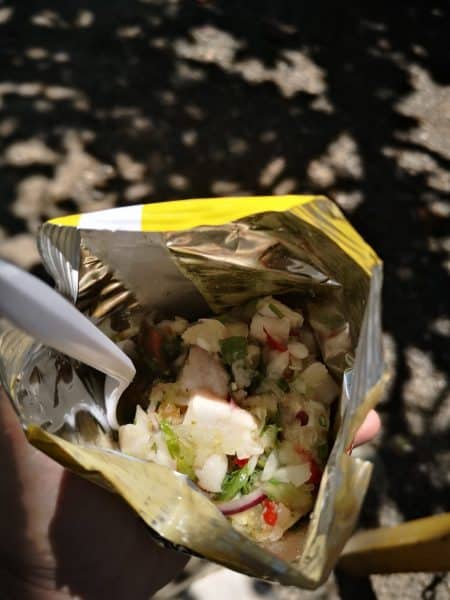 Eat it fast before the chips get soggy. Or if you like it that way, let the chips get soggy. When you're done, drink the remaining juice right out of the bag, as if you were getting the last crumbs. You know the drill. Caldito in Spanish means broth and so a caldosa is ceviche with more of the broth served than usual.
The mixed ceviche included fish, shrimp, octopus, and calamari. It was my favorite. All of the ceviches were marinated in acidic lime juice and included a generous portion of diced onion sweet pepper and cilantro. The lime-juice broth in which the proteins cook also has a special touch of fresh ginger, which makes it unique. After I ate my ceviche, I drank the remaining liquid out of the container. More please.
You can taste that these are made fresh, likely daily. But all the ceviches are premade and ready to go. They're kept cool in large buckets, inside what appears to be a deep freeze. My guess is that he's opening and closing the lid all day. He serves so many that it never gets cold enough inside to freeze them, but keeps the goods perfectly chilled instead.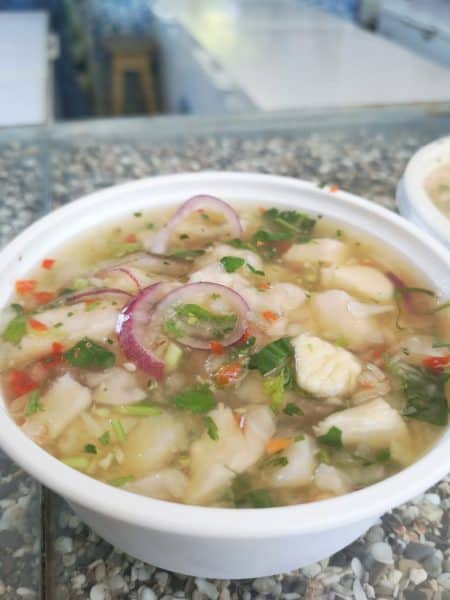 It was fun to watch him scoop down into the buckets with a ladle and fill up the portioned serving cups. He has it down to a science.
All said and done, our bunch of ceviches came out to 10,000 colones ($16.40). We got the small sizes, but after seeing the order put together in a bag for us, we paid happily. Each order included a pack of soda crackers and be sure to ask for some of their complimentary house-made hot sauce. The bright orange stuff in a glass bottle, on the counter.
All ceviches can be ordered in small or large sizes, and in fish, shrimp, or mixed versions. These range anywhere in price from 2,300 colones ($3.77) up to 5,000 colones ($8.20). It's really a great bargain. The quality of portion to price is a special value for a town like this.
Let me be clear, this is not a restaurant. This is a seafood store, where they just so happen to serve an excellent menu of ceviches – to go. There are no seats here. It is a walk-up counter to order and takeaway kind of place.
It outdoes any restaurant, though, that's for sure. Be warned that they don't accept credit cards and are strictly CASH ONLY.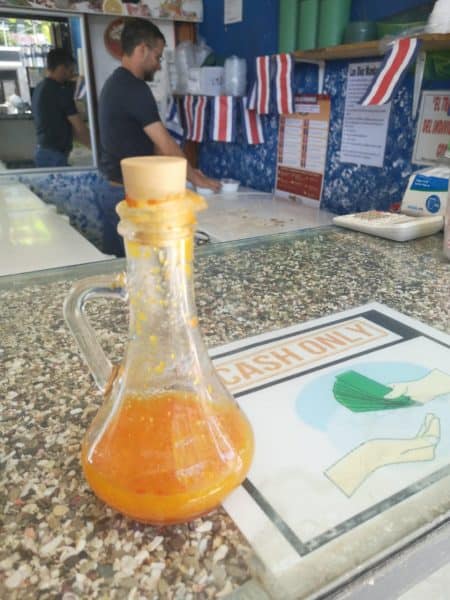 This tends to happen when you go off the eaten path.
Pescadería Bertil is located on the south end of the Main Street in Jacó, across from the Platinum Gym. The outside of the building is painted as if it is some kind of aquarium supply store, but I couldn't tell if that is a neighboring business or if Pescaderia Bertil is now occupying a space formerly owned by an aquarium. Either way, there it is.
This place has been open for at least five years (possibly longer), so I am surely late to join the party. But this place will from now on be an obligatory stop any time I am in, or passing through, Jacó.
If, like me, you didn't know about this place, now you do. I recommend it 100 percent. Pescadería Bertil has no web presence and I was unable to confirm their opening hours, but my visit was early one Sunday afternoon, so you can be sure to go then. Or roll the dice another day – but they should be open, I imagine their customers demand it.
---
This story was made possible thanks to The Tico Times 5% Club. If only 5 percent of our readers donated at least $5 a month, we'd have our operating costs covered and could focus on bringing you more original reporting from around Costa Rica. We work hard to keep our reporting independent and groundbreaking, but we can only do it with your help. Join The Tico Times 5% Club and help make stories like this one possible.
Support the Tico Times