Update: April 6, 2019 at 1:00 p.m.: Hugo has been released! Check out a video below:
And photos from the event: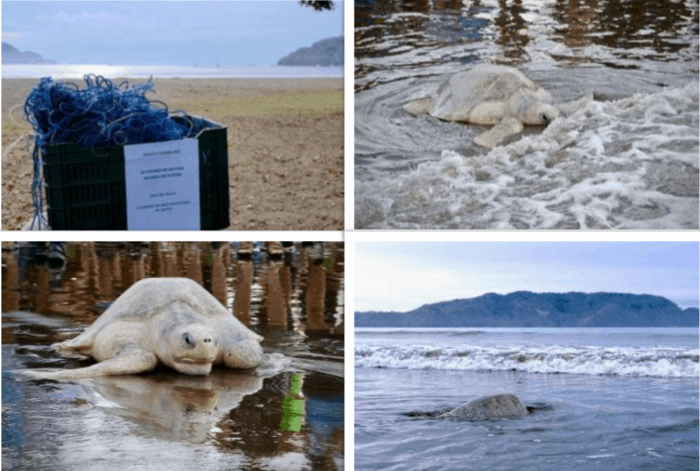 Original story:
When lifeguards at Los Delfines Golf & Country Club in Tambor, Puntarenas found a large olive ridley sea turtle on their beach last September, they weren't sure it would survive.
The olive ridley was tangled in a 22-pound ball of fishing netting, lines and rope which had left deep wounds on his flippers and neck. Biologists from the Tambor Bay Turtles, a local environmental organization, provided first aid, but the turtle was too weak to swim and soon washed up on the beach again.
But quick thinking and a six-month recovery process will culminate with a ceremony Friday in Tambor when the sea turtle, nicknamed Hugo, is released back into the ocean.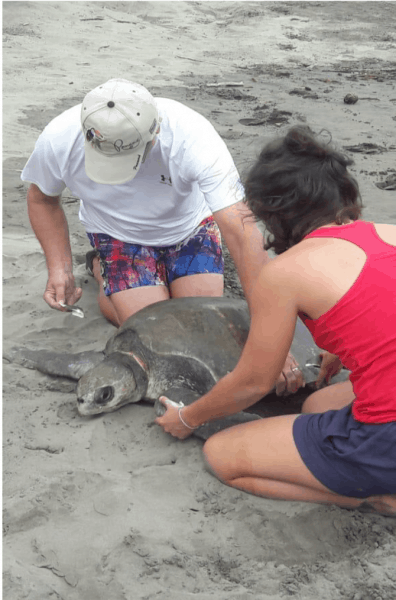 Following Hugo's discovery last September, Tambor Bay Turtles kept the animal overnight while they obtained permits from the Environment, Energy and Telecommunications Ministry (MINAET) to legally transport him. The next morning, an Environment Ministry representative arrived in Tambor to complete the necessary paperwork, which allowed Hugo to be ferried across the Nicoya Peninsula.
Hugo was diagnosed with a broken flipper, infections and malnourishment and has been recuperating at the Parque Marino del Pacifico in Puntarenas.
Now healthy enough to return to the sea, he will be transported back to the Nicoya Peninsula, where the community that helped rescue him will celebrate his release. Friday's ceremony begins at 7:15 a.m. on the beach by the volleyball courts in Tambor.
Olive ridley sea turtles are typically found in warmer waters, including in the oceans near Costa Rica. Each year, thousands of olive ridley turtles come ashore in Costa Rica in what's known as an arribada, a mass nesting of the turtles that lasts several days. 
WATCH: Sea turtles come ashore to nest by the thousands at Costa Rica's Ostional beach
Despite being considered the most common species of sea turtle, the olive ridley is listed as "vulnerable" by the International Union for Conservation of Nature (IUCN). The organization cites several threats to the its survival, including human intrusion, pollution and climate change. 
​​
---
​​
​​This story was made possible thanks to The Tico Times Donations. If only 5 percent of our readers donated at least $5 a month, we'd have our operating costs covered and could focus on bringing you more original reporting from around Costa Rica. We work hard to keep our reporting independent and groundbreaking, but we can only do it with your help.
​​
Support the Tico Times