This week I'll highlight an assortment of different and delicious street foods at a place that doubles as a cost-effective alternative to your local chain grocery store. This is especially true if you're looking for fresh fruit like massive avocados, plump watermelons, juicy tomatoes, and ripe bananas.
This magical place is locally known as a feria, or farmers market, and most towns around Costa Rica have their own version.
In Santa Ana, it happens every Sunday from 5 a.m. to 12 p.m along Avenida 1, just north of the public park and Catholic Church grounds, in the very center of Santa Ana. I wouldn't recommend going later than 11:30 a.m. though, since most stalls begin to sell out and shut down early.
The street is closed off to vehicles during the feria, which makes for a nice pedestrian walkway. Both sides are lined with a large offer of different products from local farmers and craftspeople.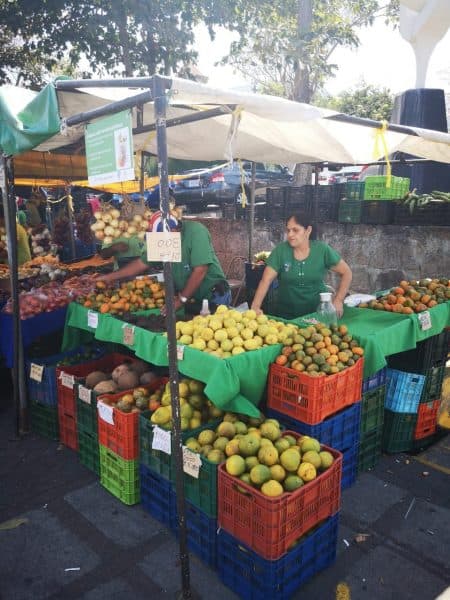 As you would find at a farmers market anywhere else in the world, there are many different fresh fruits and vegetables direct from the growers. They also have free-range eggs, wild honey, natural medicines, seafood, meats, breads, crafts and even prepared foods – hot and ready to eat. Prices here will definitely beat the usual grocery store. If you are into juicing or smoothies, this is the place to go to stock up.
Believe it or not, I don't cook too much at home, although I love to. I leave most of the produce untouched. I also skip the crafts and trinkets, but I do have fun browsing them.
What I really want is ice-cold coconut water or a freshly-squeezed sugar cane juice. Or, if you want to try something new, try Mozote. This is a drink made from soaking Mozote branches in water for more than 12 hours.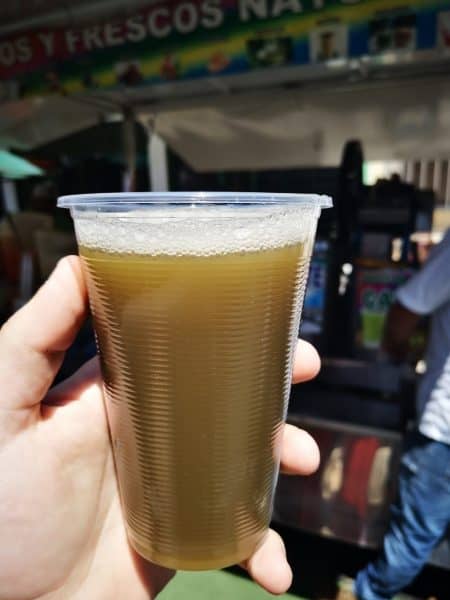 After that you remove the branches and what's left is a viscous, drinkable fluid that Costa Rican grandmothers have long-sworn cures an upset stomach. The consistency of it is unique, and so is the flavor. I quite enjoy it. Even if you don't have an upset stomach, go for it.
Or, if you're hungry, definitely get a vigorón.
For me, the vigorón (3,000 colones or about $5) at this farmers market is one of the best in the country. It's only outdone by the ones sold roadside in Caldera, Puntarenas. Apparently, the word is out, because if you arrive too late in the morning, they're sold out. For those who aren't "in the know," a vigorón is a traditional plate from Nicaragua that has also found its place in Costa Rica.
The plate is generally made with a bed of shaved cabbage and boiled yuca. Then comes a generous portion of pork and a topping of pico de gallo.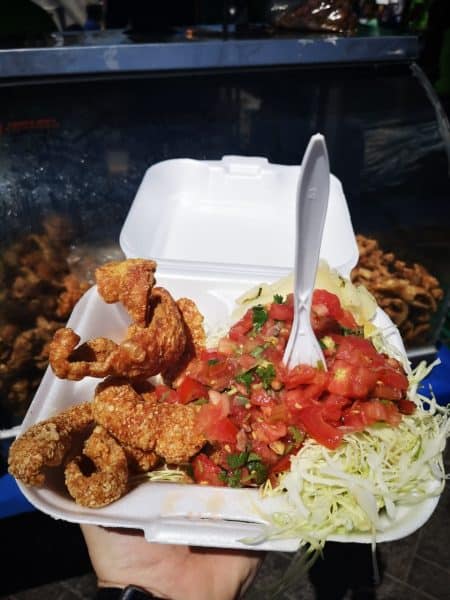 Depending on where you have one, the pork might be fried pork meat or crispy skin known as chicharrón. This vigorón is a mix of both. And when you add a splash of their homemade hot sauce (ask for it if you don't see the bottle, but be careful) the touch of heat takes it all to the next level.
The place selling these vigorónes also sells chicharrón and the fried pork meat to take home. Look for the blue tent, with a ground full of flattened cardboard boxes (to soak the oil, since they are frying the pork in large drums, fresh on-site), and the glass display case full of the goods.
Another not-to-miss stall is the one with the pupusa ladies. These Salvadorian delicacies are made from cornmeal and stuffed with things like mashed beans and melted cheese. You then top them off with different shredded and lightly pickled cabbages.
One is mild and the other has a bit of heat. The spicy one adds a great kick, as well as some refreshing crunch. Try one and I bet you will be craving them every Sunday thereafter. It's nothing to be ashamed of. At 1,500 colones a piece (about $2.50), they're cheap too. So why not?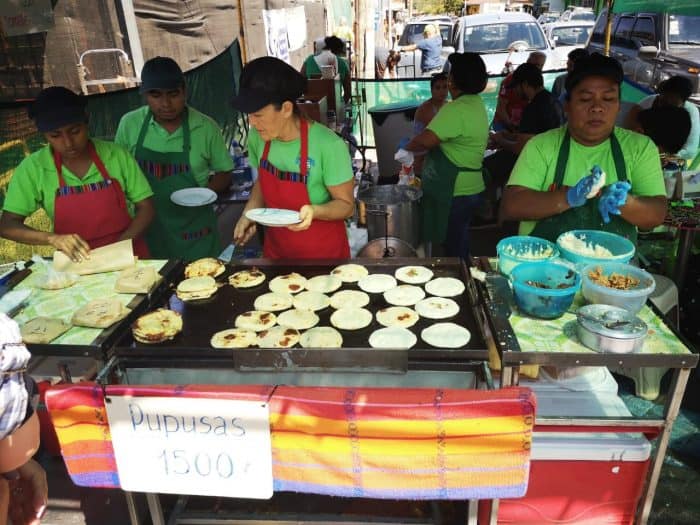 In addition to the foods, you can find flowers, spices, clothing, and even a pet fish. Seriously. It is a great mix of vendors. Even if you have no intention of buying anything, you can still go, just for fun, as a different way to spend a morning. When the weather is nice, it's a great excuse to get outside.
The Farmers Market in Santa Ana takes place rain or shine. Surprisingly, you can search "Feria del Agricultor de Santa Ana" in Waze or Uber to arrive conveniently. Most vendors only accept cash. This farmer's market recently teamed up with Banco Nacional, and some of their vendors are able to take credit card payments. They're the first in the country to do so.
---
William Ayre is a Canadian born chef and restaurateur who has spent the last half of his life doing business in Costa Rica, where he now considers to be home. Inspired by Anthony Bourdain, Ayre's passion of experiencing different cultures through food has taken him to 35 different countries over five continents. Whether it's a 20-course meal at a fine dining restaurant in Toronto, or cantina hopping in search for the best chifrijo here in San José, he fits in just fine.
This story was made possible thanks to The Tico Times 5 % Club. If only 5 percent our readers donated at least $2 a month, we'd have our operating costs covered and could focus on bringing you more original reporting from around Costa Rica. We work hard to keep our reporting independent and groundbreaking, but we can only do it with your help. Join The Tico Times 5% Club and help make stories like this one possible.
Support the Tico Times