There is nothing better than starting off a new year with a resolution to read more books.
In an age when we are intrinsically attached to our gadgets, books provide a tangible relief from neck straining and social media shenanigans. I have long wanted to catch up with Afro-Costa Rican poet and novelist Delia McDonald since she launched the first novel of her trilogy, "La Cofradia Cimarrona," at the 19th International Costa Rican Book fair in August 2018.
Primarily known as a poet in Costa Rica, McDonald has published widely, and her work has maintained great reading interest internationally.  In Costa Rica, she has created her own space alongside Eulalia Bernard (the mother poet of the '70s) and Shirley Campbell ('90s), two Afro-Costa Rican wordsmiths who have made their mark on the reclamation and celebration of Black culture and traditions.
Born in Panama in 1965 but raised in Costa Rica, McDonald studied marine biology at the National University of Costa Rica, though she always had a calling to write. She is an active member of the Costa Rican Association of Writers and has been publishing her poetry since the early 1990s with "The Seventh Circle of the Obelisk, Sangre de Madera" (1994) and "Rain is a Skin" (2002) — which was written mostly in Spanish but has translations in English and Creole.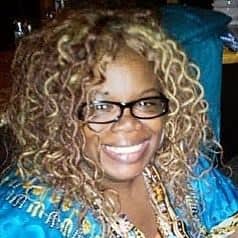 McDonald's writing finds the tangible beauty of Afro-Costa Rican culture and traditions as her words embrace Blackness. Her reader falls into a space of belonging, following a solo journey of the writer with her pen. What is distinctly appealing to McDonald's writing is that she stretches the boundaries of spirituality to encompass the vast array of religious practices of the African Diaspora. McDonald was educated in Spanish and spoke English Creole at home. She writes in all those languages in her poetry and novels.
McDonald is a founding member of the Centro de Estudios de la Cultura Ethnica (Center for Ethnic Studies) in Costa Rica and is the current director of the Café Cultural Francisco Zúñiga Díaz, and Zúñiga's literary workshop, Taller del Café Cultural Don Chico.
I was fortunate to chat with her about her childhood and her impetus for writing.
Natasha Gordon-Chipembere: Please describe your childhood growing up in both Panama and Costa Rica.
Delia McDonald:  I was born and raised in Colon, Panama, until about six years old, when my parents decided to return to Costa Rica. Without knowing Spanish, because my parents were native speakers of Caribbean English, I entered the Costa Rican public school in the neighborhood to which my parents had decided to anchor their lives. And what for them represented a change of life for the prosperity of the family, for me, was one of the most difficult moments of my life because it was the 1970s and I lived in a city where they saw very few Afro-descendants. (I am going to say that they were Afro-descendants because they were children of migrants from other islands who thought that this country did not belong to them, and that because they were migrants they did not have social rights or endorsements). Afro-Costa Rican lawyer Alex Curling had just managed to change things for the Afro-population, yet my life as a girl was a challenge as I lived with parents who refused to speak Spanish (the language of "Little birds"). So, I lived in two worlds.
That circumstance, living in those two worlds, gave me a very strong memory, and I suppose also an intelligence suitable to deal with the cage called school. My teacher hated me, and I developed a series of phobias and anguishes that took many years to come to terms with; some I have not succeeded in closing. I did not want to be there, but my parents thought I would find their same patience in school as in home. I walked through the bitter trance of racial intolerance. I learned to read practically alone and acquired Spanish in a few months, and at the same time I began to recognize what was called color ideology because there is the belief in Costa Rica that racism does not exist.  Due to my teacher's dislike of me because I was black, I was made an example of in front of the class and called annoying and vulgar nicknames.
In my second year, it got worse. The teacher complained to the director and my mother was brought in. At first, she kept insisting that I behave, but the school did not expel me because they knew what was happening in the classroom was wrong.  During mid-year, as I was putting the trash can back in place in the classroom, the teacher held me against the wall so that the other students could throw paint, plaster and chalk to "whiten" me. I screamed and tried to escape. When my mother saw me come home in that state, she insisting on going back to school to deal with the director. We could not find my book bag, and I told them that it must have been put into the trash dump.  We went there and there it was. As we were collecting my notebooks, my teacher's voice rang out behind us, "Ah, so the little black bastard came back. Do you want more, monkey?" Though I was small, I ran to attack her, trying to pull off her crucifix necklace which I wanted to stab her with. My mom dragged me home and we were told to return to deal with the director.  Of course, when we returned, there was an entire audience of her supporters (parents, teachers, uncles, and friends).
And then, surprisingly, the new director took my side. She made clear that she knew that I was being horribly treated because of the color of my skin.  The students who attacked me were suspended for two weeks and the teachers was dismissed.  From that moment, my life in school was different.
In high school and university, many of my teachers have discriminated against me and the lesson that I learned is that literature is where I belong, my place of safety. It is where I have always been welcome.
NGC: Though you have a formal academic training in science, why have you spent the last 20-plus years dedicated to writing?
DMcD: To have a professional career, to identify myself as a person of utility to society was the dream of my parents, especially my mother, who believed that literature does not put food on the table. But after an incident with a teacher in university who had the same position as my first Costa Rican elementary teacher, I ended up thinking about what I wanted and I realized that I had to determine my own destiny – that of being a writer.
NGC: Have you been able to make a living through writing alone?
DMcD: The road is not easy, but I was one of the first to say that we had to charge for the Literary Creation Workshops so I can say that I have done better than other national writers in the sense of maintenance, because my work is always very requested. I have taught literary creation workshops for universities, and in addition to family resources, I have beautiful and loyal friends always ready to help when necessary.
NGC: Who are your influences in the literary world?
DMcD: I have always chosen to read what I want and not what has been prescribed through school. I would say my influences range from "El Moto" by Gallini to many national authors who sometimes shared work on the webpage of La Coleccionista de Espejos (The Mirror Collector). I was nourished even more with the books recommended by Francisco Zúñiga. I finally fell into the hands of African American writers Maya Angelou, Toni Morrison, Alice Walker and Zora Neale Hurston. With their writing, my literary vision changed forever.
NGC: If you could say that your work focuses on a theme, what would it be?
DMcD: I believe that the writer writes to survive his own story and does not focus on anything else. The important thing is the ability to accept criticism. My case has always been in the eye of the storm, because I have always excelled, because I do not write like others.
NGC: Explain your travels as an Afro-Costa Rican writer outside of Costa Rica. How have you been received?
DMcD: Outside of Costa Rica, the day is always magical and majestic. It has been very challenging in Costa Rica, as I do not write the way that many national writers do.  I am not an authority on all Blackness, but I am an expert on my own being and have been challenged by men and women who want to put me in my place for going left while everyone goes right.
I have been criticized for writing without a degree in literature and I have been villainized on social media.  However, I have gotten many international awards for my work, and I refuse to silence my creative voice just to be accepted here.
NGC: At the 19th Annual International Costa Rican Book Fair, you released the first of your trilogy series, "La Cofradia Cimarrona." You mention that this new novel pulls on sacred African-based spiritualities.  Why do you use them? Is there an audience in Costa Rica that would be receptive to such a non-Christian understanding of spirituality found in your work?
DMcD: This trilogy, which begins with "El Cantante Cimarron" (the Maroon Singer), contains the sum of all the religions of the Afro-world, among which the Samunfos stand out which our Afro-Costa Rican narratives of Anancy the Spider belong to. It also contains Eleoshum (Osun), the youngest of the Seven Old Beings that can ward off death and make youth remain forever and restore the lost members of any body by only the power of gaze. As in any other magic realism text, not everyone in Costa Rican society will be prepared for a work such as this.
NGC: How has life been for you within the Afro-Costa Rican community?
DMcD: Many think that the Afro-Costa Rican community is limited to soccer or singing, which is thought to generate the best economic conditions for us.  Sadly, in painting and writing, we exist only through the gaze of others, who even think they know how and why we should write. Nonetheless, we have a community of writers, including (but not exclusive to): Eulalia Bernard, Quince Duncan, Dolores Joseph, Prudence Bellamy, Reina Nzinga, Marcia Reid, Shirley Campbell, Ana Yanell Matarrita and Kiria Perry and I.
NGC: Finally, if you could give advice to a young and upcoming Afro-Costa Rican writer, what would you say?
DMcD: Go ahead. No one can be what others want!
McDonald's books are available at Libreria Duloz, as well as at Libreria Andante, located at Calle 57, San Pedro, San José. You can also purchase books directly from McDonald via email at: dlia_mcdonald@yahoo.es.
Read more from Natasha Gordon-Chipembere here.
Natasha Gordon-Chipembere holds a PhD in English. She is a writer, professor and founder of the Tengo Sed Writers Retreats. In June 2014, she moved to Heredia, Costa Rica with her family from New York. She may be reached at indisunflower@gmail.com. ​
---
​​
​​This story was made possible thanks to The Tico Times 5% Club. If only 5 percent of our readers donated at least $2 a month, we'd have our operating costs covered and could focus on bringing you more original reporting from around Costa Rica. We work hard to keep our reporting independent and groundbreaking, but we can only do it with your help. Join The Tico Times 5% Club and help make stories like this one possible.
​​
​​
Support the Tico Times