Everything was perfect.
Cris Gomar had a good job and was living with friends in Colorado. She was snowboarding and having fun.
Then, one day, when she was out snowboarding, she felt colder than normal. Then she couldn't breathe. Gomar entered a state of shock and was taken to the hospital. She showed signs consistent with an asthma attack, but she never had asthma before.
Gomar went home to Costa Rica and spent weeks in pain. They tested her heart and lungs, after weeks of feeling terrible and hospital exams, they found nothing physically wrong with her.
Now Gomar, 29, recognizes what happened to her. It was an anxiety attack, an avalanche of mental stress that manifested itself physically. Mental illness runs in Gomar's family, but she didn't know that because no one ever spoke about it.
"Vaso Lleno is my experience living with anxiety and depression," Gomar said.
Vaso Lleno started as a thesis project in 2010 and became a social outreach initiative that raises awareness about mental illness through inclusion, conversation, workshops and an openness about the mental health that Gomar says is severely lacking in Costa Rica. Gomar is hoping to turn Vaso Lleno into a foundation soon.
Vaso Lleno translates to "Full Glass."
"It's not half empty, it's not half full, but always full," Gomar said. "There's always something positive you can learn from bad experiences and transform it."
Gomar used her experiences as the foundation for a TEDx talk in Costa Rica. She talked about her experiences with depression, anxiety and laid out her insecurities.
"After [the talk] people started taking pictures and thanking me," Gomar said. "People started writing to me on Facebook and I kept wondering, why are you thanking me?
"I didn't say anything new. I didn't overcome terrible cancer or something. I just said things we all think but are afraid to say out loud."
Gomar said she realized how important the need was for people to talk about these issues. She said people would come up to her at bars and tell her about their suicide attempts. So one day she opened up a public forum on Facebook for people to share their stories with her.
She was amazed by the response she got, especially with people who told her that it was the first time they were sharing their stories.
"There's a real need when someone trusts a social network more than they trust someone close to them," Gomar said.
That's why when the news about Oscar Arias's alleged sexual misconduct broke last month, opened up another anonymous forum and let people share their stories.
Gomar says she received nearly 450 responses in a few days.
"I noticed this is a problem in every household in Costa Rica," Gomar said. "It's not about legal [aspects of abuse], it's about education, about creating consciousness."
A lot of the women who sent their stories didn't know what happened to them at the time was abuse, Gomar said. Many men, she suspects, might not have known their actions constituted abuse either.
It was different, they were at a party, she didn't say no, Gomar says justifications abound.
"My obsession with exposing these stories is that people hear about women facing abuse, but they don't know what that looks like," Gomar said.  "When people here about sexual abuse they think about the construction working raping a woman in a field.
"But they don't think about the 6-year-old whose grandfather puts his hand up her skirt. They don't think about the 11-year-old whose cousin asks her for oral sex."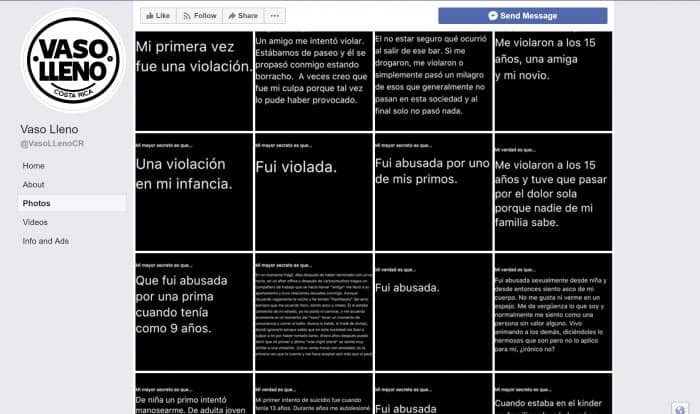 The sheer volume of the stories has also had a healing effect for the women who've submitted them. Gomar says she's received messages from women saying they no longer feel alone, that they feel better by writing and sharing their stories.
Gomar wants this to have a lasting effect: to help nip the problem at the bud and prevent future assaults from happening.
"I feel this is the perfect moment to rock the boat and make people conscious of what's wrong," Gomar said. "Gossip lasts 15 minutes and I don't want this conversation to end here."
Gomar wants to expand her project. She wants to organize an event for women in late March. She's planning on going back to school to study psychology and also wants to help women navigate Costa Rica's complicated legal system, which can be overwhelming for victims of abuse. Gomar also wants to address toxic masculinity in Costa Rica, which she says is a root cause for a lot of abuse.
"Lots of women have tried to kill themselves after [sexual abuse], some turned to drugs and others still aren't comfortable around their partners," Gomar said. "I hope this isn't a fad because of Oscar Arias, but a chance to change culture.
"If we can change behavior, we can change a lot of things."
You can find Vaso Lleno's form to submit stories of sexual abuse here. They are also on Facebook and Instagram.
---
This story was made possible thanks to The Tico Times 5% Club. If only 5 percent of our readers donated at least $2 a month, we'd have our operating costs covered and could focus on bringing you more original reporting from around Costa Rica. We work hard to keep our reporting independent and groundbreaking, but we can only do it with your help. Join The Tico Times 5% Club and help make stories like this one possible.
Support the Tico Times