While Don Doner is named after the doners it sells, the french fries here are quite possibly the best in the country.
Most places around Costa Rica serve the same, generic, frozen french fries, but Don Doner has daily hand-cut fries that are dunked in the fryer twice. They do this at different temperatures, to get the perfect fry.
I'm talking crunchy on the outside and soft in the middle. They're also seasoned with a house blend of lemon salt that makes an already great french fry even better. The fries are served with a side garlic mayo for dipping. The blend of flavors makes for a very satisfying combination.
Whatever you do, make sure you get an order. They only cost 900 colones (about $1.50).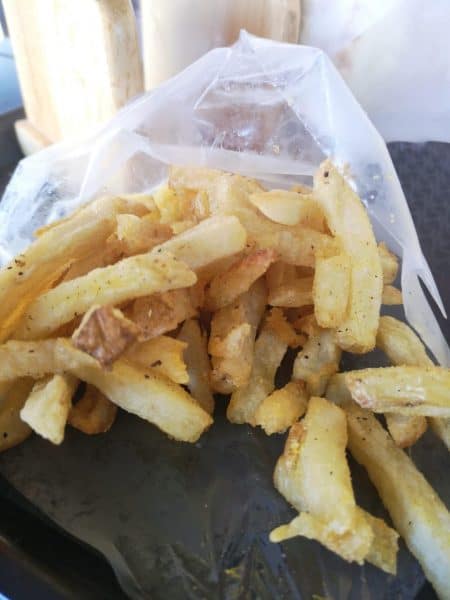 You'll find these delicious fries across from the Delta gas station in Pavas. They also have other food. Don Doner has been specializing in Mediterranean foods such as the doner kebab, donair, gyro and shawarma for the past ten years. Actually, they claim to have been the first in the country to offer these foreign delights.
I'd normally call this fast food because it's a cheap and greasy spot, but when they're busy, the service is not fast at all.
When I have a craving, it's worth the wait though. If you're impatient, just make sure to visit during non-peak hours and you won't have a problem. The location is a small, no-frills kind of spot, with seating for about 10 or 15 people. It's fine for eating in, or it's just as easy to take your food to go.
The menu at Don Doner has about 15 different items to choose from, most of which you can order as a sandwich in pita bread — which is my recommendation — in a tortilla wrap, or as a salad.
Almost all of the different pita sandwiches sell for around 3,495 colones (about $5.73) as a combo, which includes french fries, those delicious french fries, and a drink. The most expensive option, the lamb pita, goes for 4,495 colones (about $7.40) as a combo.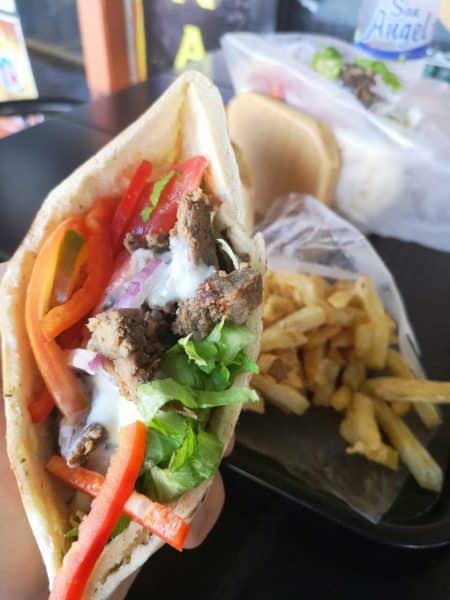 As a Canadian living abroad, the main reason I go to Don Doner is to have what they call a Halifax Donair. Now, in fairness, if you are actually from Halifax (I am not), or Canada in general (I am), you probably won't allow this to pass as what you know to be a really good donair back home.
But in Costa Rica, when you've been deprived of donair and hockey for months or years at a time, it does the trick. Whether it's truly authentic or not, at the end of the day, it tastes good and that's what matters.
Slices of grilled beef are laid on top a generous bed of fresh lettuce, onion and tomato, which is all packed into pita bread. Then it's topped with Halifax sauce; a sweet, creamy sauce with a hint of garlic. The sauce is probably the only thing about this sandwich that would resemble a Halifax donair back home.
Personally, I add a fearless serving of their house-made hot sauce. You can find a bottle of this on every table, but if for some reason you don't, ask for some. They also sell bottles to take home. Buy one.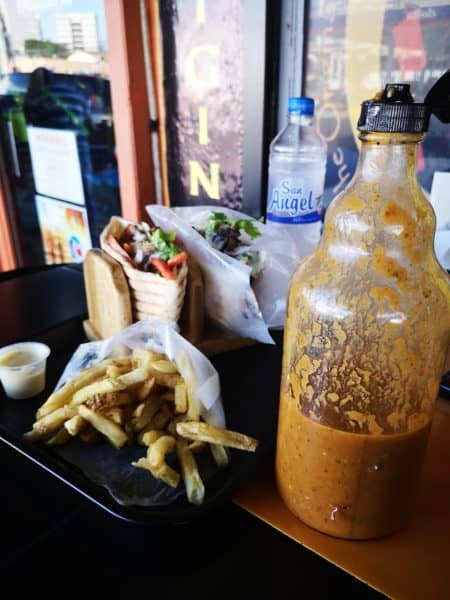 The doner kebab, falafel pita and shawarma are also very good by local standards. Especially when you're drunk – or stoned – and have the munchies for this kind of food.
Skip the baklava, though. It didn't taste right at all. But you should be full enough by this point anyway, that dessert isn't necessary.
As I mentioned before, the service here can be very hit or miss. It depends on who is working that day and how busy they are. Actually, social media is full of negative reviews by people who swear Don Doner was better before they moved locations. They were just a few doors down, on the same street, until about a year and a half ago. Then they moved to their new spot.
I can't comment on the old place, but I have eaten at the new one a few times recently and it tastes perfectly fine to me, especially for the low price. I've seen them get busy too, so you can be reassured that they sell enough to have a proper rotation of ingredients. What they're serving is generally going to be fresh.
If on some rare chance you do get a stomach ache, well, you knew what you were signing up for when you walked in and saw that mystery meat rotating on the vertical broiler. It would be no different at a donair shop back in Canada.
That being said, I have never had a bad experience.
Don Doner is open from 11 a.m. to 10 p.m. Monday through Saturday and then 11 a.m. to  9 p.m. on Sunday. Major credit cards are accepted. Vegetarian options are available, but alcoholic beverages are not. All prices include taxes. Street parking available directly in front of, and along both sides, of the restaurant. Search Don Doner in Waze or Uber to arrive conveniently, or call them at 2231-7057 to order delivery.
When you visit, let them know The Tico Times sent you.
---
William Ayre is a Canadian born chef and restaurateur who has spent the last half of his life doing business in Costa Rica, where he now considers to be home. Inspired by Anthony Bourdain, Ayre's passion of experiencing different cultures through food has taken him to 35 different countries over five continents. Whether it's a 20-course meal at a fine dining restaurant in Toronto, or cantina hopping in search for the best chifrijo here in San José, he fits in just fine.
This story was made possible thanks to The Tico Times 5 % Club. If only 5 percent our readers donated at least $2 a month, we'd have our operating costs covered and could focus on bringing you more original reporting from around Costa Rica. We work hard to keep our reporting independent and groundbreaking, but we can only do it with your help. Join The Tico Times 5% Club and help make stories like this one possible.
Support the Tico Times