For the last 20 years, La Cebolla Verde has been an icon along the calle vieja – or old road – that winds its way up and down between Santa Ana and Escazú. You might've noticed something different in the past six months though.
This decades-old restaurant, located about halfway down on the Santa Ana side of the hill, seems to be getting a facelift. Nothing major, just simple things like a new bright sign with a freshened logo and stylish new menus.
At its core, the place remains the same. It's a bar that serves great traditional food. But there is some new energy being poured into it, new life.
For the majority of the past 20 years Cebolla Verde, which is named after the onion crops the town is famous for, was owned and operated by Carlos Sibaja. He originally opened in the same space as a roasted chicken and pizza restaurant. It quickly went on to become the local style bar or cantina that it is today.
Now there's a new owner, Diego Castro, Carlos's nephew. Everything's still in the family.
Diego, who took over about six months ago (hence the facelift), was eager to relieve his uncle of his duties after so many years of dedicated bar service.
I enjoyed a brief conversation with Diego after a recent lunch meal at Cebolla Verde and left feeling confident that the place is in good hands. This is important to me because my family, friends and I have been eating there for the last 15 of those 20 years. We have a lot of great memories at Cebolla Verde.
I expect to have many more.
The old cantina atmosphere combined with an informal, friendly service is a winning combination. It also has the greatest hits of old-time, humble, Costa Rican food.
A friend and I shared a lunch of mixed ceviche, chifrijo, fried cheese cubes, Aztec soup and an order of chicharrones on my last visit. This might sound like a lot for two people, but you can order everything on the menu in boca size, or in a full portion. I prefer ordering boca size and sharing, that way you can try a wider selection of the menu.
Of course, in the 15 years that I have been eating here, I have had all of these before many times and so knew what I was in for, they're consistently good, but for those who have yet to visit, allow me to paint a picture: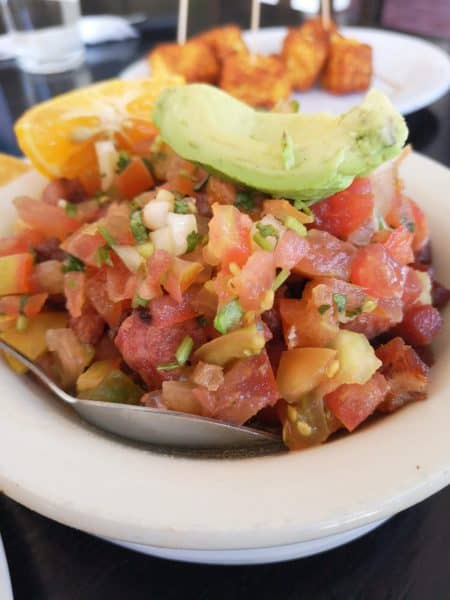 The chifrijo (₡2,500 or about $4) and chicharrones (₡3,250 or about $5.32) at Cebolla Verde are definitely two of the more popular menu items, as in any self-respecting cantina. Both plates are built around fried pork, so you really can't go wrong with either of these. Well, unless you're a vegetarian.
But don't worry, there are vegetarian options available.
My girlfriend swears that the Aztec soup (₡3,000 or about $4.92) at Cebolla Verde is the best, ever, period. She claims it's so good that there isn't even a second competitor in the conversation.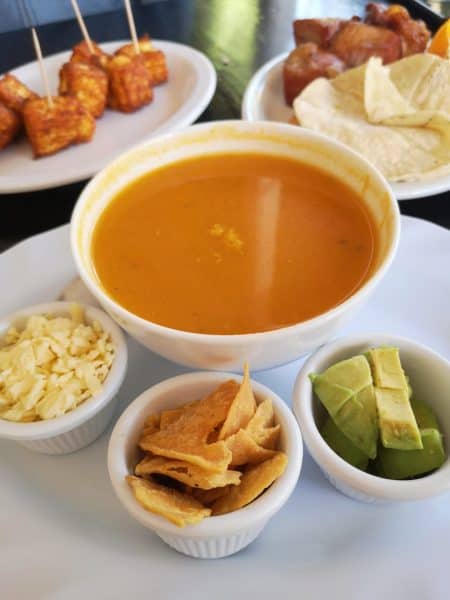 I think I agree with her. It's pretty damn tasty. Served with a side of crispy tortilla strips, diced avocado and fresh mozzarella cheese that are, of course, to be dumped into the bowl of creamy orange broth. It's truly a gift from the Aztec gods.
Even though I love this place, I must be objective. The ceviche for me, it's very middle of the road. My friend was happy to finish it though.
The fish and the shrimp seem to have been freshly prepared, no doubt. But I know the fish is farmed Pangasius from Asia, also known as Corvineta. That specific fish just isn't for me, even if its white flesh does have a totally mild and inoffensive flavor.
Though I am personally turned off by the source of the fish, or rather, by common farming practices used at the source, it tasted just fine. In fairness, you really shouldn't expect a better quality fish to be used for the low ticket price of just ₡3,250 (about $5.32). It's par for the course.
The fried cheese cubes (₡2,500 or about $4) are known as dados de queso locally. One-inch cubes of Turrialba cheese are quickly passed through the deep fryer, making for a crispy light outer shell and a warm, gooey center. You really can't go wrong with fried cheese.
This is no ordinary Turrialba cheese either, Diego tells me it's totally homemade by some skilled older woman, an artisan cheese maker —as the name would imply— from the Turrialba region of Costa Rica. Bonus points.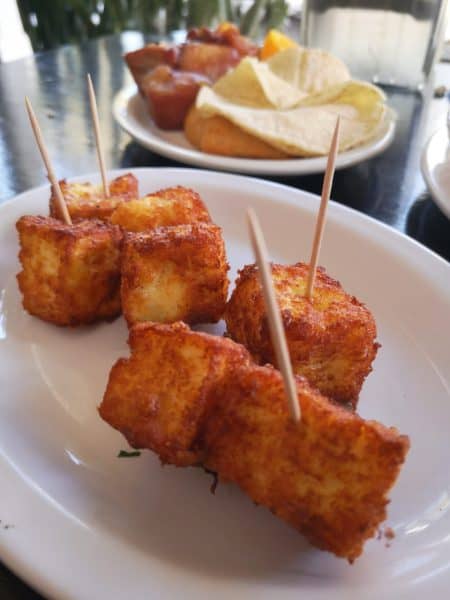 Order one of these. It's the perfect, greasy starter or salty snack to pick on while you're crushing a bucket of nearly ice-cold Pilsen. 
By the way, the chiliguaros are really good here too. They go for ₡900 (about $1.48) a shot or, they serve them by the mini-pitcher, for ₡3,600 (about $5.90).
Whatever you order here, the portions are generous and the quality is consistently good, which makes for a great value. Even if you don't eat and just go for a few late-night drinks with friends, I recommend it.
Cebolla Verde is open 7 days a week, from 11 a.m. until 2 a.m. Major credit cards are accepted. Prices include 13 percent sales tax, but not the 10 percent service tax. Search "La Cebolla Verde" in Waze or Uber to arrive conveniently. If you're driving, know there are many parking spots available with a security guard who's happy to, for tips, help you back out when it's time to leave.
---
William Ayre is a Canadian born chef and restaurateur who has spent the last half of his life doing business in Costa Rica, where he now considers to be home. Inspired by Anthony Bourdain, Ayre's passion of experiencing different cultures through food has taken him to 35 different countries over five continents. Whether it's a 20-course meal at a fine dining restaurant in Toronto, or cantina hopping in search for the best chifrijo here in San José, he fits in just fine.
Thanks for reading The Tico Times. We strive to keep you up to date about everything that's been happening in Costa Rica. We work hard to keep our reporting independent and groundbreaking, but we need your help. The Tico Times is partly funded by you and every little bit helps. If all our readers chipped in a buck a month we'd be set for years.
Support the Tico Times