At the Boutique Hotel Awards ceremony in London, England, Costa Rica's very own Blue River Resort & Hot Springs walked away with two awards on Thursday, Nov. 8, 2018, for America's Best Family Hotel and the World's Best Family Hotel. In attendance at this gala black-tie affair were about 350 fellow hoteliers from around the world.
In accepting the award, the elated co-owner, Kevin Glassman, gave credit to his partner Danny Apelboim, saying, "it was his dream, and he spent over two years to find just the right location, with natural hot springs, volcano views, blue rivers and a lush rainforest – and we spent over two years to create an immersive experience with five pools, butterfly gardens botanical gardens, spa, natural mud bath and sauna – a list of environmentally friendly amenities that keeps growing."
Guests also visit awe-inspiring nature on a variety of eco-adventure tours on horse, tubing, zip lining and rafting, and there is even a "Jurassic World" inspired Dinosaur Park. Glassman also thanked the management and staff of the hotel.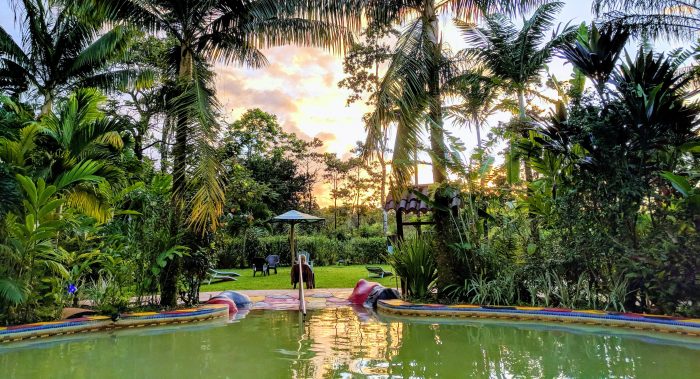 The Boutique Hotel Awards recognizes standards of integrity, individuality and character among hotels that display special imagination and flair appreciated by discerning travelers. Above all, the Boutique Hotel Awards looks for hotels that are undeniably and irrefutably unique. Each hotel is personally inspected and evaluated, after which a panel convenes to decide the winner, in a variety of categories. Visit their
website
and purchase their book of recommended hotels for more information.
To learn more about the Blue River Resort & Hot Springs, or to book a stay, visit their website by clicking here. 
This story was sponsored by the Blue River Resort & Hot Springs. Promote your business by emailing kstanley@ticotimes.net.