I grew up in Vancouver, Canada, a world-class sushi city and so I can confidently claim to know the difference between the real deal and the not-so-authentic sushi.
With that in mind, I'm just going to go right out and say it: if this isn't the best sushi in Costa Rica, it's definitely the best affordable sushi in Costa Rica. You usually have to pay a small fortune for good sushi around San José, if you can even find a restaurant doing it right at all.
Well, I found it for you. Look no further than Tāmura restaurante japonés.
And really be careful not to look further, the restaurant is easy to miss. I drove right passed it on my first attempt. The fact that the restaurant has no signage on its storefront doesn't help, but if you look closely, you will find a sign on the edge of the parking area that simply says SUSHI in big letters. I love this about this place, it's mysterious, for those who are "in the know".
Well, now you are.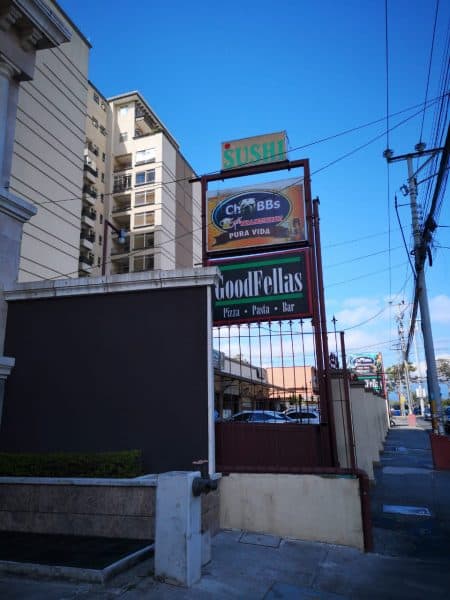 It's just 25 meters south of the AMPM on the south side of La Sabana park, in a small space inside of Centro Comercial Calle Morenos. They're in location #5 of this unassuming, half vacant plaza. (The sign for Chubbs sports bar is more visible, just in case.)
There is private parking available directly in front of the restaurant, but the parking lot for the whole plaza is small, perhaps 12 spaces, and so it could fill easily. In my case, I had to park down the street and walk back a few hundred meters to get in for lunch.
I understand that there was another sushi restaurant, Sushi Bambu, at this same spot. But two years ago, chef Masakazu Tāmura took over and changed the name of the restaurant to Tāmura, his last name for those who hadn't connected the dots.
Chef Tāmura is originally from Annaka in the Gunma Prefecture, which is basically smack in the center of Japan. He came to Costa Rica on vacation with a friend in 2003 and never looked back. Originally, it was his love for surfing that brought him and made him stay but then he married a Costa Rican woman and it really became permanent.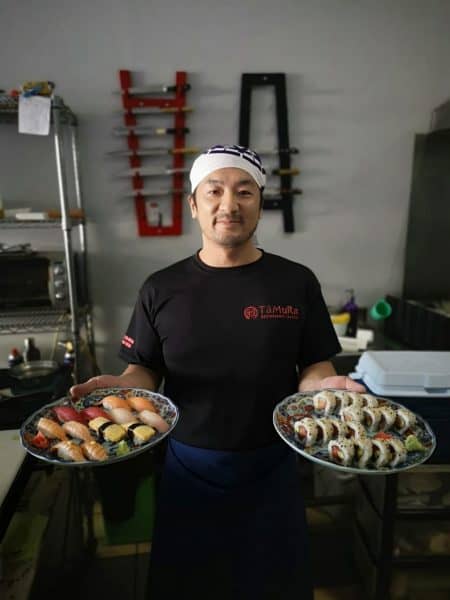 When his restaurant business is not keeping him busy, occupying his time, he also loves to train the Japanese martial art of judo. Which makes him even more badass.
In my experience, this is one of the only sushi restaurants in the country that actually has a real Japanese chef in the kitchen. Tāmura isn't just the chef, he is also the owner. And when the owner is in the kitchen, you are almost always guaranteed higher-quality of food.
It was a treat to watch him at work, in his open kitchen. Though you can't actually sit at the sushi bar, the restaurant is small, so you can see the action from any seat. While he works, he is very serious. This is out of respect for the food he says. I appreciate that. It is amazing to watch him, in silence, meticulously slicing fish and preparing rolls.
This is a small restaurant with only seven tables and a total of 22 seats. I suspect they're full a lot, especially on weekends and especially during lunch hour. They deserve to be, anyways.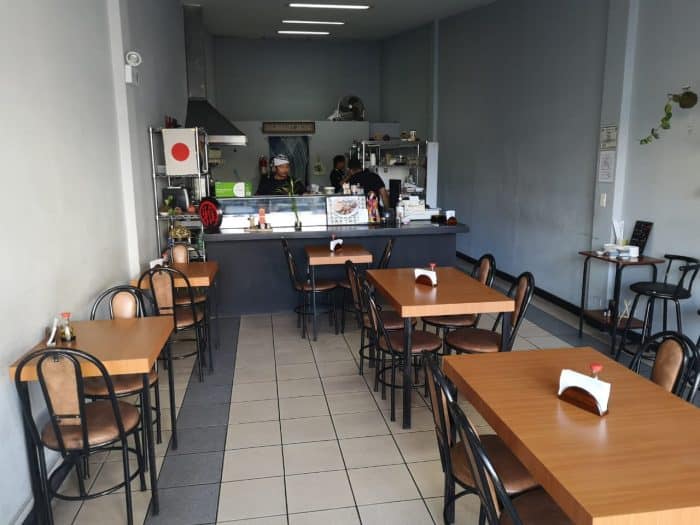 By the way, they do not work with reservations, pting for a "first come, first serve" system.
The interior design is an afterthought here, instead, the food takes center stage. It's a no frills kind of spot and so is the menu.
It's a one page document that has one side in English and the other side in Spanish. Categories are split into sections such as appetizers, sashimi, nigiri, rolls and Donburi. At first glance, it's your standard menu for a Japanese restaurant, but its execution is where the real difference is noted.
Again, because I can't say it enough, this is some of the best sushi in the country.
On a first visit I tried the Sunomono salad, mixed nigiri and a spicy tuna roll. All of which I devoured, leaving the plates clean. I couldn't help myself and went back a few days later, this time to try their miso soup, the Tāmura roll and a salmon roll. Again, I licked the plates clean, and I look forward to going back, frequently, until I have tried everything on the menu.
The Sunomono Salad (1,500 colones or about $2.5) is a bed of fresh cucumber in some sort of citrus dressing or ponzu sauce, topped with a generous portion of crispy salmon skin and bonito flakes.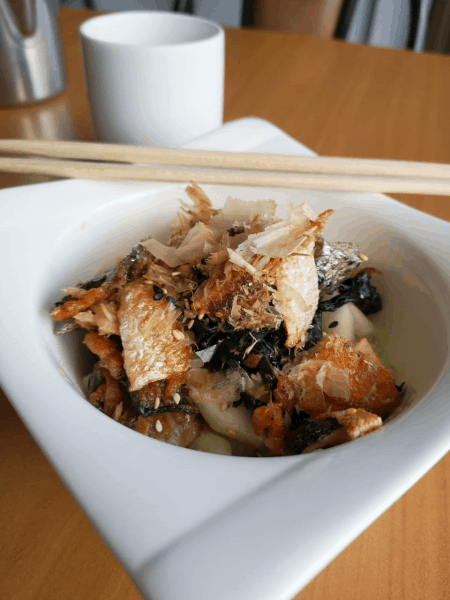 Though light, it was full of flavor and the perfect start to my meal.
Next up were the nigiris and the rolls.
Nigiri are thin slices of raw fish on top of a little ball of sushi rice. In my case, I opted for tuna, salmon, snapper, tamago (egg) and shrimp. All were notably fresh and melted in my mouth.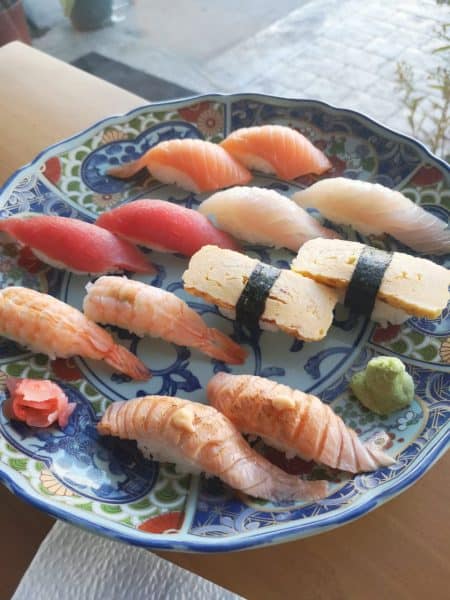 Depending on the protein, their nigiri options average around 900 colones (about $1.5) per piece. When topped with wasabi and dipped in soy sauce, the combination of salt and a nose burning kick of heat is addicting.
The spicy tuna roll was 3,000 colones (about $5) and came with eight pieces. The mix of spicy Sriracha sauce and fresh Yellowfin tuna is another addicting combination of flavors for me and the sushi rice is expertly cooked and seasoned.
The Tāmura roll I assume, because of its name, is their signature dish. This one was basically the spicy tuna roll, with the addition of seared tuna on top, drizzled with some sort of sweet Teriyaki-esque glaze. I recommend trying this one, absolutely.
On the side, I opted for some hot green tea, which was perfect for sipping in between bites.
According to their Facebook page, they started selling ramen, but it isn't on the menu yet. I've read that they're preparing the broth in small quantities, so don't be surprised if they're sold out. Apparently it's excellent too.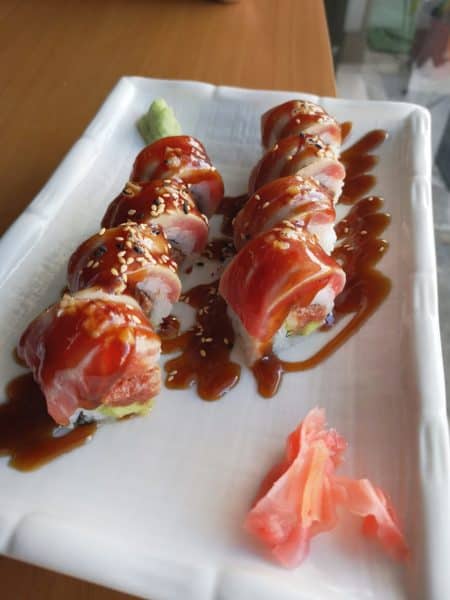 As I watched Chef Tāmura, I couldn't help but think how lucky his Costa Rican kitchen assistants are to be learning from him, working one-on-one with a true Japanese master of his craft.
Menu prices at Tāmura do not include the 10% service tax but even once you add that on top, this is still a very accessible restaurant. The price to quality ratio makes this a great value and as I said, it's much cheaper than anything comparable.
Credit cards are accepted. Vegetarian options are available.
From Tuesday through Thursday, they are open from 12 p.m. to 6 p.m. On Friday and Saturday they are open from 12 p.m. to 9 p.m. They are closed on Mondays and Tuesdays, although, apparently they do sometimes open on Monday, but only from 12 p.m. to 3 p.m. It can be a bit confusing, so it's a good idea to call ahead to make sure they are open and have seating available. Call them at 2290-1156 and search "Tamaru" in Waze or Uber to arrive conveniently.
---
William Ayre is a Canadian born chef and restaurateur who has spent the last half of his life doing business in Costa Rica, where he now considers to be home. Inspired by Anthony Bourdain, Ayre's passion of experiencing different cultures through food has taken him to 35 different countries over five continents. Whether it's a 20-course meal at a fine dining restaurant in Toronto, or cantina hopping in search for the best chifrijo here in San José, he fits in just fine.
Thanks for reading The Tico Times. We strive to keep you up to date about everything that's been happening in Costa Rica. We work hard to keep our reporting independent and groundbreaking, but we need your help. The Tico Times is partly funded by you and every little bit helps. If all our readers chipped in a buck a month we'd be set for years.
Support the Tico Times