I must have driven passed Villa Oro a thousand times before I finally went in. Every time I passed the "Comida Taiwanesa" sign out front, my curiosity grew, until I finally gave it a try.
Villa Oro's owners market the restaurant as a Taiwanese tearoom, but I didn't have any tea on my visit. I did have some amazing dumplings and rich beef noodle soup though.
It's one of very few of its kind in the country. At least, I haven't had this kind of Taiwanese food anywhere else in Costa Rica.
There was a great selection of different teas too. They would be the perfect accompaniment to one of their famous pineapple cakes, baked in-house, in the traditional Taiwanese style. I tried one and can see why they have earned such a loyal following. But let's not get ahead of ourselves. Dessert comes last, right?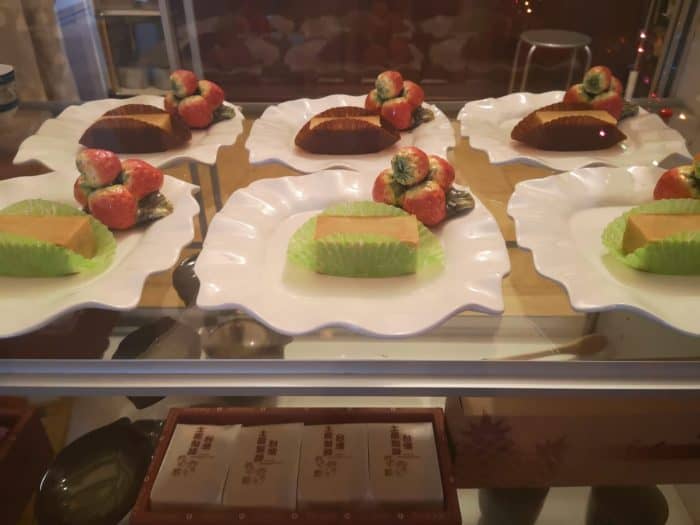 There's no print menu at Villa Oro and their offerings are very limited. Mayra, the sole waitress who's been there since day one, was happy to explain the few options at our table. Although she is Costa Rican, she was able to describe the traditional Taiwanese dishes in great detail and even pronounced the names of dishes such as Niu Lo Mien and Lurou Fan like a real pro.
There were five different plates to choose from on my visit, which I understand to be the norm. To start, we ordered the dumplings, which can be steamed or fried, with a filling of either pork or shrimp. We ordered steamed pork and absolutely loved it. It was served with a soy-based dipping sauce, as well as a house made, fermented hot sauce. The hot sauce tasted like it was spicy chilis mixed with some sort of black bean paste. It was different, for sure, but I enjoyed it.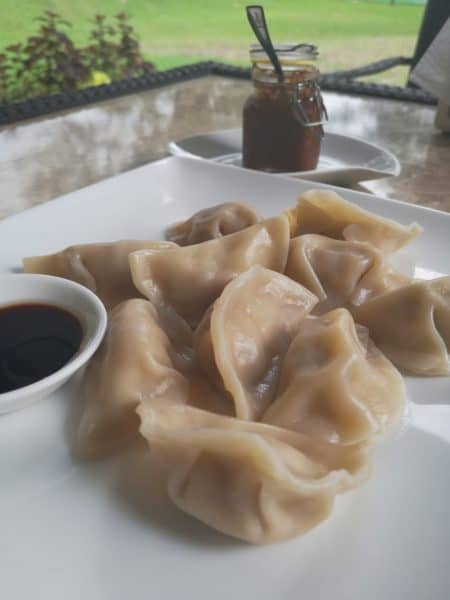 The remaining four options are Niu Lo Mien and Lurou Fan, as previously mentioned, plus a chicken curry dish served with rice and a fried rice dish with pork, hard boiled egg and radish. Mayra told me the name of these last two, as well, but it sounded so foreign that I can't even begin to guess how to write it. If you're scared of the unpronounceable, maybe eat somewhere else.
The owners, an older couple from Taiwan who have spent most of their lives in Costa Rica, are also the ones in the kitchen. As always, this ensures authentic recipes and it almost always means the food is prepared with love. I could taste the love even though I wasn't personally able to talk with them. I'm not sure if they are shy or if they were busy working, but they seem to prefer staying confined to the kitchen in the back. Fine by me, everything that came out of there was great.
My friend and I decided to try the Niu Lou Mien, which is a beef noodle soup that Mayra admits is the most popular of their five offerings. It had a very rich broth with hints of five spice and while the noodles were admittedly not homemade, their texture was damn close to it.
The chunks of beef were fall-apart tender, only achieved through a long, slow cooking process. To add balance, a touch of freshness, and a bit of crunch; there was some bok choy and green onion to top it off. I am already craving my next bowl, though I would have preferred a hotter temperature for the broth.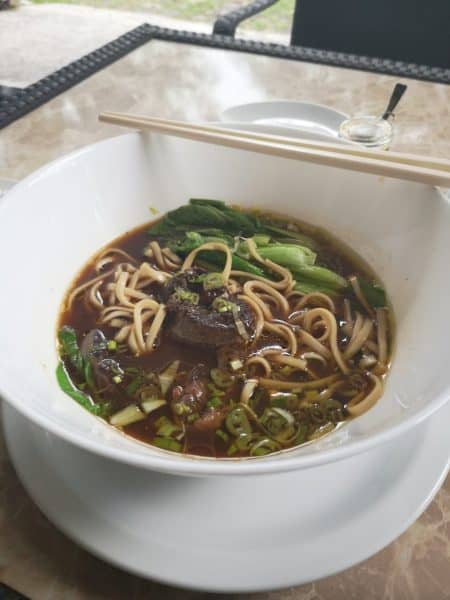 Lurou Fan, which I left for my next visit, is another different pork dish served on rice. According to my research, it's also one of the greatest hits of Taiwanese cuisine.
Now it's time for dessert. The pineapple cake reminded me of shortbread and had a candied pineapple filling. These are famous all over Taiwan and Villa Oro is sharing that tradition with Costa Ricans who otherwise might have never been able to try one. These are sold individually, or can be boxed up nicely as a gift for someone at home. I recommend you do so.
I wasn't able to get the specific prices of each item. There were no menus to review and now that I think about it, I didn't get a receipt of my purchase. But two bowls of beef noodle soup, an appetizer of pork dumplings to share, and no drinks came out to about 18,000 colones (bout $30).
That's not as cheap as similar restaurants in the center of San José, but it still seems very fair to me considering its location in Escazu. The food quality was great, with delicious flavors and acceptable portions and so, the price is justified.
The garden view also helps.
Villa Oro is located in what looks to have once been a private residence. Now, the front yard has been opened up to a grassy parking lot and a beautiful garden area.  I grabbed one of the two tables on the front patio and was able to enjoy looking out over the greenery, breathing fresh air while I enjoyed my meal. With summer weather just around the corner, I can see this becoming one of my spots to grab lunch and enjoy being outside while stuffing my face with exotic foods.
---
Looking to getaway? Win a trip for 2 to Peru & Bolivia, Japan, Tanzania, or Mexico with Tourradar.
---
There are more tables inside, but on my visit, none were occupied. Actually, when I first walked in, there was nobody at all, not even staff. It didn't take long to get Mayra's attention though. I imagine it could get hectic if they get busy, but that doesn't seem to be a concern for them.
Located along Ruta 105, one of Escazu's main roads, Villa Oro can be found just north of Avenida 28, on the east side of the road.
Villa Oro is open every day except for Mondays, from 10 a.m. – 8 p.m. Reservations are not required. Cash and major credit cards are accepted. Private parking is available. Vegetarian options are not. Beer is the only type of alcohol being served. Search "Villa Oro" in Waze or Uber to arrive conveniently.
---
William Ayre is a Canadian born chef and restaurateur who has spent the last half of his life doing business in Costa Rica, where he now considers to be home. Inspired by Anthony Bourdain, Ayre's passion of experiencing different cultures through food has taken him to 35 different countries over five continents. Whether it's a 20-course meal at a fine dining restaurant in Toronto, or cantina hopping in search for the best chifrijo here in San José, he fits in just fine.
Thanks for reading The Tico Times. We strive to keep you up to date about everything that's been happening in Costa Rica. We work hard to keep our reporting independent and groundbreaking, but we need your help. The Tico Times is partly funded by you and every little bit helps. If all our readers chipped in a buck a month we'd be set for years.
Support the Tico Times