Every April Fool's day throughout high school, my brother and I would switch classes. Since we're identical twins, all we had to do was make sure that we sat in the right seats and responded to the right name.
Our teachers were none the wiser.
It was one of my favorite twin traditions until my brother scored 13 percent on a sports medicine test for me.
That's my go-to story when people ask if my brother and I look alike or got into any twin shenanigans when we were kids.
This story became increasingly difficult to tell in the past six months, as now I must communicate it in Spanish at a level equivalent to that of a child. I also haven't found a good way to explain the April Fool's Day, a foreign concept here in Costa Rica.
My name is Zane Heather, and I am a community economic development volunteer with the Peace Corps living in the mountains of Costa Rica. My brother Alex and I are separated by 5,558 miles.
This isn't the farthest we have been from each other, but it's been the longest. A year ago, I dropped him off at his Peace Corps-sanctioned hotel the night before his journey in development started.
The next day he was on a plane to Ghana, where 27 months of service as a volunteer in agricultural development awaited him. Four months later I set off on my own undertaking, to the land of pura vida, Costa Rica. We now find ourselves on different ends of the developing world, engaged in the biggest social experiment of our lives.
One of the most valuable skills you cultivate as a Peace Corps Volunteer is developing creative, out-of-the-box solutions for problems you never thought you would encounter. Our latest challenge was writing this joint expose from different corners of the world, with minimal connection and communication. This is complicated even further when one of you refuses to use anything but a typewriter, for no reason.
But we found a solution, and here it is. We hope to give you a glimpse into our current lives and our experiences that led us to positively impact this world, wherever we may roam.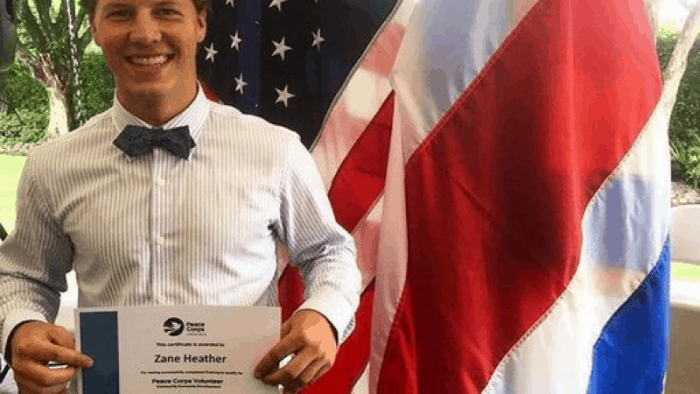 Zane: All my life I have answered to two names, my own, and my brother's, Alex. It's frustrating, but understandable. A handful of times my brother and I have even mixed ourselves up, thanks to a tactfully hidden mirror. The muddles have even been advantageous: I met my college girlfriend due to a mix-up, and it has often been useful to avoid unpleasant situations or people, for one reason or another.
Due to my history of responding to different names, I thought it would be easier to adapt to the slew of nicknames I've gotten in Costa Rica. After five months, I can now be hailed as Zane, Pablo, Sen, Gringo, Teacher, Gringo Loco, Ken, or any combination of the above. During my short time here I have successfully built a solid rapport with the community. This is partly because I walk around with a smile on my face and greet everyone who comes across my path. But it's mostly due to the two lucky goals I scored in my first community soccer game, which gave me a new nickname: Zane Dempsey.
My site is a sleepy agricultural village nestled on the slopes of one of the highest peaks in Costa Rica. The mountainside surrounding the town is a beautiful mosaic of coffee farms and mountain jungle, while brooks babble throughout. The topography of the town makes directions easy, as everything either lies uphill or downhill.
The only times I have found myself lost in my community was when I tried to find more level, but nonexistent, routes to my destinations. Initially I detested the hills, going up them that is, but they've provided what I call "inclined insight." This insight lets me see how my physical challenges here bear a stark resemblance to the metaphysical ones I face day to day in my site.
As a community economic development volunteer, I have no set schedule. It's a blessing and a curse. This freedom lets me to choose my own path and work times, as well as undertake projects that are meaningful to me. My daily routine varies constantly though. Some days are extremely hectic and exhausting, while on others I'm left trying to figure out what I'm supposed to do.
When my days are full, I find myself engaged in an assortment of undertakings, concerning different areas and individuals. A few of my current projects include working with a local women's group to help them generate household income, developing trash and recycling services for the community, working with the local tourism organization to better promote the town (come visit), and giving local courses on computer skills or English.
These are just a few of my program's projects, but my service is based on how to help my community any way I can. It can be anything from helping run a soccer camp for local kids, to simply going and spending quality time with families around town.
A seasoned volunteer once pointed out that two of the Peace Corps' three goals relate to the exchange between the United States and the host country's culture. This technically makes taking a cafecito (coffee break) with fellow community members, work. So, I work a lot.
When I am not engaged in Peace Corps related activities or coffee drinking, I find myself exploring the bountiful nature that surrounds the town, developing new skills and healthy habits, getting embarrassed by local grade school students at soccer, or trading manual labor for access to a horse. There's also the occasional television series binge peppered in.
As volunteers, we are dropped off with a bag of tools and a vague north. Peace Corps offers varying degrees of assistance and resources, but the path is a personal one, no matter how bumpy it may be.
Your fellow volunteers may be working on projects with a similar focus, but your impacts, your successes, and your failures are yours alone. Life as a volunteer is equal parts grassroots development on the international and personal level, but only to the extent to which you push it. The freedom you are gifted as a volunteer can be used to not only help your community, but yourself. Throughout my service, it has been my intention to do just that.
Click here to read Alex H.'s story from Ghana
---
The Peace Corps photo series in The Tico Times Costa Rica Changemakers section is sponsored by the Costa Rica USA Foundation for Cooperation (CRUSA), a proud financial supporter of Peace Corps Volunteer projects nationwide. Learn more here. To donate to support the Peace Corps Costa Rica, visit the official donation page. Volunteers' last names and community names are withheld from these publications, per Peace Corps policy.
Connect with the Peace Corps Costa Rica on Facebook, Instagram or Twitter.