Día del Negro, as it is known locally, is my favorite holiday I have had the joy of celebrating during my Peace Corps service in Costa Rica. Early in the morning on Aug. 31, I headed to a local celebration in Limón Province with a few fellow volunteers. I did not fully know what I was getting myself into.
I had never attended or celebrated the holiday before but was blown away by the festivities. I feel incredibly fortunate to have shared the experience with fellow volunteers and the lovely Peace Corps Costa Rica (PCCR) Nurse Jennifer who was born and raised in Limón.
Thanks to the hospitality of the U.S. Embassy, we had the pleasure of meeting U.S. Ambassador Sharon Day over breakfast at the start of the day. We spoke with her about Costa Rican culture and met other members of her team.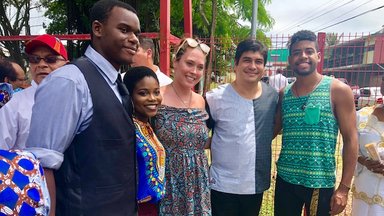 We shared stories with her about our time in service and discussed current community projects. As we spent more time with the ambassador, we found that she was ready to laugh, dance, and enjoy all the celebrations the festival had to offer.
Apart from our time spent with Ambassador Day, one of the highlights of the day was meeting the President of Costa Rica, Carlos Alvarado. We were surprised at the President's willingness to immerse himself into the crowd the way he did during the parade, meeting many people face-to-face.
As one can imagine, there were many people on all sides attempting to get the president's attention. Among all the chaos, took a picture with President Alvarado and Vice President Epsy Campbell Barr, shook their hands, and exchanged a few words.
The day's festivities concluded with a parade. We rode the U.S. Embassy float and danced for hours to a live jazz band. Parade participants were dressed in beautiful traditional Afro-Caribbean garments and everywhere we turned it seemed we were surrounded by people having so much fun, smiling and dancing along to the Caribbean music. The atmosphere was overflowing with love and happiness.
I am grateful that I was able to be a part of the celebrations of Día del Negro y Afrodescendientes. It was a remarkable experience to see the locals of Afro-Caribbean descent display their unique heritage and culture through music, food, wardrobe, and, above all, community unity.
---
The Peace Corps photo series in The Tico Times Costa Rica Changemakers section is sponsored by the Costa Rica USA Foundation for Cooperation (CRUSA), a proud financial supporter of Peace Corps Volunteer projects nationwide. Learn more here. To donate to support the Peace Corps Costa Rica, visit the official donation page. Volunteers' last names and community names are withheld from these publications, per Peace Corps policy.
Connect with the Peace Corps Costa Rica on Facebook, Instagram or Twitter.