Stretching her legs from one branch to another in slow motion, Goldie couldn't care less about being 2018 Sloth Ironman Games champion. The young sloth had gathered the most points in the four-part competition and beat the second place by 85 points. She won the 1-meter dash by a mile, zooming past the other three "slothletes." She also won the hearts of the donors, with a total of $235 donations on her end.
Goldie then received her award, a bright pink hibiscus flower bouquet, and bathed in it with a big smile, showing off her cuteness.
But in this competition, no one left a loser. A total of $2,954 was raised throughout the games to care for all the sloths at the Toucan Rescue Ranch before they are released back into the wild. Donations continue to help reach the goal of $30,000.
"This year we decided to devote all donations raised by Sloth Ironman to the 'Saving Sloths Together' project, which is a partnered project with the Sloth institute," said Zara Palmer, marketing director at the Toucan Rescue Ranch.
While the Sloth institute is in charge of the release of the sloths, the Toucan Rescue Ranch is preparing them for their big day. Donations go to medical supplies, food, interns and volunteers, tracking equipment, enrichment equipment and other sloth preservation measures.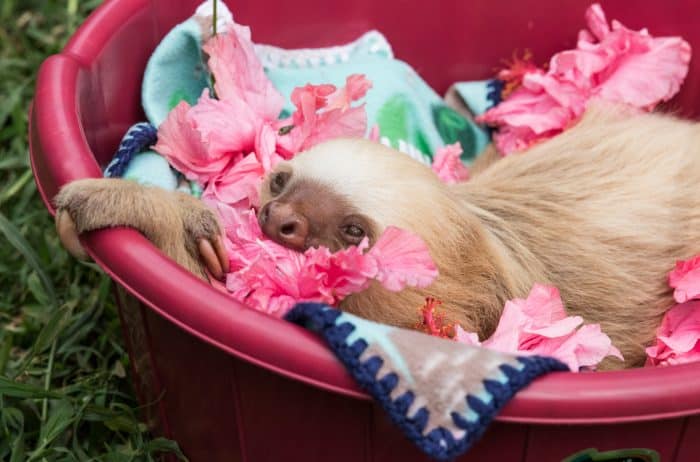 "I created [the campaign] three years ago, just to bring awareness to people of the different projects we are trying to raise money for, because October is international sloth month, so it's like the perfect time to bring that on board," said Palmer.
The competition consisted of four games: the Strong Sloth Challenge, the Hibiscus Eat-Off, the 1-Meter Dash and the Poop-Off Challenge. All the games were natural "slothy" activities, as Palmer refers to them, simply recorded and disguised as games. The campaign was a virtual one, spectators can watch the games and the award ceremony on their Facebook page or Youtube channel.
The slothletes are all juveniles. Some are in sloth pre-school, others are in sloth high school.
"Our high school sloths graduate to university," said Palmer, explaining the pre-releasing enclosure. "And then after the release we say they become extremely independent and then they graduate to the world, which is the wild."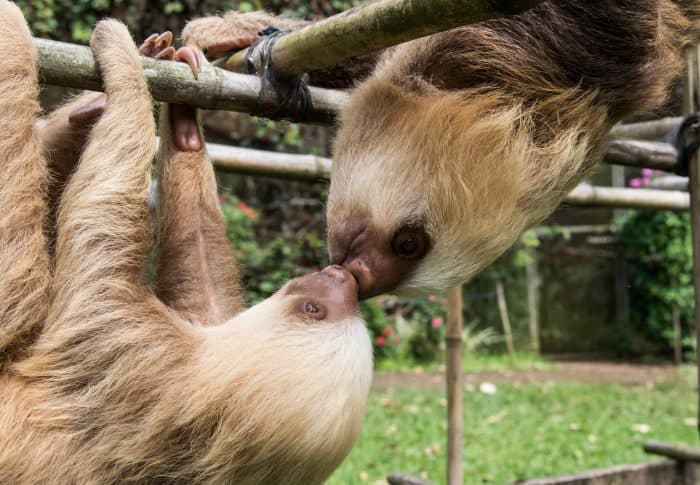 After the sloths' release, they continue to monitor their behavior with a tracking collar. If a sloth dies, they can determine where and how it happened to be able to improve the process.
The reason why sloths depend on the care is mostly because they've been injured or held as pets. Young sloths are often brought to the ranch because their mother died and they weren't old enough to live on their own.
"They face fragmentation in their canopies, that is partially because of human encroachment," said Palmer, referring to deforestation.
Other common reasons are car accidents, where the baby will later be found attached to its dead mother. Electrocution also causes several sloth deaths.
"They'll think that it is just a vine," said Palmer. "They'll touch both wires and then the mom usually is killed, so they're orphaned that way."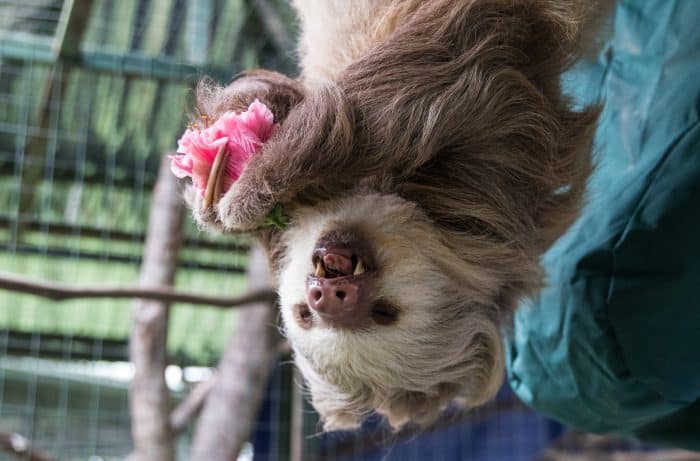 Sometimes the mother abandons the baby because she feels that it is sick and not worth taking care of. Other times the mother is sick herself. Dog attacks happen often as well, which is one reason why it is important for young sloths to learn not to walk on the ground, but rather stay up in the tree canopy.
"And then obviously humans, so pet trade, people stealing sloths, using sloths as selfie-props, things like that are issues that we face as well," said Palmer. "I always like to say it's our way of saying we're sorry and giving that animal, that we didn't before, a second chance at the life they deserve.
"And that's what makes this work feel really rewarding. In a way we took it away from them, so it's our job to give it back."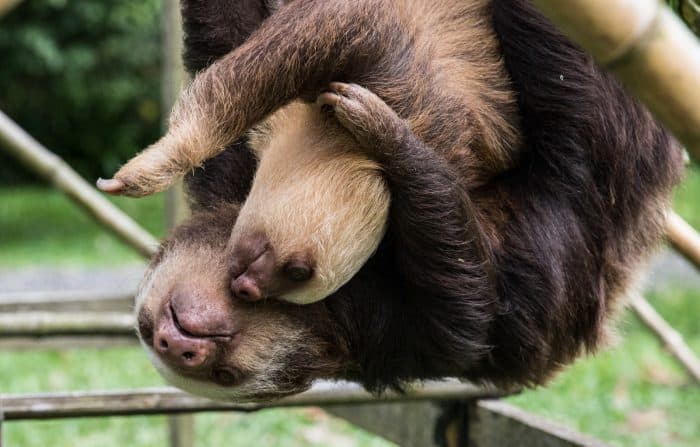 Toucan Rescue Ranch
The Toucan Rescue Ranch is not only giving life back to sloths, but different kinds of animals in need. The ranch is inhabited by spectacle owls, two-toed and three-toed sloths, toucans, scarlet macaws, an oncilla, spider monkeys, and more.
Lorita was one of the first animals the ranch has taken in for its care. The mealy parrot is now almost 50 years old.
"She was kept 30 years in a small cage, where she couldn't even spread her wings," said Daniel Quintanilla, a guide on the ranch, mentioning how several people have wild animals as pets. "She has two boyfriends now."
He pointed at a green bird inside a big cage, sitting on a tree branch, a male next to her.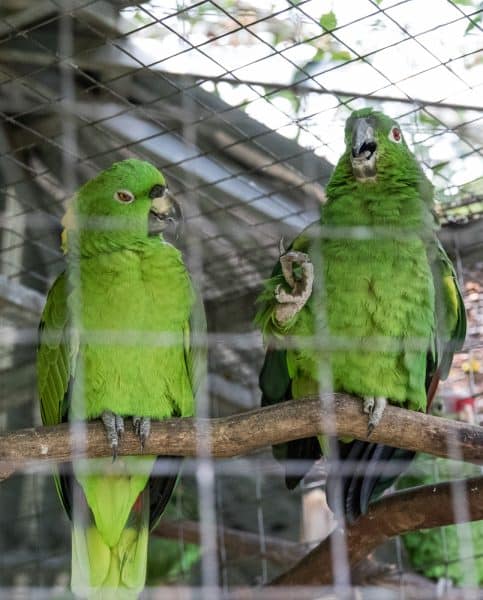 The animals are brought to the ranch by the Environment and Energy Ministry (MINAE), but not all of them stay there their whole life. The one type of residents that do, the permanent residents, have either been injured too gravely or had been kept as pets for too long. They could not live in the wild on their own and have to stay on the ranch.
The temporary residents are animals that can and will be released after they have recovered or been prepared for living on their own like the young sloths from the Sloth Ironman Games.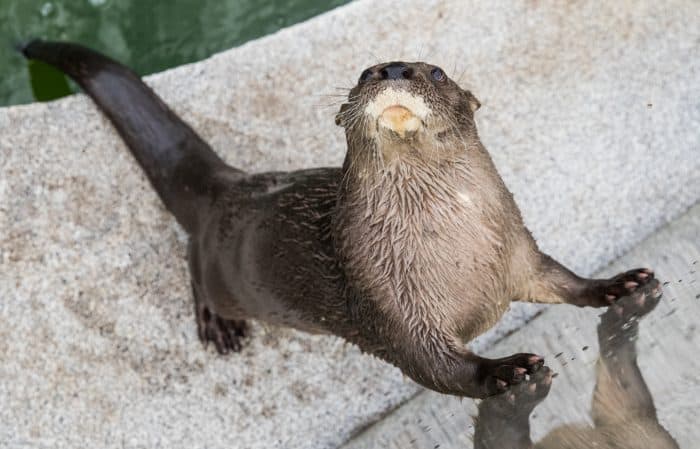 Once the animals are ready to face the world, they are taken to the ranch's release site. In the case of sloths and other canopy dwellers, they have developed a method that allows an easy transition. They put the animals in a cage with a big door.
"So we open the doors and the sloths leave, they come back, they leave, they come back," said Quintanilla, "and one day they don't come back anymore."
When they release animals, the ranch likes to take a group of children with them to teach them about animal preservation.
"We need to teach adults and children the importance of the rainforest and that the animals belong to the wild, they shouldn't be caged," said Quintanilla.
He mentioned that some people think that they are rescuing the animal from a certain situation but that they are actually often doing more harm interfering with natural environments. Taking them to the release site shows them where the animals really belong.
"It's a good way to teach them, especially when you are seeing the action part, you know?" said Quintanilla. They hope to educate and raise awareness for current and future generations to respect and help wildlife preservation.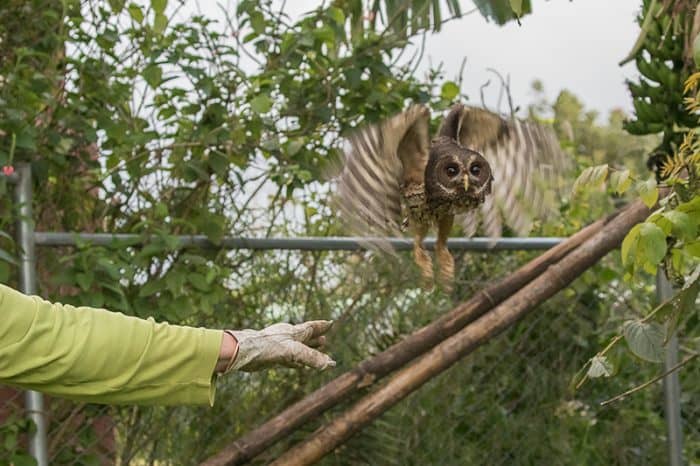 ---
The Tico Times Costa Rica Changemakers section is sponsored by the Costa Rica USA Foundation for Cooperation (CRUSA) and Amigos of Costa Rica.