Madelaine Jeresulem Caracas immortalized her roar at the beginning of the national dialogue aimed at solving the crisis in Nicaragua.
After Nicaraguan President Daniel Ortega claimed that no students were killed during the protests, Caracas stood up, took the microphone and began to shout, one by one, the names of people killed in the protests. At that point, May 16, there were 60. Now, according to a report from the Inter-American Commission on Human Rights (CIDH), the total number of dead is up to 322.
"He asked us for lists. Now he has them," Caracas said.
That moment shocked everyone in the room and will be remembered in Nicaraguan history as an important moment.
If somebody were to describe Caracas, who's just 20 years old, in one word, it would be "fierce." Her voice doesn't shake when she talks about Nicaragua's crisis, and she's not afraid to stand up to politicians like President Daniel Ortega or Sandinista senator Edwin Castro, who called members of her movement "screen activists."
Before the protests, Caracas was a painter. She used art as a space to denounce violence against women and discrimination against minorities. She criticized street harassment and the exploitation of power with watercolors.
She was well aware of the social issues around the country and helped organize peaceful protests at the beginning of April after the Indio Maíz National Reserve fire. The government didn't take the necessary measures to contain the fire and didn't give Costa Rican firefighters permission to enter the area and help.
"From there, we realized that things were going badly," Caracas said.
Subsequently, on April 18, Caracas left art and joined the protests against the National Institute of Social Security (INSS) reforms, which were hit by pro-government shock forces, leaving multiple injured protesters. That, she says, changed her life.
The day after these attacks, the police and the Sandinista's paramilitary groups started killing and chasing protesters. Since these atrocities, Caracas has not been able to return home.
"I left my house thinking I was going to return," Caracas said. "But because of the siege, the persecution and the directed death threats that the government sends me, it became impossible."
Caracas joined the "Coordinadora Universitaria por la Democracia y la Justicia," a group of young people from different Nicaraguan universities who started to protest at the beginning of the crisis. At first, the Coordinadora was created to organize student participation in the dialogue in Nicaragua. Now it aims to democratize Nicaragua and transform student participation and organization in Nicaraguan universities, which for 11 years have been vitiated by Daniel Ortega's Sandinista government.
Days later, Caracas had to leave the country for Europe to denounce what was happening in Nicaragua as part of the Caravana Informativa de la Solidaridad Internacional con Nicaragua, a group of three women who have been involved with the protests, including Caracas.
She was chosen to represent the student sector by the Articulation of Social Movements and Organizations of Civil Society, made up of different opposition sectors. According to Caracas, the trip was sponsored by "the solidarity of Nicaraguans throughout the world."
In less than three months, she traveled to 10 European countries to meet with media, politicians and independent organizations from each place, with the aim of denouncing the Ortega administration and trying to direct greater attention to the crisis in the northern country.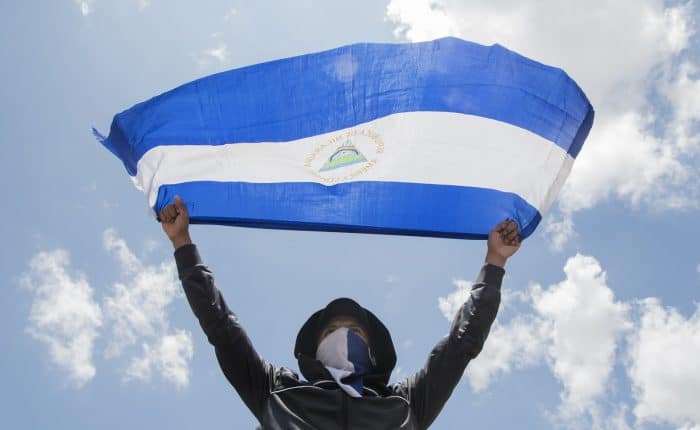 During these months, Caracas has lived in more than 20 houses of Nicaraguans in Europe that are members of the "autoconvocados" groups.
"We have lived in the houses of Nicaraguan people who live in Europe. People who work in cleaning, caring for the elderly, who are extending their arms to help their country in some kind of way to help us," she said. "In the Caravana, we met mothers of protesters killed in Nicaragua who could not see their relatives for the last time. It's hard."
But Caracas says she does not regret anything.
"It is my duty as a Nicaraguan citizen to fight for democracy and justice," Caracas said. "It's hard to accept not being able to enter my country."
More than a month ago, she says, the government of Nicaragua extended immigration restrictions and a judicial summons for "terrorism" to her. This has made her return to Nicaragua impossible.
On Saturday, Aug. 25, two young students, Yaritza Mairena and Victoria Obando, who represented student movements at the national dialogue and international assemblies, were apprehended in Nicaragua.
"They see us [the students] as their enemies," Caracas said. "I have not committed any crime. It is difficult to accept not being able to enter my country, where I have lived my whole life. Especially when you're in a place where you don't really have money, family or anything."
That has not prevented her from denouncing the atrocities in Nicaragua and trying to "to get Ortega out of power." She also wants to help her "brothers and sisters" who have had to leave Nicaragua because of persecution and are now suffering xenophobia.
"It is known that Costa Rica has the biggest number of refugees, but there are already Nicaraguans arriving in Spain, the United States and Mexico," Caracas said. "We have to analyze how the student leaders are dealing with this, because of the precarious conditions that our brothers and sisters live in."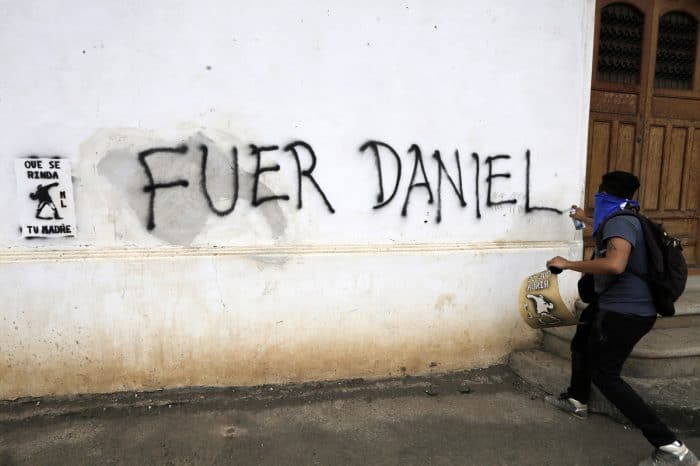 In Costa Rica we are already putting together plans to help because anywhere we can collaborate with the cause, we will help. If I can help them with anything, without hesitation, I will do it."
There are other important women in the fight."
Caracas hardly ever speaks in the singular. Although the international magazine Estrategias y Negocios named her one of the most challenging women in Central America, she does not like to take all the credit.
"There are other women who from a lower profile are doing a lot of things for Nicaragua," Caracas said. "Let's not forget the political prisoners, the activists, the rural women, the afro-descendants and other powerful women."
The young activist says she tries to speak for working women, political prisoners, murdered women and the relatives of victims, but she admits that she comes from a position of power.
"There are compatriots who have a worse time," Caracas said.
During these months, if something has changed in Caracas, it's that her voice is stronger now. She explains that she has experienced "years of life" since April 19. She's cautious in saying where she lives because even though it's far from Nicaragua, she feels that "Ortega has tentacles" to persecute people.
Without thinking about it, the 20-year-old says she would sacrifice everything she has left to contribute to justice for the Nicaraguan people.
---
This story was prepared for Semanario Universidad by Yamlek Mojica Loáisiga and translated and adapted for The Tico Times. Read the original report here.