To find Soda Lima, look for a yellow and red sign painted on a white wall that's shared with the neighboring Mini Super Feng. The sign is next to a bookstore on Calle 2, between Avenida 6 and 8, and there's a glass display case full of yellow-orange Ají chilis that will let you know you've arrived at this authentic Peruvian eatery.
The chilis are native to Peru, as is Doña Natividad Madera, who's run the restaurant along with her husband since 1986. They've been serving Peruvian comfort food for so long that you can find retro news clips if you look up "Soda Lima en Costa Rica" on YouTube. It appears not much has changed since then. It's almost as if you are stepping back in time as soon as you walk in.
As the name suggests, this is indeed a soda. This is a totally casual, 34-seat restaurant, where they specialize in home-style food that your grandmother would serve if she were Peruvian. If you don't have a Peruvian grandmother, at least you have Doña Natividad, and what a sweet lady she is.
While I waited for my food, she was happy to answer any questions that I had and we discussed her beloved hometown of Cuzco, which she proudly displays photos of on the walls around her restaurant.
Meanwhile, her husband toiled away in the kitchen. I could see him through the open window as I sat eager to try the food I had heard so much about.
You don't actually order the food off a menu. It is customary to order off of the chalkboard, which they will be happy to offer you verbally, as well. The roughly 12 different plates that are available change daily, so you always have the chance to try something new. Of course, their classics are frequently on the list.
These include lomo saltado, ceviche, escabeche de pollo, arroz chaufa, cauca and tallarines. On my visit, I shared three of these with a friend and we both left more than full. Prices average around 4,000 colones (about $8) per main, including taxes, and you get a healthy portion. This no-frills spot is definitely a bang for your buck.
To start, we devoured a traditional Peruvian-style ceviche 5,000 colones (about $10) of sea bass, which was quite possibly one of the best ceviches I have ever had. It was obviously super fresh, possibly even made to order. The quality of the fish was the star of the show.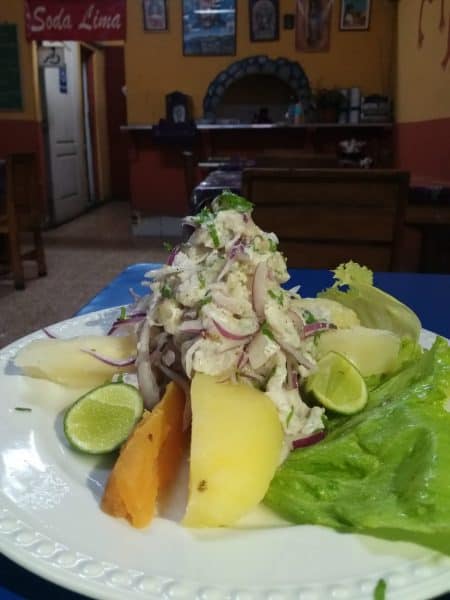 It was also marinated in a perfectly seasoned lime juice and mixed generously with slices of red onion. It towered up off the plate and was served with boiled yams and corn. Their house-made hot sauce really took this one to the next level, but be careful, it is not for the faint-hearted.
Then, came the lomo saltado, 6,500 colones (about $13), and escabeche de pollo, 3,500 colones (about $7). Lomo saltado is a traditional stir-fry dish. This one was made with strips of sirloin in some sort of pepper sauce. It also had sautéed tomatoes, roughly cut french fries, and a side of white rice. The steak was nice and tender, and the sauce was deliciously flavorful.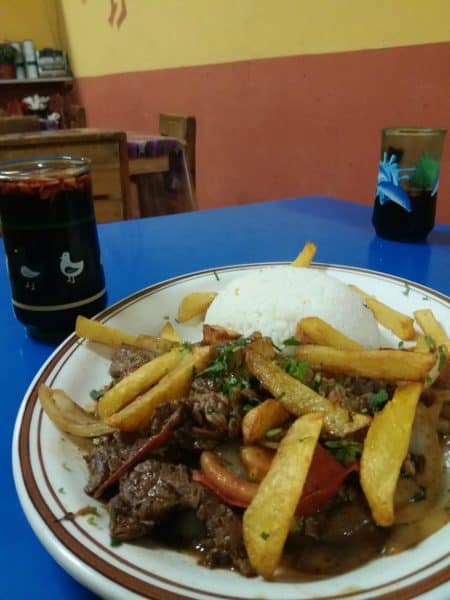 This was my first time trying escabeche de pollo — which translates to pickled chicken — and I now feel like I've been missing out for too long. Let's get this straight though, this isn't actually pickled chicken, despite the name. The chicken is cooked in a red wine vinegar sauce, seared in a skillet, and finished in an oven.
It comes with a side of sliced boiled potatoes that are absolutely smothered in a creamy Huancaina sauce, which is another staple in the Peruvian kitchen. Huancaina sauce is made from cheese, cream, yellow ají, and spices. It is tangy and creamy, rich and light, salty and savory. If it's available when you visit, as I imagine it should be, please try it.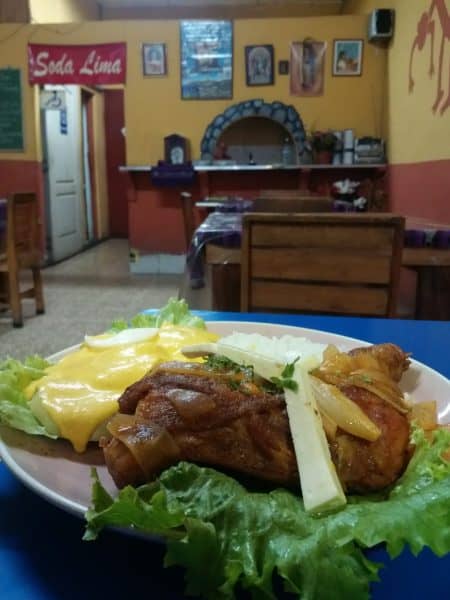 They do not have alcohol for sale at Soda Lima, but they do have a basic selection of bottled soft drinks and one natural juice, which happened to be Tamarind fruit on my visit. If you want an authentic experience, go for the Chicha Morada or a bottle of Inca Kola.
I had the Chicha Morada, 1,000 colones (about $2), which is a sweet drink based off of purple corn, spiced with cinnamon and cloves, and with a slight hint of citrus. At Soda Lima they added bits of apple into the glass, like a sober Sangria.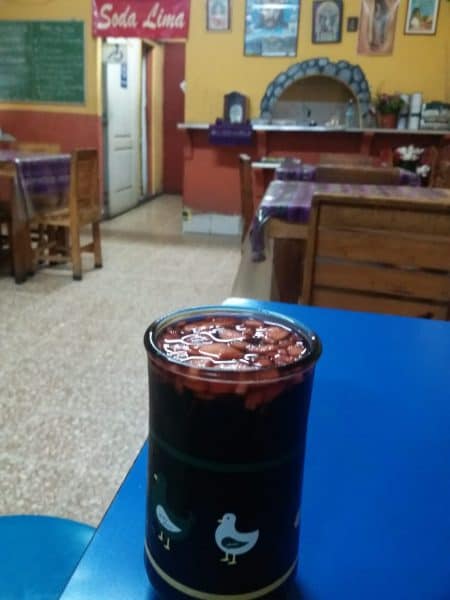 There's no parking for customers at Soda Lima and there's no street parking either. But look for the Parqueo Teatro Moderno just down the block if you want to park. Here, you will be able to leave your car for 1,000 colones (about $2) an hour, more than enough time to enjoy your meal.
Soda Lima is open seven days a week, from 10 a.m. to 5 p.m. They do not accept cards, so it's cash only. Search "Soda Lima" in Waze or Uber to arrive conveniently.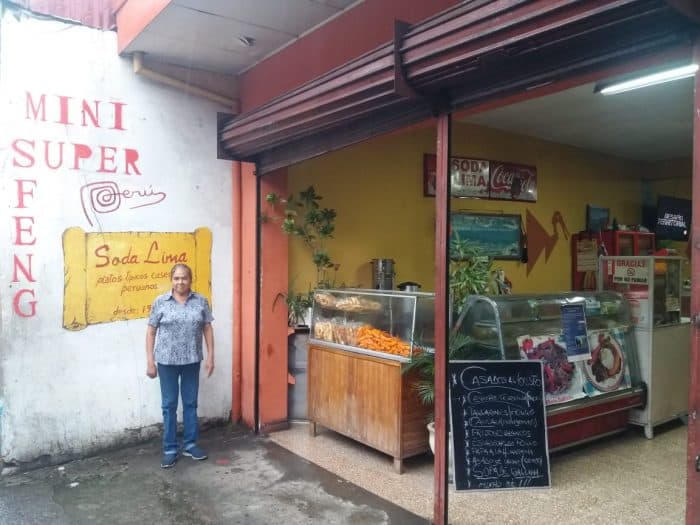 ---
William Ayre is a Canadian born chef and restaurateur who has spent the last half of his life doing business in Costa Rica, where he now considers to be home. Inspired by Anthony Bourdain, Ayre's passion of experiencing different cultures through food has taken him to 35 different countries over five continents. Whether it's a 20-course meal at a fine dining restaurant in Toronto, or cantina hopping in search for the best chifrijo here in San José, he fits in just fine.