San José — The demonstrations began with a red wave of taxis blocking Avenida 2 in downtown San José. The protests continued throughout the capital city Monday as they did on streets throughout the country: thousands of people voicing their disapproval of a tax-reform law they believe unfairly targets the working class.
Chanting "El pueblo unido jamás será vencido" — a united people will never be defeated — the crowd marched peacefully from La Merced Park toward the Casa Presidencial in Zapote.
But as of Monday afternoon, the Costa Rican government had not yielded ground. President Carlos Alvarado tweeted the government hopes to declare the strike illegal, adding in a statement he "will not enter a dialogue" while the strike impacts workers and students.
A este momento 15 entidades han presentando la declaratoria de ilegalidad de la huelga ante las instancias correspondientes.

Tomamos las medidas para asegurar que se mantenga el orden público y que se minimice la afectación a las personas.

— Carlos Alvarado Q. (@CarlosAlvQ) September 10, 2018
"We are taking measures to ensure order is maintained and to minimize impact on the public," Alvarado said.
The disagreement centers on Law 20.580, a proposed tax reform intended to help Costa Rica reduce its deficit. Among other changes, it would replace the sales tax with a value-added tax (VAT), allowing the government to collect taxes on services instead of just sales. While some essentials — such as medical and educational services — would have a reduced VAT, large international corporations could still benefit from zonas francas, or tax-free zones. (Read the entire proposed tax reform here.)
Union members representing education, health, transport, and other sectors took to the streets Monday for what they say will be an indefinite protest that will not conclude until the government passes a tax-reform bill that better respects the working class.
"Many are afraid to participate in an activity like this one, because they are afraid to lose their jobs," said Ricardo Meléndez, Deputy Secretary of the Trade Union of Workers at the Banco Popular. "Of course I'm afraid, but it's a fight we all have to join together for the common good."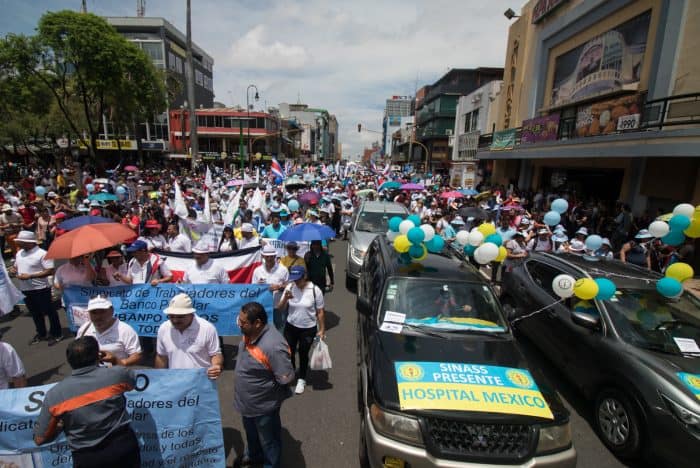 Among the demonstrators was Cynthia Leandro Peralta, a teacher at the Escuela República de Haití who says she has worked within the Ministry of Education for more than 20 years. She marched holding a large banner as the crowd moved west.
Alongside her were the children of several of her coworkers.
"We show our children and students that we should not only celebrate our history, but to fight for our rights," Leandro Peralta said in an interview with The Tico Times.
"We are here simply because the government is not respecting our social rights."
While demonstrations impeded traffic on some city roads, elsewhere taxi and Uber drivers commented that the absence of people made Monday feel like a national holiday.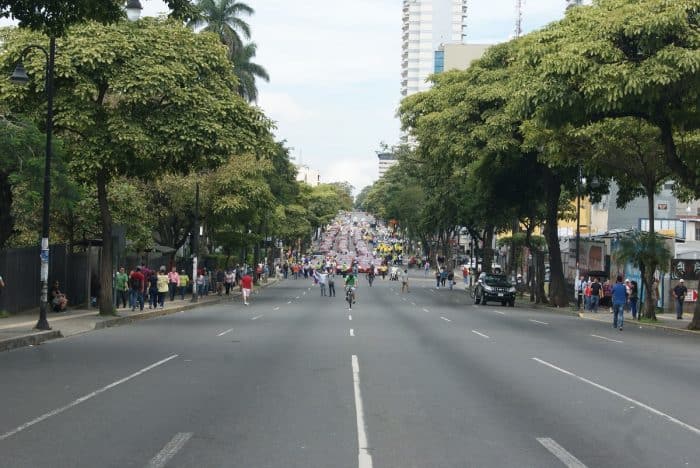 Elizabeth Briceño, president of INCOFER, Costa Rica's national rail authority, tweeted they were able to transport all passengers after an early-morning disruption when protesters boarded a car. Meanwhile, hospitals across the country reduced non-essential care but kept emergency rooms open.
¡Excelente labor!
Rutas de: Alajuela, Heredia, San José y Cartago operaron esta mañana con éxito.
Logramos transportar a todos nuestros usuarios sin afectación.

¡Vamos hacia adelante!#TrenCR pic.twitter.com/brMMj9sooI

— Elizabeth Briceño J. (@briceno_eli_) September 10, 2018
According to the Ministry of Education, more than 8,200 educators went on strike Monday. Monica Chacon, a mathematics teacher, was one of them. She feared rising taxes coupled with stagnant salaries would punish the middle class while allowing corporations and the rich to profit through loopholes.
"If they freeze our salaries and raise taxes, in 10 years, we'll all be on the streets even though we are professionals," Chacon explained to The Tico Times. "It's not that the government shouldn't tax us — they should tax, the country is in bad shape — but they should tax intelligently, so that everyone pays what they deserve to pay. Those who make more are taxed more."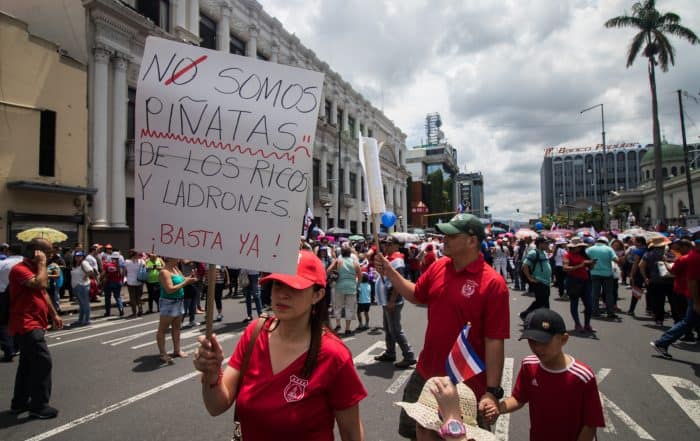 Protesters reached the Legislative Assembly in the early afternoon, but dark clouds hanging over the city finally burst and heavy rains dispersed protesters at about 1 p.m.
#HuelgaCR A la 1 p.m. se retiraron los manifestantes contra el plan fiscal que protestaban frente al Congreso pic.twitter.com/QYowzGmrcW

— ameliarueda (@ameliarueda) September 10, 2018
This is a developing story. Stay tuned to The Tico Times throughout the week for more coverage and updates.