Andrea Bravo, 23, is an engraving student at the University of Costa Rica who uses her personal experiences to create empathy for all kinds of women's issues ranging from femicide to body acceptance.
Born in the province of Cartago, Bravo has lived in San José for almost a year, fulfilling her dream of having her own workspace. She shares an apartment with two roommates and affectionate dog named Pati. She opened the doors to this apartment to show me more about her passion for social issues and how they take form in her art.
While both her parents are interested in art, Bravo initially thought she couldn't study plastic arts. Her mother painted when she was younger and her father, who's from Uruguay, played a big role in teaching her about culture and music. Despite that, she had never thought of herself as an artist, much less making a career out of it.
She started studying history at the University of Costa Rica, which honed her research skills, and that's where she realized she could study plastic arts.
The first thing I noticed in her apartment was an easel with some of her work.
¨The one in the center is something that I have to update, but it is the list of girls who have been killed this year in femicides," Bravo said. "The idea is to show that they exist.¨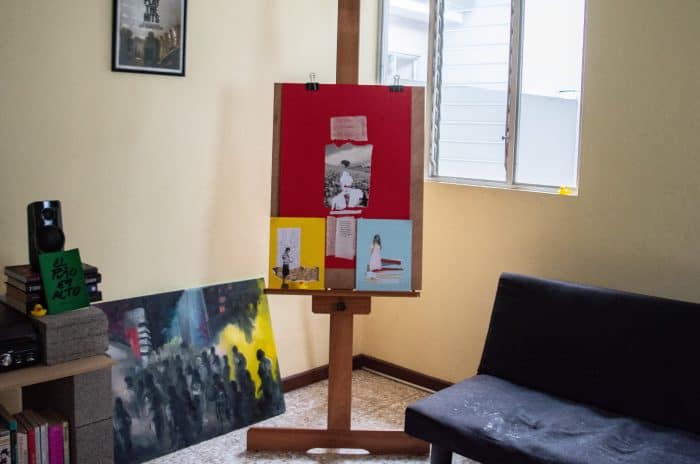 Bravo is a mix of things. She's interested in feminism, gender issues, and intersectionality. She studied engraving, lithography, silkscreen and metal engraving. She likes engraving the most because of the collage-like variety of materials she can use, but her main goal is always to create empathy.
We sat at a small dining table and she told me that the first exhibition focused on questioning the acceptance and normalization of sexist phrases. Now Bravo is an Academic Residency for Emerging Central American Artists (RAPACES) art resident. RAPACES is promoted by the Spanish Cultural Center in El Salvador and Espira la Espora in Nicaragua and the one Bravo was chosen for focuses on gender issues. Residents will display their work next year.
While Bravo decides what her life path will be, she is working on her degree.
"It is about the influence of a panoptic landscape on the image of female corporeality. The panoptic landscape is this entity or control that exists economically and socially, as a government or society," Bravo said. "It's that patriarchal look that sometimes controls how we see ourselves as women.
"So I'm showing what those bodies would look like without that axis or control, how they would look without judgment."
Books, art, magazines, donated materials…they're all part of the workspace.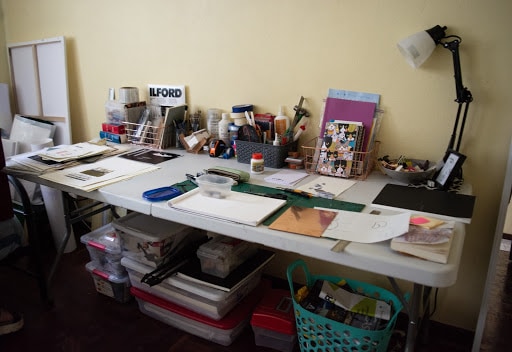 Her creation process includes keeping notes, always. She writes down keywords of things she would like to do, research, references, and materials she experiments with. She doesn't want to show the obvious, but instead, reveal what's underneath.
One of the most interesting donated collage materials is a script of an award-winning short film. People constantly look for her to give her materials they no longer need.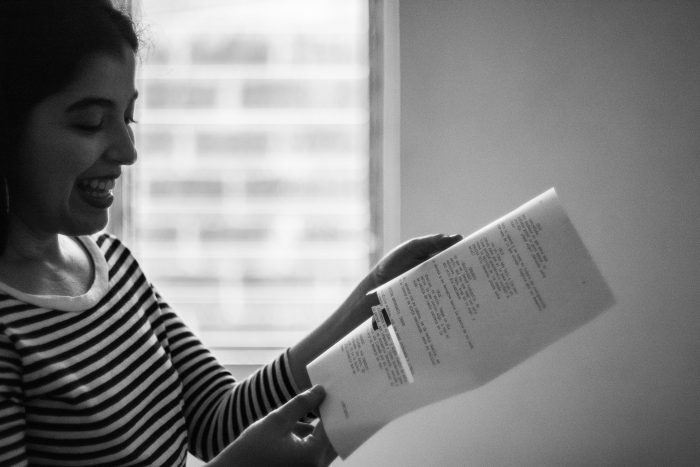 Here she's experimenting with a mixture of poetry and collages. She would like to publish a book like this someday: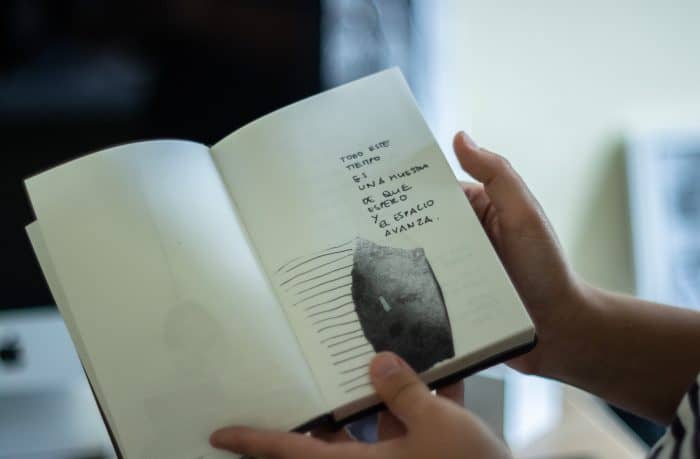 She says Edward Hopper is her favorite artist and that she is very proud that her collection has more books written by women than men. She also has works by artists Diana Hérnandez, Mariana Corrales, and several others in her collection.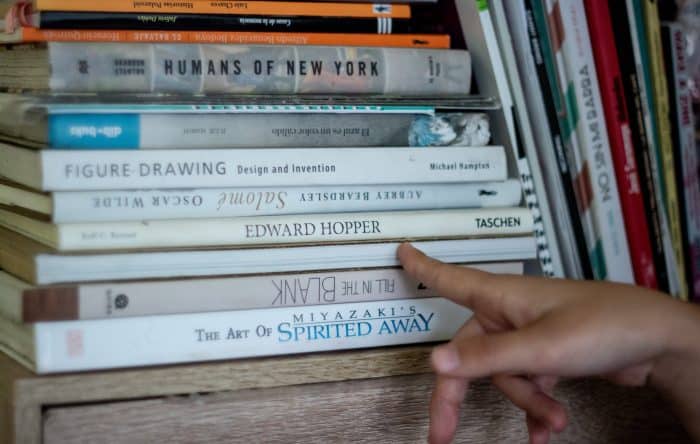 She showed us a piece that needs to be well-covered and taken care of. It is a small piece but also works with larger formats: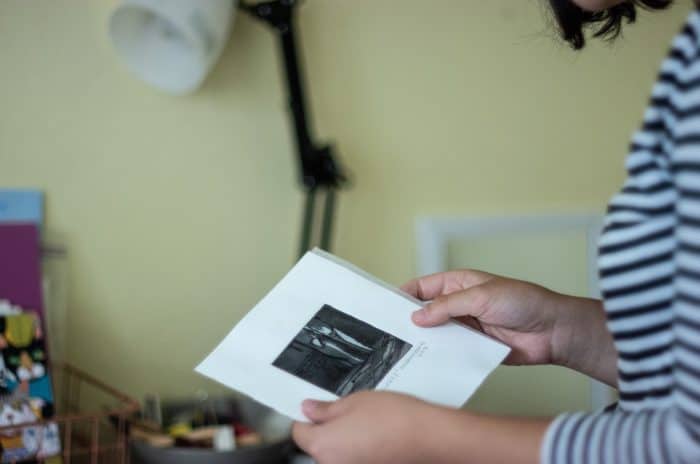 Here are some other pieces in progress: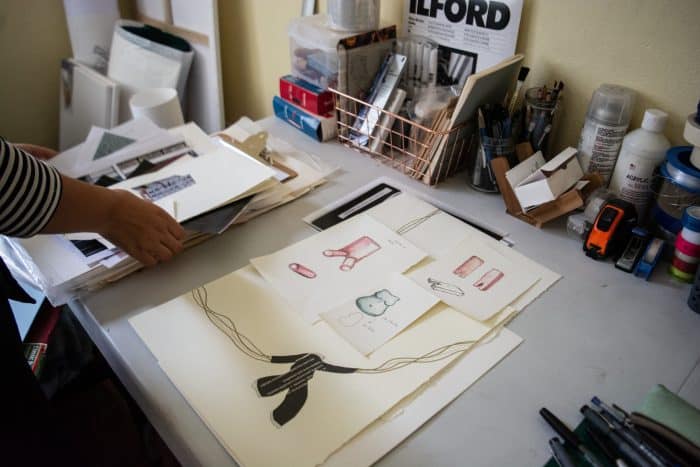 That's Pati on the left, a pet and faithful apartment friend:
To engrave, Bravo needs special equipment like gouges, wood, metal, and linoleum.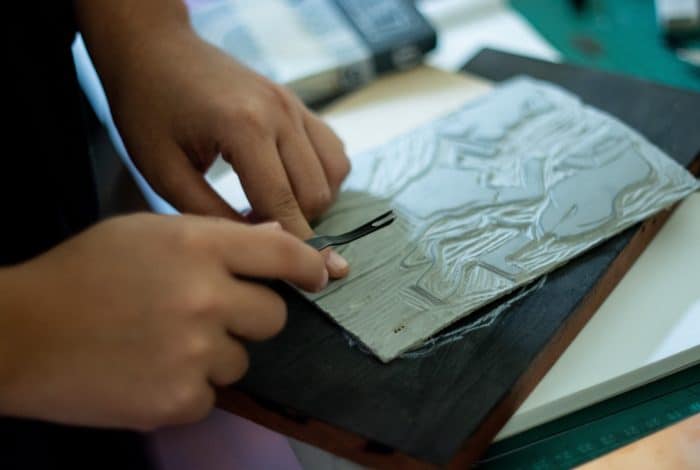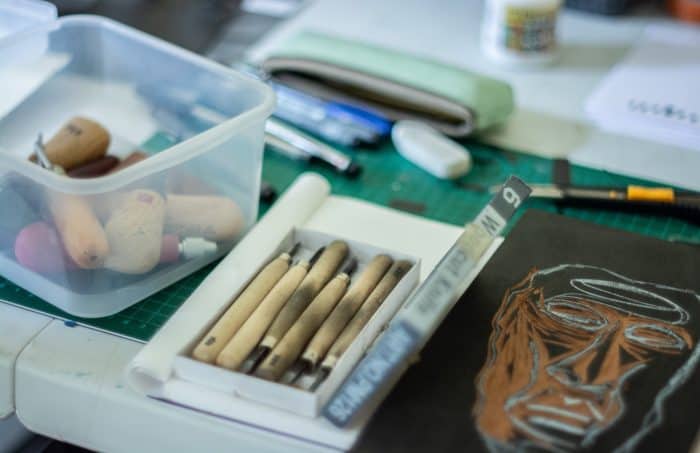 Bravo wants to apply to more international programs and is happy for the Central American residency she's a part of. But she also misses Cartago and her family.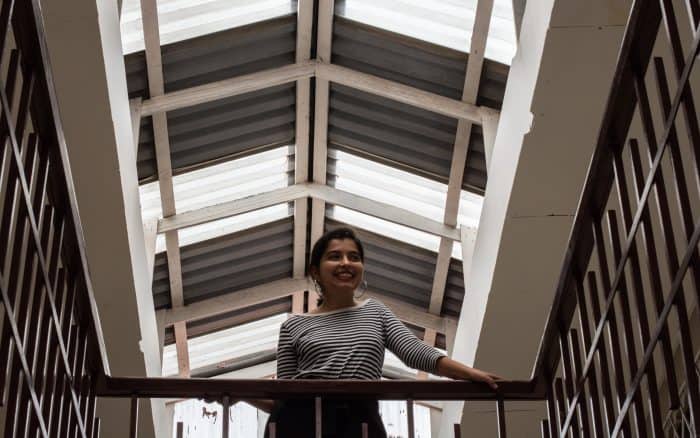 I hope to see your book of poetry and collages soon.
---
Our Weekend Arts Spotlight is brought to you by the Jason Babchuk Gallery/W22 Galería.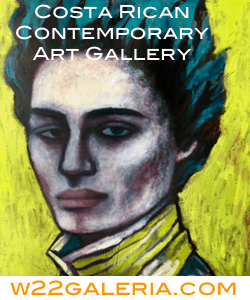 "Weekend Arts Spotlight" presents Sunday interviews with artists who are from, working in, or inspired by Costa Rica, ranging from writers and actors to dancers and musicians. Do you know of an artist we should consider, whether a long-time favorite or an up-and-comer? Email us at alex@ticotimes.net.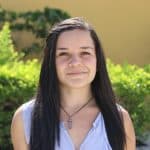 Ivannia Alvarado is a communicator and inveterate traveler. Photography captured her world about a year ago; she found in this art the perfect medium to communicate, report, create awareness, but most of all, demonstrate that life's not that bad if you can look at it. She also works in production and development of content related to culture and the city. Instagram: @ivacaminando.