If you're walking on Calle 11 near Avenida Central, you might get a whiff of freshly cooked, spicy food. The source is easy to pinpoint, a Korean man behind a window toiling over five gas burners. Above him, there is an orange sign with Korean symbols on top of the entrance, and coiled barbed prison wire lining the roof.
It's no prison though, it's Fritos Comida Coreana.
Here, for nearly four years, Pablo and Gabriela, the husband-and-wife owners, have been serving authentic Korean food to curious Costa Rican diners. I suspect those are not their real names, but rather are easier for locals to pronounce.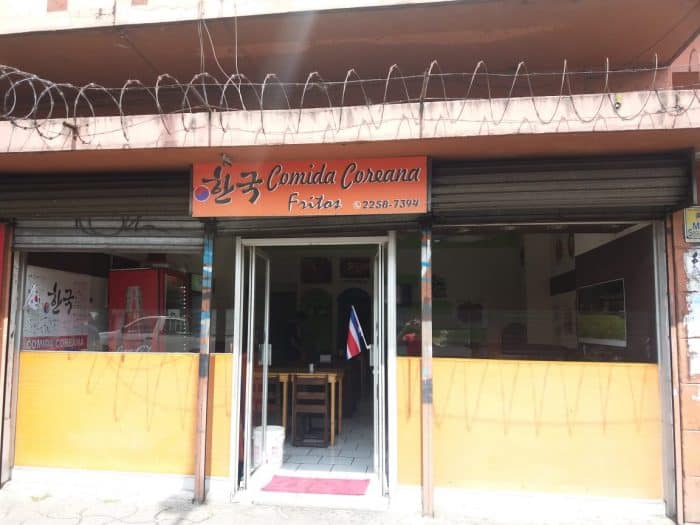 Their establishment is real though, and small. Despite that, they've still managed to cram 34 seats into it. I imagine it could fill up quickly, but it was quite empty when I had lunch on Monday at 2 p.m., so we were able to enjoy a comfortable meal.
There seems to be a kitchen in the back, but the real action happens towards the front, near the open window where Pablo cooks over a handful of burners. This area is the definition of an open kitchen, and so, there are no secrets here.
Perhaps this is smart business on their part. The aromas of gochujang chili paste and grilled meats have surely enticed many people who would have otherwise passed right by.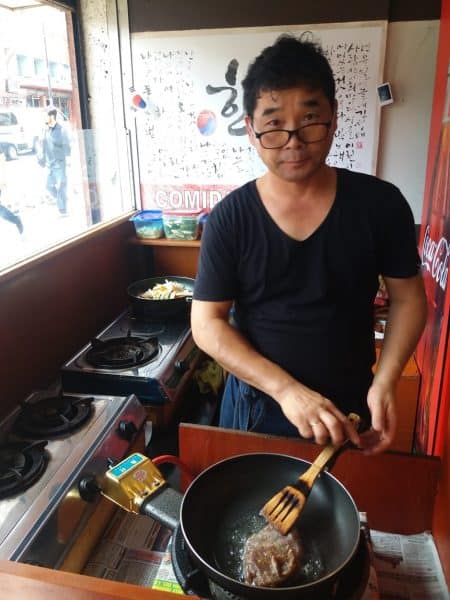 Or perhaps it's for ventilation purposes, a sneaky way to get around having to install an expensive exhaust hood in the rear kitchen.
Either way, it works.
If the Korean man preparing your meal in front of the world isn't enough to show this place's authenticity, there's a pile of fresh Napa cabbage against one wall to remind you.
This is a key ingredient in their house-made kimchi, a staple in Korean cuisine, which they ferment on location.
For those unfamiliar, kimchi is a sort of pickled side dish. It's a mix of salted vegetables, generally cabbage, with a variety of seasonings including spicy chili powder, garlic, and fish sauce.
Thanks to the natural fermentation process, it's full of vitamins, probiotic, and healthy bacteria. Some people actually consider it to be a "super food".
Many of the dishes on the menu include kimchi and you can even buy some to take home. I highly recommend it.
Anyways, back to their main dishes. The menu is a simple, one page document, with about 25 different items on it. Items are split into sections such as meats, noodles, soups, rices and specialties. There are also options for vegetarians, like tofu.
When in doubt, you can use the photos on the walls as a reference guide when ordering. Of these, I have tried four different dishes: the beef bulgogi, dakgalbi (spicy chicken stir fry), kimchi bokkubab (kimchi fried rice with sliced of hot dog wieners and a fried egg on tap) and mandu (which are crispy fried dumplings filled with meat and vegetables).
The beef bulgogi is probably one of the more popular items at any Korean restaurant. It consists of thin, stir-fried slices of beef that have been marinated in a mix of soy sauce, sugar, sesame oil, garlic and black pepper; making it tender and deliciously sweet.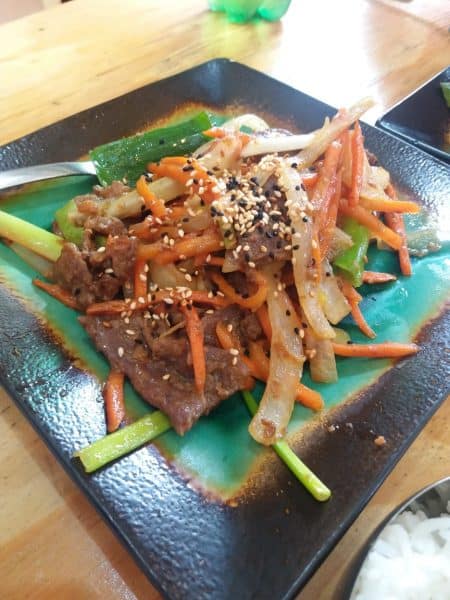 The mandu was a similar version of what they serve in Japan as gyoza; a crispy dumpling with filling, to be dipped in soy sauce before eating. Then there was the fried rice. It was good, but strange, thanks to the hot dogs. Hot dogs are used in a lot of Korean comfort food dishes after they were leftover in the country at U.S. Army bases around the 1950s. After wartime, there was food rationing in Korea and hot dogs were an excellent source of cheaply available protein.
On the side, my table received complimentary dishes of kimchi, pickled daikon, and some sort of leafy greens in sesame oil. They were all absolutely delicious. Our group of three people finished every plate, paid happily and left with full stomachs.
The average price per main course is around 5,000 colones (about $10), including the 13% sales tax, and an additional 200 colones will be added on for takeaway orders.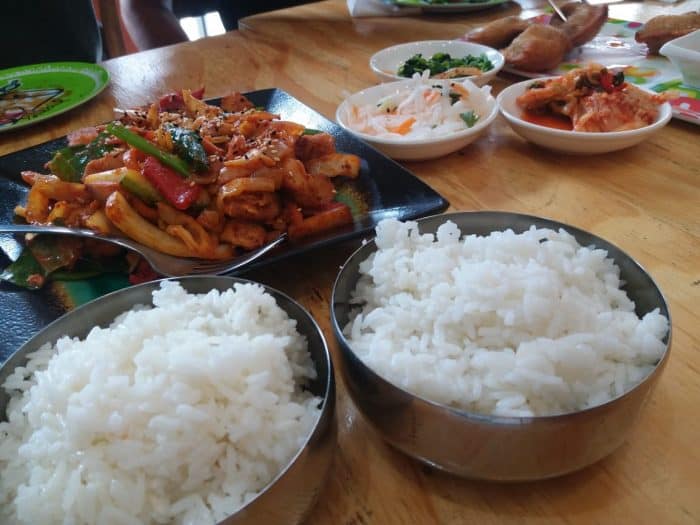 Want a drink to go with your meal? They don't have permits to sell alcohol at Fritos, but do offer a small selection of bottled soft drinks and iced teas. Go for the aloe vera drink, instead.
I can safely recommend everything that we tried. The flavors were a welcome change from the normal, it was really an adventure for the tastebuds, and the food was unique enough that I am looking forward to going back to try more of what they offer.
The man cooking at the window is the owner, but it's something he originally denied. He jokingly pointed at his wife, implying she's the real boss at Fritos. And of course, she is. She waits tables during the week and on weekends their son helps out. I assume that's when they're busiest. The couple speaks Korean and Spanish, but no English.
There are no English menus, but there are photos of most of the dishes on all four walls around the restaurant. So it's still easy to order even if the names are all totally foreign. These are the traditional Korean classics, comfort foods, after all.
Fritos is open six days a week, from Monday to Saturday. They open from 11 a.m. until 9 p.m. most days and close at 7 p.m on Wednesdays. The restaurant doesn't have parking, but there is street parking and a public pay-parking lot in the surrounding area. Major credit cards are accepted. Search "Comida Coreana Fritos" in Uber or Waze and stop when you smell the man in the window.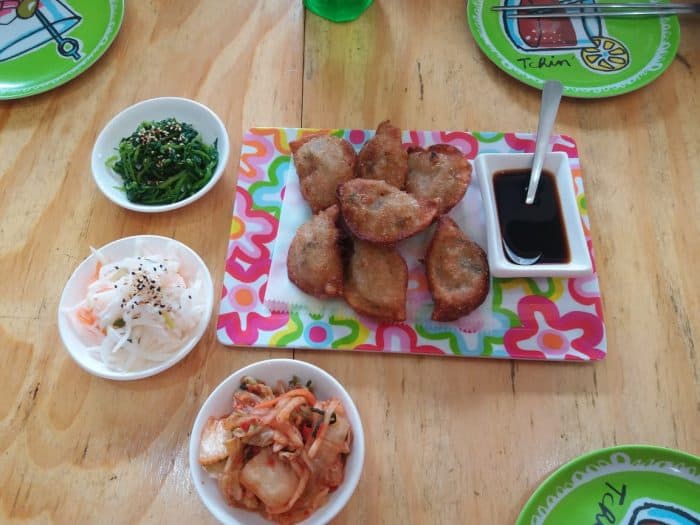 ---
William Ayre is a Canadian born chef and restaurateur who has spent the last half of his life doing business in Costa Rica, where he now considers to be home. Inspired by Anthony Bourdain, Ayre's passion of experiencing different cultures through food has taken him to 35 different countries over five continents. Whether it's a 20-course meal at a fine dining restaurant in Toronto, or cantina hopping in search for the best chifrijo here in San José, he fits in just fine.