In 2017, Berenice Jiménez represented Costa Rica in the International Festival of Songwriters, an achievement that came to her unexpectedly and kept her in the public eye. In her two musical projects, Lapislázuli and Berenice y la inquietud, her voice carries a message of social struggle, feminism and diversity, seeking to claim joy, affection, individual and collective freedom.
Her natural connection with everything that is human led her to study psychology but her determination and soul has moved her to invest her time in music. She opened the doors of her house to us so we could learn more about her music from a more intimate perspective.
Before entering her house, we're greeted by Coco, a playful and affectionate little dog who is the songwriter's inseparable companion. Then we met Maga, a kitten who completes the fantastic trio.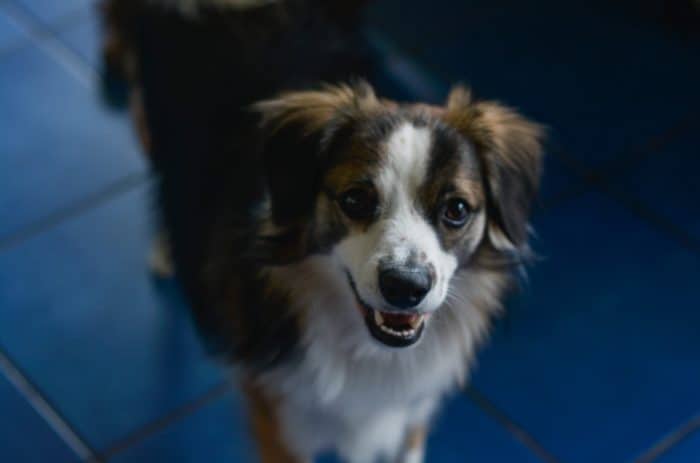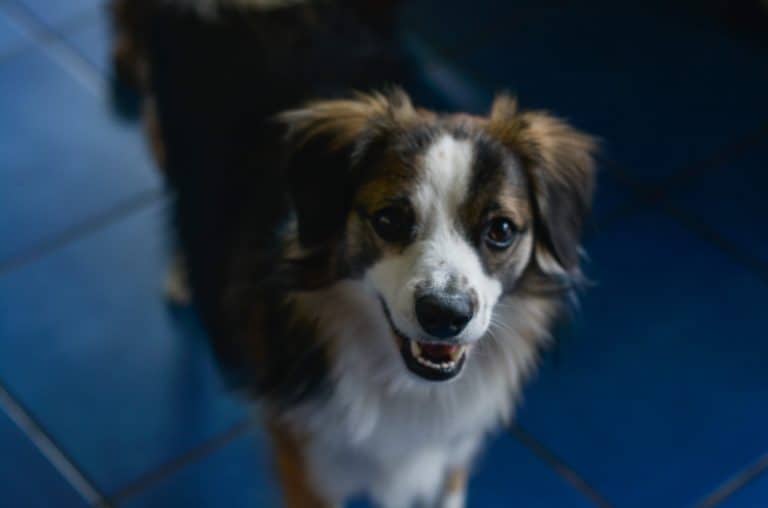 In a room full of books, art, history and more, Jiménez tells us how everything started.
"This story began with my grandfather and my maternal grandmother, and my father –pillars of my cultural, musical and intellectual teaching. My grandfather was Álvaro Murillo, and he was a violinist – I have his violin just here," she says, going to fetch it as her pets look on.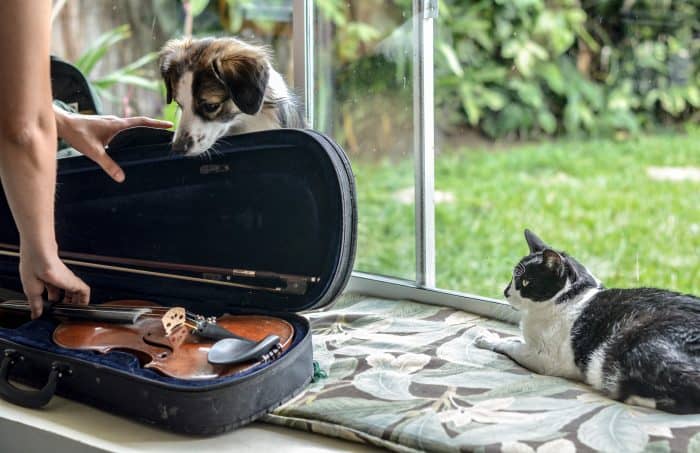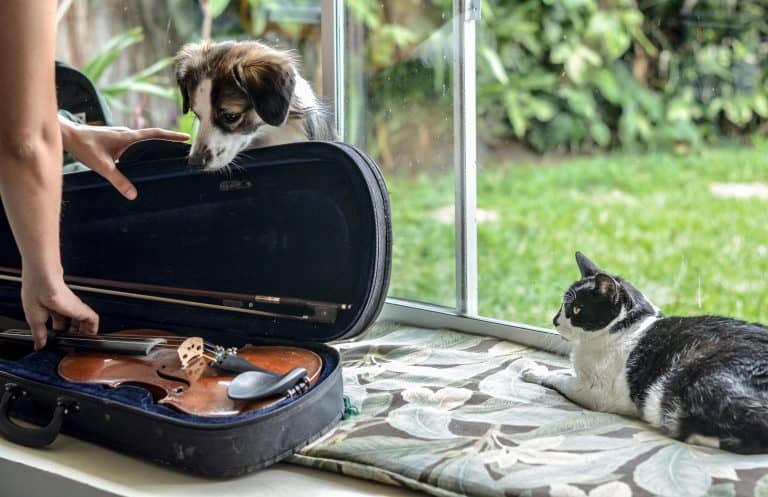 Don Álvaro was a music teacher at the Mauro Fernández School; her grandmother a choral singer; and her father, Jorge Jiménez, philosopher and poet, was the creator of the famous journal of critical thinking, Kasandra.
This artistic upbringing influenced Jiménez. She was part of the symphony with the violin since she was a child, through the Suzuki program. In adolescence, she moved away from music, not wanting to continue under the structure or aesthetic limits of symphonic music, but her father proposes to continue and joins the Academy of Miriam Cartín to train in singing. He started to work with her there as a choral singer when she was 19.
It was an important moment in her life that set her on the path she's on today. She met a future co-founder of her band, Lapislázuli, in a jazz ensemble, and also had a personal awakening. She started liking girls and began to question herself and the heteronormative world. Those experiences transformed a lot of what she writes.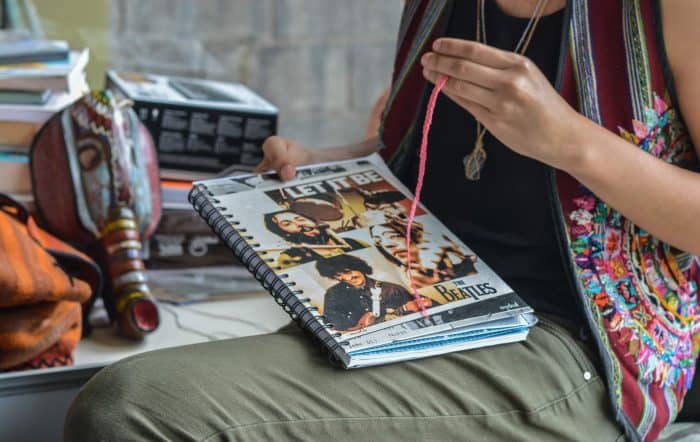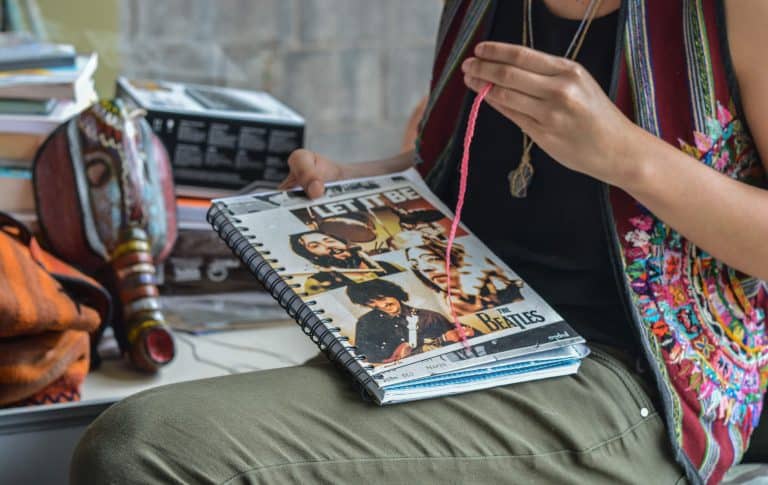 She writes in different notebooks and lets each theme take form in an experimental way. No structure.
"The songs are a kind of channeling of how I perceive daily life. Writing a song is to carry a message with responsibility and a commitment to the public in giving content that transforms," she says.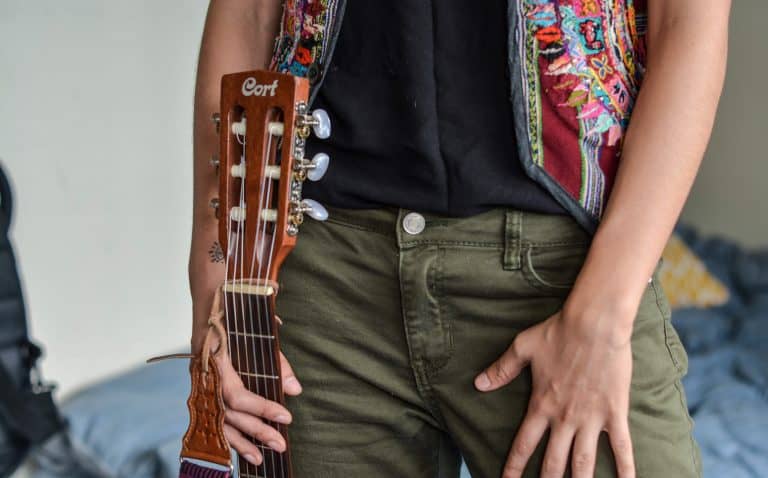 "I like to write about social problems and in a certain way denounce with music what I think is relevant as a young feminist, woman and lesbian – in a Central American country, that is small, conservative, homophobic, xenophobic.
"I try to name what many people are afraid to name, that even I am afraid to name. I have a song called Aurelia: it's a song that talks about a girl that represents the story of La Llorona, but that girl has a name, unlike the legend. The girl is raped by her father in the river and forced to have the child. We see that in the news and we do not tend to [react as strongly] as when we hear it in a song.
"It talks about the mandates that the church, the media, and society throw at us. They give girls a responsibility that they should not assume. Possible realities and maybe the history of the weeping woman, a naturalized patriarchal violence that is an accomplice of those naturalized pregnancies that change the lives of these girls and no one is responsible."
"Chapina" (guitar), "Lele" (Ukelele) and "La Otra" (guitar) are the instruments that accompany her in the composition process.
Her band Lapislazuli is her space of collective expression, and Berenice y la inquietud is her personal project, where her own internal dialogues take shape, with the freedom that implies. The band includes musicians Renato Conejo, Charly Picado, Oscar Jiménez y Elen Zúñiga. The sound of the band moves towards Afro-Latin American influences.
You can listen to Lapislazuli music here.
The group wants to visit México and Spain soon to share their music and message. They have been to Guatemala twice, an experience that helped them grow and aroused their desire to continue traveling together.
While the interview was taking place, Lala's voice rang out from Jiménez's computer and invaded the space; the Peruvian artist who is part of her current musical influences. Her voice and those of Mercedes Sosa, Violeta Parra, Esperanza Spalding, Natalia Lafourcade, Alex Ferreira and more, accompanied Berenice as references. However, she says it's her Costa Rican friends who are driving her greatest musical growth: Fabrizio Walker, Cristina Cleveland, Maf É Tulá and Franklin Noguera. They represent a work as a community and an interactive game without end.
One of the cultural projects that Jiménez is involved in is Kuxiubal, a "secret Santa" of songs. It consists of making a new version of another singer's song, and it is a surprise until the day of the event. The first event in the country included a recording and a songbook was made. It is a space to create community and communion between Latin American artists.
Jiménez is also part of the project "Viajar solas" ("Traveling alone").
"Amanda Obregón, Jimena Obregón and I brought forth the initiative; today we are twelve women in the collective. It's a show to talk about the right to free transit and gender violence," she said.
The project includes theater, music, workshops and interventions in the public space.
She also gives public support to the legalization of abortion and civil society projects such as "Caminar juntas."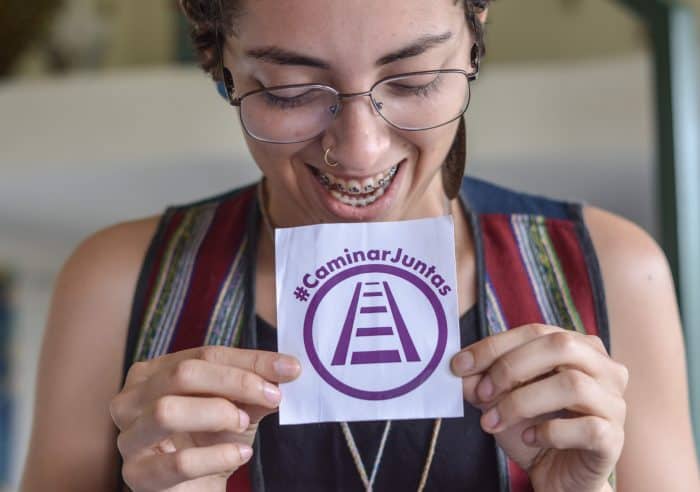 A tour of the room leads to the prize from the International Songwriters Festival 2017 appears.
"2017 was a year of many changes for me. A very important love relationship came to an end for me, and I had to get it out in some way, so I wrote the song that I sent to the contest. It was a bossa nova song that talks about adulthood, how we find ourselves in a solitude that confronts us. I sent it on the last day of the call to the contest. I underestimated [myself] a lot, but it turned out that I won," she said.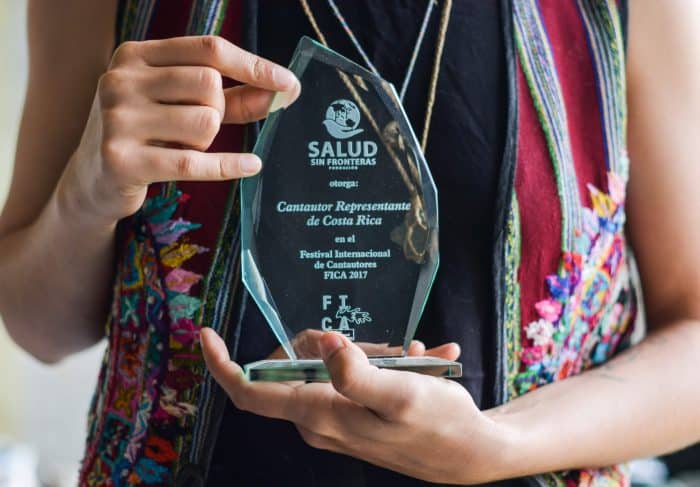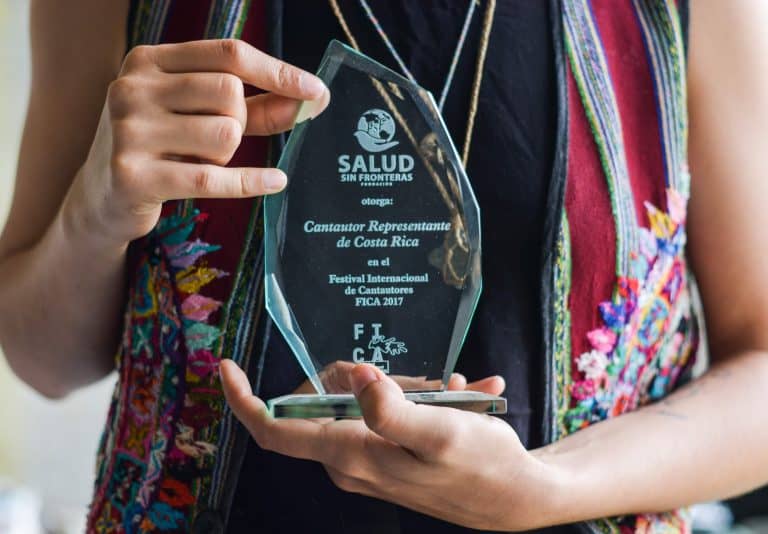 The whole process was a pleasant surprise, even leading to the possibility of singing at the National Theater. During the festival she met the Spanish singer-songwriter Pedro Pastor, who gave Jiménez a more critical perspective about how to bring her personal experiences to the public.
Other important objects that she showed us were an illustration of Querida Diaria, a fragment of a song and her spiritual altar.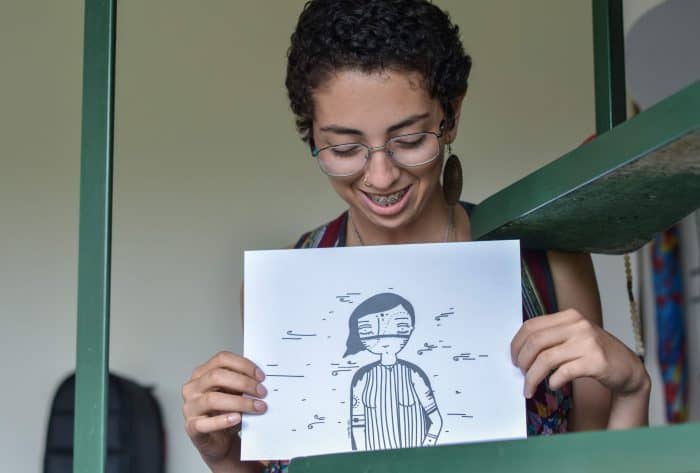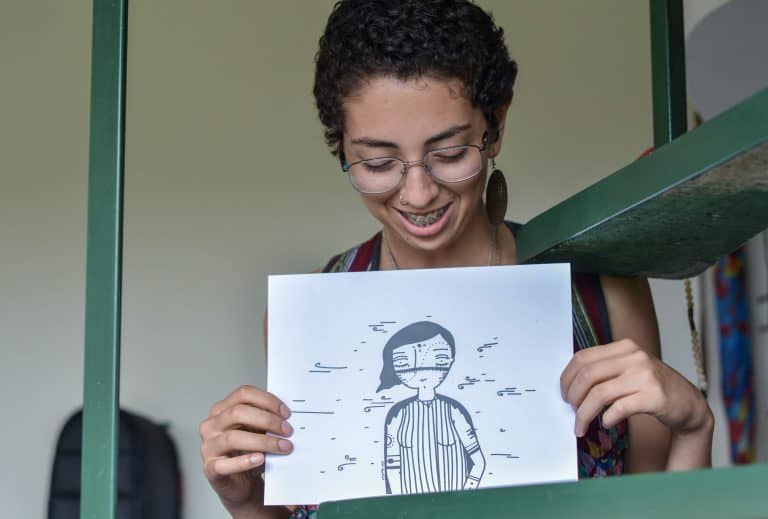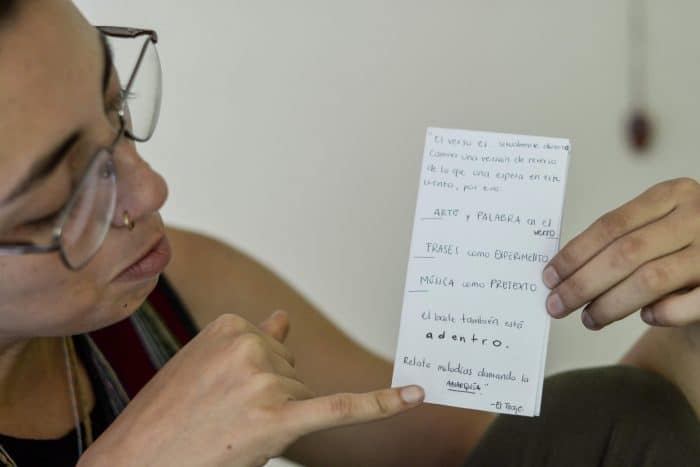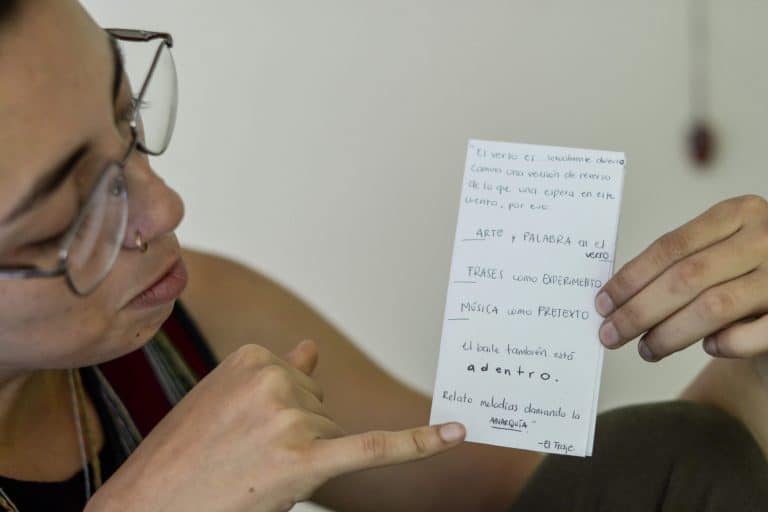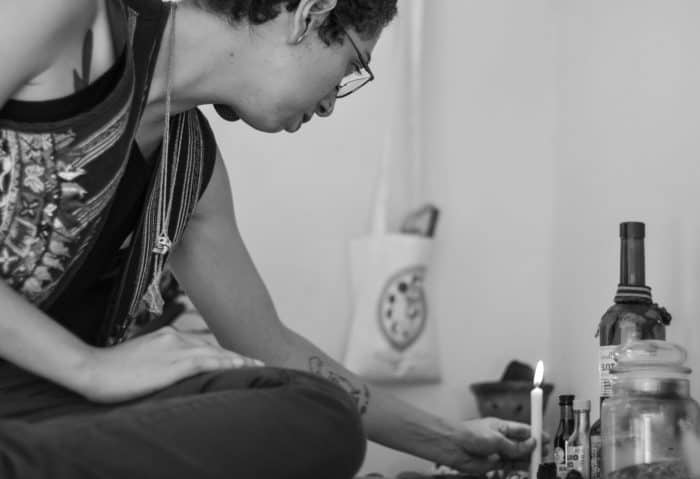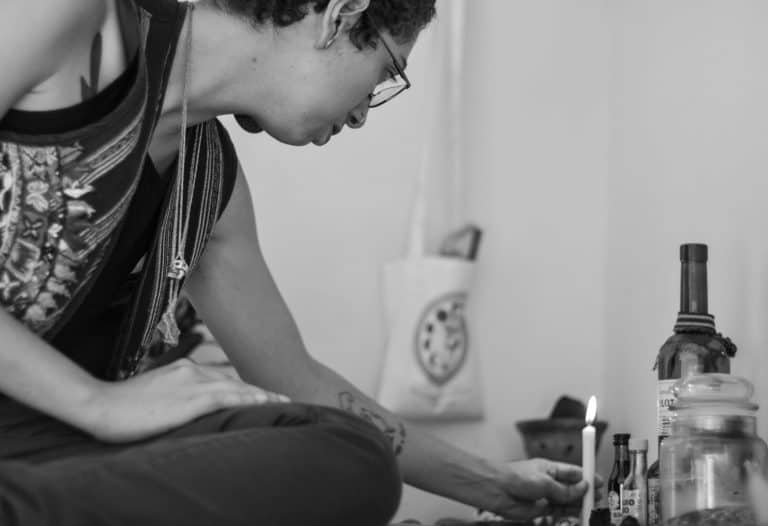 Before we left, she told us that she is working on a song about migration, and hopes to contribute more to cultural management and the production of events. Right now, Jiménez is working on the latest details for the International Bolero Festival that she is organizing at Amón Solar.
Thanks to the artist for her time in sharing her most intimate space of creation.
Our Weekend Arts Spotlight is brought to you by the Jason Babchuk Gallery/W22 Galería.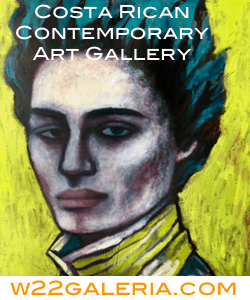 "Weekend Arts Spotlight" presents Sunday interviews with artists who are from, working in, or inspired by Costa Rica, ranging from writers and actors to dancers and musicians. Do you know of an artist we should consider, whether a long-time favorite or an up-and-comer? Email us at alex@ticotimes.net.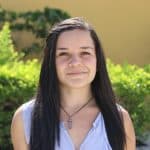 Ivannia Alvarado is a communicator and inveterate traveler. Photography captured her world about a year ago; she found in this art the perfect medium to communicate, report, create awareness, but most of all, demonstrate that life's not that bad if you can look at it. She also works in production and development of content related to culture and the city. Instagram: @ivacaminando.