SAO PAULO, Brazil— Brazil's President, Michel Temer, called an emergency meeting of key ministers Sunday after ordering troops to the border with Venezuela as regional tensions build over the exodus from its crisis-hit neighbor.
The move comes after residents in the border town of Pacaraima clashed violently with Venezuelan migrants, driving them out of makeshift camps.
Temer met at his presidential palace in Brasilia with key ministers, including those of defense, public security, and foreign affairs to discuss Brazil's response to the crisis.
The situation in Pacaraima, on the opposite side of the border to the Venezuelan town of Santa Elena de Uairen, was calm following Saturday's violence, in large part because almost all the Venezuelans had been forced out.
"More than 1,200 Venezuelan migrants returned to Venezuela," after Saturday's violence, a spokesman for a Brazilian migration task force told AFP.
On average, some 500 Venezuelans cross daily into Brazil but on Sunday, the "flow was much lower than the previous days," the spokesman said.
"The city looks deserted today, it's very quiet because police reinforcements have arrived and the markets are reopening," said a local in the town of around 12,000 people, who did not wish to be identified.
The public security ministry announced it was sending a contingent of 120 troops as well as health specialists to join teams in the area on Monday.
Tens of thousands of Venezuelans have crossed the border into Brazil over the past three years as they seek to escape the economic, political and social crisis gripping their country. Caracas was set to roll out radical new measures on Monday to curb runaway inflation, including issuing new banknotes.
Brazil is the main destination for Venezuelans fleeing their country because it is one of the few countries in the region not to require them to produce a passport.
The latest tensions began early Saturday, hours after a local merchant was robbed and severely beaten in an incident blamed on Venezuelan suspects, in Pacaraima, where an estimated 1,000 immigrants had been living on the street.
Dozens of locals then attacked the immigrants' two makeshift camps and burned their belongings, forcing the Venezuelans back across the border. Shots were fired, stores were shuttered and debris littered the streets.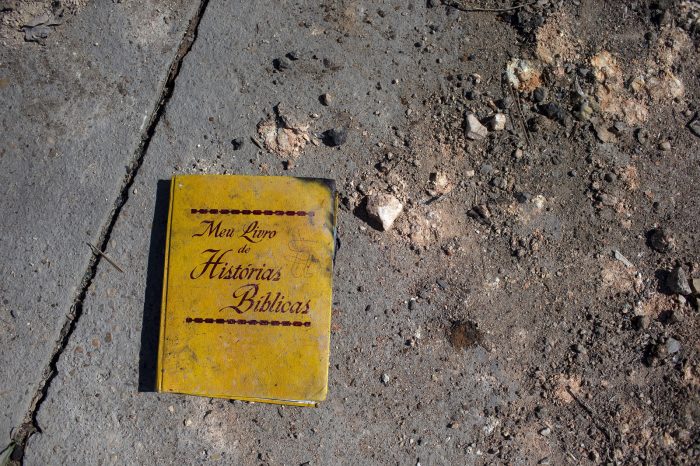 "It was terrible. They burned the tents and everything that was inside," said Carol Marcano, a Venezuelan who works in Boa Vista and was on the border returning from Venezuela. "There were shots, they burned rubber tires."
Roraima state Governor Suely Campos made a plea to temporarily close the border and asked Brasilia to send security reinforcements to "face the increase in crime" she links to Venezuelans in the region, particularly in the capital Boa Vista.
Meanwhile, Caracas called on Brazil Saturday to provide "corresponding guarantees to Venezuelan nationals and take measures to safeguard and secure their families and belongings."
Ecuador and Peru tighten controls
Tensions are rising in Latin America over migration triggered by the crises in Venezuela and in Nicaragua, where President Daniel Ortega has led a brutal crackdown on anti-government protesters.
Peru and Ecuador are halting immigrants at the border by requiring them to present passports—which many lack—instead of identity cards.
Last week alone, 20,000 Venezuelans entered Peru, authorities say. On Sunday, 18 undocumented Venezuelans were detained in the capital Lima, according to police.
Peru's passport measures go into effect August 25—and the government has also narrowed the window for Venezuelans to apply for a temporary work permit, which it has granted for the past two years.
Previously, applications were open to Venezuelans who entered Peru by December 31, and the deadline was June 30, 2019. But now, only Venezuelans who enter Peru by October 31 can apply—and they have until December 31 to do so.
Colombia has said it fears that Ecuador's border controls, which went into effect Saturday, will leave thousands of Venezuelans stranded in Colombia, from where an estimated 3,000 cross every day.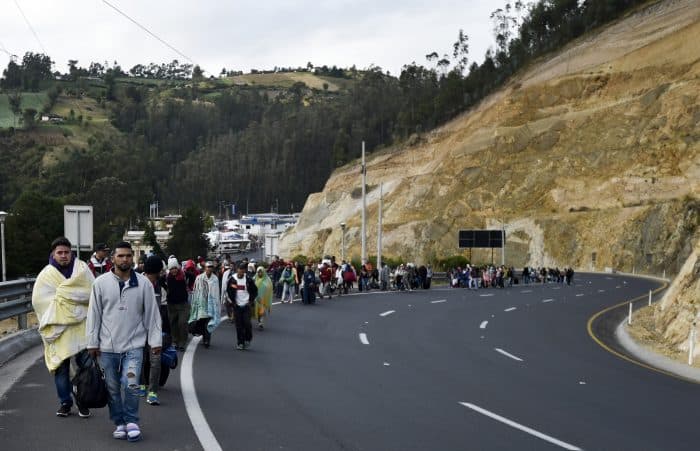 Argentina also announced tougher new measures to counter an influx of migrants. Horacia Garcia, head of the migration department in Buenos Aires, said stricter new measures would come into force next month.
The United Nations estimates that 2.3 million Venezuelans have fled the crisis looking for work and to escape poverty, and Colombia has given temporary residence to more than 800,000.
Brazilian federal police estimate about 500 Venezuelans enter Brazil every day. In the first semester of this year, around 56,740 requested refuge or temporary residence.
Meanwhile, Nicaraguan migrants fleeing months of deadly unrest faced similar difficulties.
In San Jose, Costa Rica, hundreds of people took part in sometimes violent protests Saturday using Nazi symbols to repudiate Nicaraguan migrants.