RÍO SAN JUAN, Nicaragua—On a rainy morning in Nicaragua's south, two men step out of the jungle and into a boat that will transport them a short distance over the border with Costa Rica, slipping past border guards and police to safety.
Both were among those spearheading roadblocks protesting the government of President Daniel Ortega in the city of Masaya, which in July was the target of an operation by police and loyalist paramilitaries to quash three months of dissent.
One of the men, a 28-year-old who used the pseudonym Guardabarranco, or "ravine-guard," was one of the coordinators of Masaya's protest movement. The other, a 31-year-old calling himself PSJ, had led those manning one of the barricades.
With only a backpack each, the men have left behind wives and children to join a flow of other Nicaraguans escaping what they see as a national "prison" for the relative safety of Costa Rica.
"We are fleeing the Ortega regime because to protest in Nicaragua is considered a crime. We've been threatened with death," Guardabarranco said before getting into the small, flat-bottomed boat, known as a "panga."
The United Nations says nearly 23,000 Nicaraguans have sought asylum in Costa Rica since the anti-Ortega protests started in mid-April, overwhelming the country's processing system.
The UN refugee agency UNHCR said it was bolstering its operations. The Costa Rican government says 100 to 150 people are daily crossing through main border station with Nicaragua—a number that doesn't include many clandestine crossings.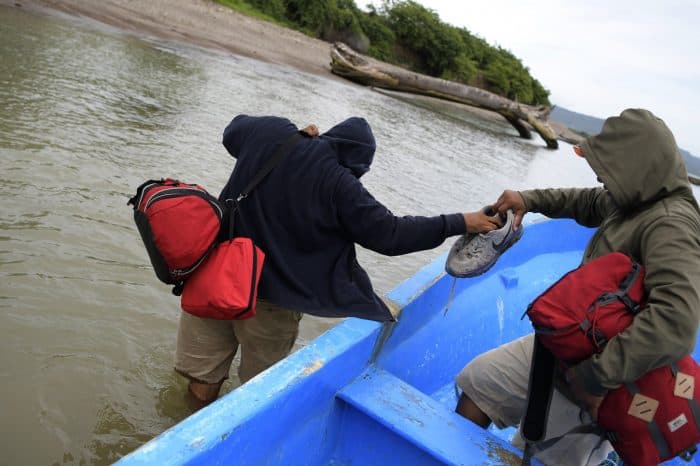 Ongoing unrest
The Nicaraguans are seeking refuge from unrest that shows no sign of ending, despite a recent decline in violence.
More than 300 people have been killed and 2,000 wounded in the past four months, according to rights groups, although the government puts the death toll at 197.
A crackdown by authorities has seen 480 people arrested, 180 of whom have been put on trial on charges of terrorism and other serious crimes.
"Costa Rica has opened its arms to Nicaraguans. We want to work, to spend some time there while things in Nicaragua calm down, while the international pressure keeps up on what's left of the Ortega regime," Guardabarranco said.
His companion said "this genocidal government is pursuing us, it wants to kill us. They know me very well and I'm afraid they will follow me and know where I am."
AFP accompanied the two men this week as the crossed the border to a Costa Rican beach where a car awaited them on condition they not be identified and no details be given about the people helping them.
Costa Rica is the main destination for Nicaraguans. But many are also going to Honduras, Panama and the United States.
The two men used to be active in the Sandinista movement that backs Ortega before turning against the president. Guardabarranco left a senior post with a company to join the protests. PSJ left his job in a family business.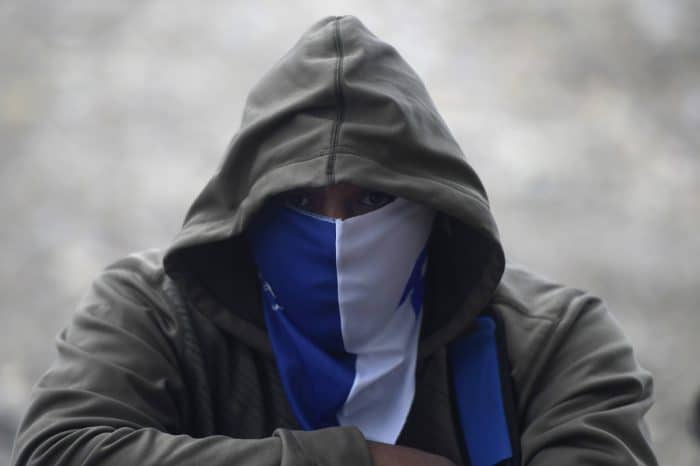 "I saw the injustices done against the first protesters. I joined their fight and rapidly became one of the leaders" in the Masaya district of Monimbo, a bastion of anti-Ortega sentiment, Guardabarranco said.
"That was my crime: to protest, to rise up against the killers and the corruption in this government," he said.
PSJ's story was similar. He became enraged seeing Ortega's security forces brutally putting down the initial protests on April 18, when they were against cutbacks to social security.
A day after that first crackdown Masaya erupted with youths taking to the streets to decry the government's violence. They were attacked by police.
"I took the initiative to make a barricade at Masaya's entrance. My wife helped me. And then a group of young people helped. We were there for three months," PSJ said.
Clashes were constant for those three months, up until mid-July when riot police and masked paramilitaries carrying assault rifles sealed off Masaya and went in to forcibly clear the barricades and corner the protesters, some of whom resisted with stones and home-made mortars.
A 'new Nicaragua'
Guardabarranco and PSJ said they planned to meet up with other exiled Nicaraguans in Costa Rica to discuss how to bring about change in their home country.
For both, it was difficult to leave family and country behind.
"It hurts me deeply to leave my country, to leave my children," PSJ said.
"I didn't want to leave. But I am going to Costa Rica with the hope of one day seeing my country become free," he said, his eyes wet.
Guardabarranco concurred.
"I want to leave my children a new Nicaragua, where nobody is murdered for not thinking the same as the government," he said.