Drums beat, a cluster of rowdy fans dances nonstop, and the concrete stands shake.
The World Cup may be over, but Costa Rica's passion for soccer never is. The veritable mosh pit in the south stands at Estadio Ricardo Saprissa Aymá is always there.
If you're a diehard supporter, a casual fan, or a soccer novice looking to catch a match in Costa Rica, it's an enjoyable weekend activity that won't break the bank. Even if you stay far away from the mosh pits, it's hard not to get caught up in the excitement, and we're here to help you navigate the gameday experience.
The 2018 Apertura tournament, which began in late July and concludes in December, will crown the champion of men's first-division club soccer in Costa Rica. Not that the ultimate result is too much in question. Three teams—Deportivo Saprissa, Liga Deportiva Alajuelense, and Club Sport Herediano—have won a gluttony of the titles, 89 combined since the Costa Rican Soccer Federation was founded in 1921.
Not that the lack of parity detracts from the fun. A soccer game lasts just 90 minutes, but the festivities begin well before kickoff as the streets surrounding the stadium are shut down by a bevy of horn-blaring fans. If you don't own a team jersey, or want a plastic horn of your own, the street vendors on nearly every corner will make sure you're well-equipped before reaching the entry gates.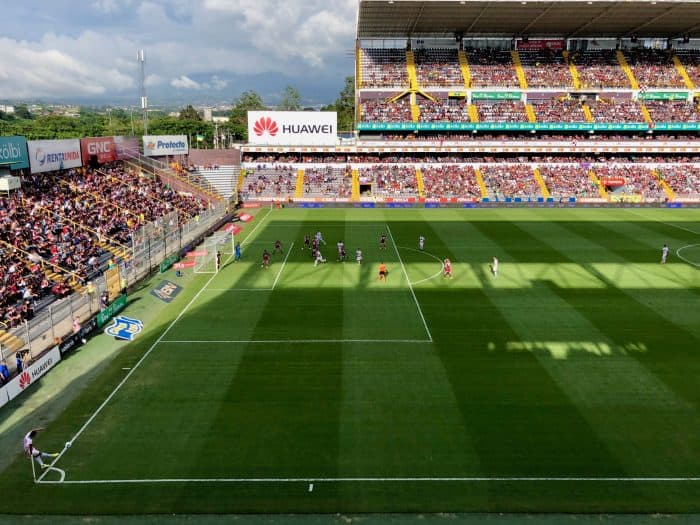 A quick word of warning: UNAFUT, the governing body for first-division soccer in Costa Rica, maintains a long list of items prohibited at games. These include large banners and umbrellas—which can block the view for those sitting nearby—but also smaller objects like coins and water bottles, which disgruntled fans have thrown at players before.
Once you pass a thorough security check, you'll find a typical stadium atmosphere with a Costa Rican twist. Shops sell official merchandise, food carts offer traditional stadium fare, and vendors walk through the stands with reasonably priced bags of local snacks, like salted mango. Just don't expect to enjoy a beer while you enjoy the game — the sale and consumption of alcoholic beverages remain prohibited.
But the party continues in the stadium regardless. Whether or not you've mastered Spanish, you'll quickly learn when to cheer, and—almost more importantly—when to jeer the opposing team. You'll likely receive a crash-course in Spanish swear words, too.
A list of every game is available here. For each match, the home team is listed first.
While each club calls a different stadium home, two, in particular, stand out.
Saprissa plays its games at Estadio Ricardo Saprissa Aymá. Located in San Juan de Tibás, the stadium is the largest for a Costa Rican club team and is well-known for the intimidating atmosphere it can present to opponents.
L.D. Alajuelense hosts matches at Estadio Alejandro Morera Soto in the Ellano neighborhood of Alajuela. Affectionately called the Cathedral of Costa Rican Soccer, the stadium owes its name to a Tico player who became known as "The Magician of the Ball" when he played internationally in the 1930s.
Tickets to a game at either stadium can be purchased online with seats starting at 3,000 colones. Saprissa partners with Eticket, while L.D. Alajuelense distributes tickets
through Publitickets. Both have options to print tickets at home or to download them to your phone for no additional charge.
Clubs have implemented heightened security to deter hooliganism, as soccer fanaticism has spilled over into violence before, particularly during Saprissa-Alajuela rivalry matches.
'The Classic' turns violent: A horse-punching teenager and 69 others arrested at Sunday match between rivals La Liga and Saprissa
But you can steer clear of the barras (and the mosh pits) at either stadium: At Estadio Ricardo Saprissa Aymá, the superfans occupy the southern bleachers, while at Estadio Alejandro Morera Soto, they populate the northern stands. Sit elsewhere, and enjoy the event in peace.
Go for the food and the festivities, or go for the fútbol. Either way, you don't need to wait until the next World Cup to immerse yourself in the beautiful game.