You might not expect to find an authentic Vietnamese restaurant tucked away on Calle 38 in Paseo Colon, near the heart of San Jose. But there it is, an unassuming 45-seat restaurant with three parking spots and a small red, yellow, and black sign that reads: Ban Mee.
For the last nine months, they have been serving what could very well be the best Vietnamese food in Central America, or at the very least, the best in Costa Rica.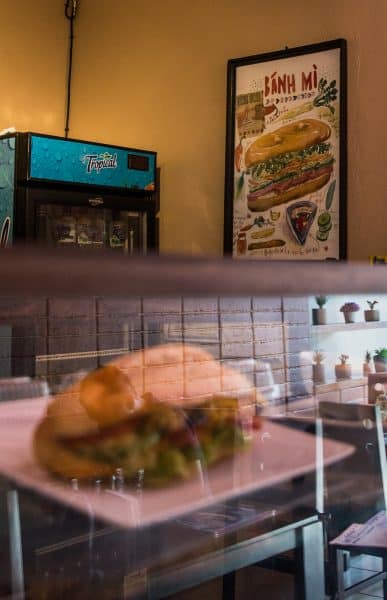 The name is a new spelling of "Banh Mi", the famous sub sandwiches of Vietnam.
Banh Mi is one of the greatest French contributions to Vietnam, leftover from their failed occupancy of the country, which took place there up until 1954.
Usually, this sandwich consists of pork, pickled vegetables, and fresh herbs on top of a crunchy baguette. They offer a solid version at Ban Mee, especially by local standards, but the pho soup is the star of the show here.
Again, for the unfamiliar, pho is a Vietnamese soup generally consisting of broth, rice noodles, thinly sliced beef, and fresh herbs. As a pho snob myself, I am constantly judging each bowl based on its broth, which is the most important element in any self-respecting bowl of this flavor-packed soup.
Ban Mee serves the only authentic pho in the country. Yes, I have tried them all. At Ban Mee, the broth is rich, with intense flavors of beef bones, star anise, ginger, cinnamon, cloves, coriander, and cardamom.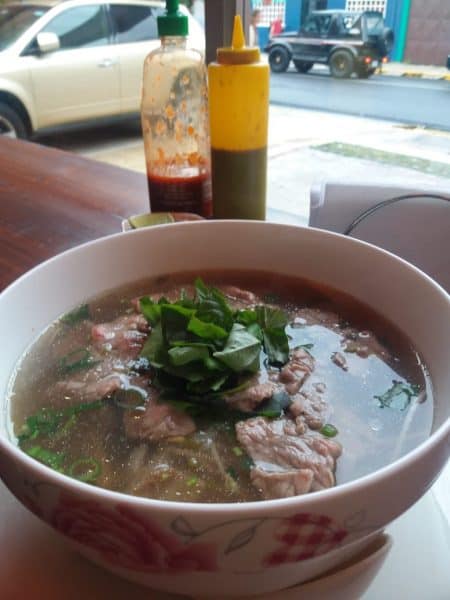 The depth of their broth can only be achieved by simmering this pot of broth all day, for hours, low and slow.
It was a sight I saw all over during my travels to Vietnam: large, 100-gallon pots, full to the brim with what must have been the bones of a whole cow, bubbling away, day and night.
These images come back to me with every sip of broth from my spoon here at Ban Mee, I am transported back to the bustling, dirty streets of Hanoi.
The rest of their 10-page menu, which includes enticing photos of specialties like Bun Bo Hue, Bun Thit Nuong, and other different soups, rice dishes, and noodles that all make my inner fat man demand that I order one of everything.
But I don't.
I am a creature of habit, so a large pho tai for me. Always.  And to start, I will usually also order what are a staple of any self-respecting Vietnamese joint: fresh or fried spring rolls. I get one of each and they are exactly as they should be. Fried comes with a traditional fish sauce for dipping, while fresh has a creamy peanut sauce.
Menu prices include taxes and there is no reason you cannot get in and out for less than 10,000 colones, including appetizer, main and a drink (no alcohol is sold here).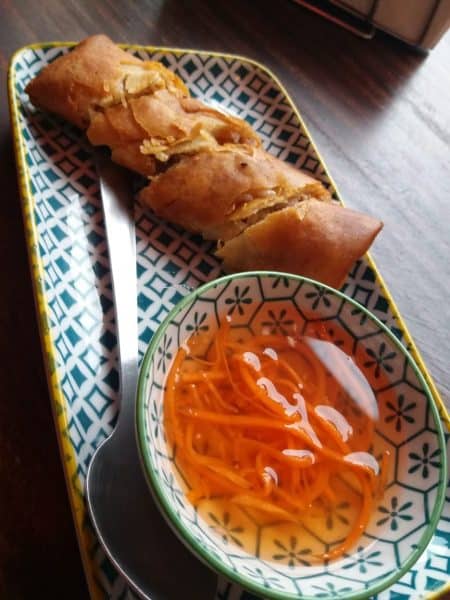 There are options for vegetarians, as well. The average main comes in around 7,000 colones and portions are fair for the price. All major credit cards, except for American Express are accepted.
Ban Mee is owned by a Vietnamese family that doesn't appear to speak Spanish or English, but they're fluent in the greatest hits from their motherland.
The owners are the ones in the kitchen, guaranteeing authentic recipes and quality foods that are utterly delicious.
Two younger Costa Rican women attend to customers–one of them speaks a bit of English, just in case. In my experience, service has always been quick and friendly. Mind you, the restaurant was completely empty, except for myself, the three times I visited.
Who knows, maybe they do fill up sometimes. With food this good, they certainly should.
They are open seven days a week, always at 11 a.m. They close at 10 p.m. from Monday-Saturday and close a little earlier on Sundays, at 6 p.m. So, what are you waiting for? Put "Ban Mee" into your Waze or Uber, and pay them a visit.
Step out of the routine; get off the eaten path and try something new for lunch or dinner one of these days. You won't regret it.
Tell them I sent you.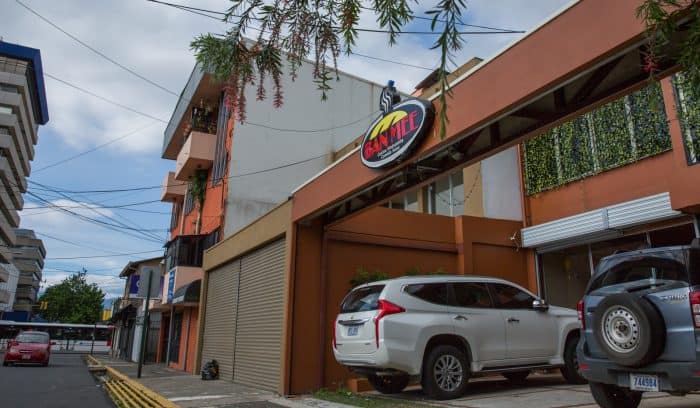 ---
William Ayre is a Canadian born chef and restaurateur who has spent the last half of his life doing business in Costa Rica, where he now considers to be home. Inspired by Anthony Bourdain, Ayre's passion of experiencing different cultures through food has taken him to 35 different countries over five continents. Whether it's a 20-course meal at a fine dining restaurant in Toronto, or cantina hopping in search for the best chifrijo here in San José, he fits in just fine.