Most kids who go to Costa Rica's elite Country Day School dream of the Ivy League, not culinary school – and most chefs who graduate from culinary school don't dream about opening up a fast food joint.
But William Ayre, a 29-year-old chef and co-founder of Poke, always dreamt a little differently. That dream has manifested into a multi-location fast food chain that only serves one dish: poke.
Yes, that's also the name of the restaurant.
In the simplest terms, poke is a raw fish salad, but it's a bit more complex than that. This Hawaiian dish with Japanese origins typically consists of raw tuna chunks sandwiched between a bed of warm sushi rice and a myriad of colorful toppings, sauces, and crunchy things.
While sushi has become popular in Costa Rica, it was a rarity in the late 90s and early 00s. The idea of a place selling bowls of raw fish succeeding, much less expanding in its first few years, would have seemed ludicrous not too long ago.
But Ayre said he knew the dish would be a hit after his experience serving it at another restaurant, The Lookout, in Playas del Coco.
"Two things that I always had on the menu from the beginning there was a tuna poke bowl and a tuna poke nachos with wonton chips. Those were always by far the most popular thing," Ayre said. "I was fortunate that it wasn't just foreign tourists visiting, it was also Costa Rican tourists, a lot of people from San Jose. So I knew that these dishes were popular with the Costa Rican palette."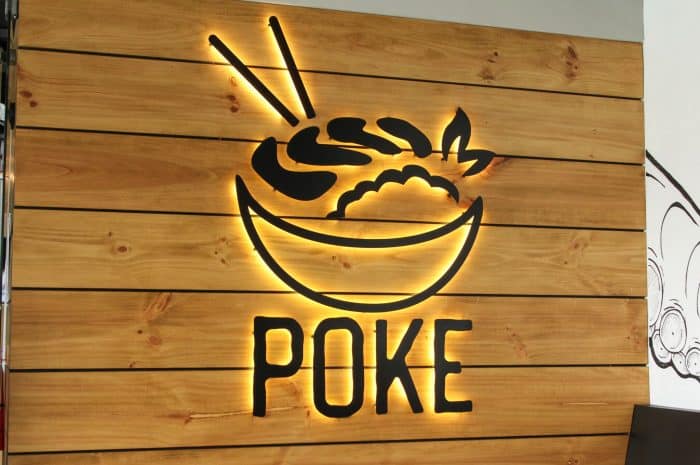 Ayre added that Costa Rica and Hawaii both have similar climates and ample coastlines for fresh seafood. When Ayre moved on from The Lookout, he contacted Daniel Loría, his best friend from Country Day School, to tell him they had to open up a poke restaurant.
Loría agreed and now focuses on the business side of this fishy business while Ayre was always about the food.
"I like eating first and foremost. When I was here going to Country Day School we had our high school newspaper and I used to write restaurant reviews," Ayre said. "There was also a little cooking school that I would go take classes at a few times a week after school.
"Then, while all my friends were applying to Ivy League colleges, I was applying to culinary schools, which was a first for my college guidance counselor."
Ayre then went back to Canada to go to the George Brown Culinary School in Toronto and ended up working at a number of restaurants such as 416 Snack Bar, Acadia and Richmond Station, which is run by a "Top Chef Canada" winner.
While the food and experience was good, the weather was awful.
"I was in the middle of one of the worst winters," Ayre said. "The east coast of Canada gets especially bad and there was a crazy ice storm and just by coincidence, while I was suffering up there, I was presented with an opportunity to come back to Costa Rica and open up a restaurant in Playas del Coco in Guanacaste."
Ayre took that chance a few years ago, and now he's inaugurating a second Poke location.
This new one is located in Plaza Urbana in Lindora, Santa Ana in western San Jose. The building is fairly new and filled with hip, upscale businesses and restaurants including a Zen fitness center, a Burrito Republic and an arepa station.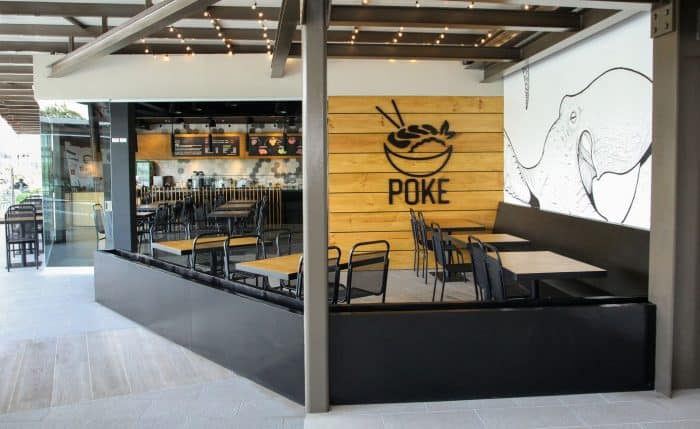 Poke is on the second floor and you'll know you've arrived when you see a giant black-and-white octopus with wavy tentacles leading to the assortment of fish and toppings inside. Like most hip restaurants, this one offers a vegan option if you don't eat animals. There's chicken, cooked of course, for those who prefer to eat land-based animals. There are also  gluten-free options.
You can choose one or two scoops of the animal or tofu of preference. A one-scoop bowl will run you ¢4,500 while two scoops come in at ¢6,500. I was fairly hungry, but not starving, when I got two scoops accompanied by a ¢900 miso soup. It was more than enough – too much, in fact. I took some to go, in a recyclable plant-based container. So hip. Of course.
It was a good late-night raiding the fridge and desperate snack. There's no need to microwave or heat it up either, so you can just hide in the darkness like a gluttonous bat chomping away while everyone sleeps.
Ayre attributes some of his restaurant's success to this.
"Because it's a cold dish, it transports very well. You can take it home and leave it in your fridge, eat it tomorrow and it tastes the exact same," Ayre said. "I think that has resulted in a huge success for us with Uber Eats and delivery because a poke bowl is perfect for delivery."
You can always eat at the restaurant of course. If you're there at night, they dim the lights and you can have beer, sangria, wine or sake with your poke bowl. Ayre's favorite is a classic tuna bowl with a Heineken and a sake.
Another factor that's helped the restaurant's success is how pretty the dish looks before you swirl it all up into a puddle of oceanic delight.
"Something that's helped us a lot is what I call the Starbucks Effect," Ayre said, explaining how a lot of people always post a picture of their Starbucks drink on social media before consuming it. "We've had that similar effect with poke bowls, because not only is it a healthy meal, it looks pretty.
"It'd be like the modern version of word of mouth happening online for us that I think has helped us a lot to make us so popular."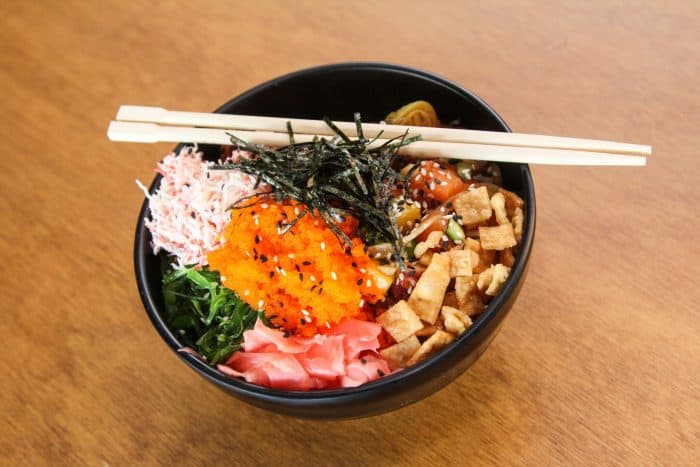 The toppings are as diverse as they are colorful: mango, seaweed salad, tobiko, edamame beans, pineapple, carrots and crispy wontons.
You choose as many as you want through a Subway-like assembly line. Then you can splash on various sauces and decide to sprinkle on some sesame seeds, crispy wontons, or crispy onions.
If you like sushi, you'll like this. The fish is fresh and it's probably the healthiest fast food for those of us who have to eat some kind of animal on our lunch break.
But before you eat your sushi sundae, you have to put it up on Instagram. At least that's what almost everyone else in the restaurant did.
While both restaurants are currently in western San José, Ayre and Loría are working on opening up a third location on the eastern side of the city.
"We don't have an exact location finalized yet," Ayre said. "But we have a ton of people on our Facebook and Instagram asking for [a location on the east side], so we have to give them what they want right?"
Ayre said the plan was always to expand and create a chain of restaurants born in Costa Rica.
"Hopefully we'll have a food empire 10 years from now," Ayre said.