Santa Teresa native Anthony Fillingim won the 2018 national championship title for the Open category on Sunday. After reaching the last heat at the Kolbi National Surf Circuit Grand Final, Fillingham had won enough points from his best five performances to claim the 2018 title.
His main rival was Jordan Hernandez, a superb surfer who claimed his expertise riding the Costa Rican barrels of his hometown breaks in Puerto Viejo. Hernandez became the chief competitor for the title after the number two ranked surfer going into Playa Hermosa, Malakai Martinez, opted out of the Grand Finals.
Martinez missed the Grand Finals in order to compete in the Juniors of the World Surf League Qualifying Series' Vans U.S. Open in Huntington Beach, California later this week.  Yet Hernandez, with all his skill, couldn't out-surf Fillingim.
"Jordan today gave me a decent fight and that makes me feel incredible because I prepared a lot for this day," said Fillingim. "I want to thank all those who have supported me this year, which has been very hard for me but this result motivates me to move forward."
But the highlight of the year was the ongoing performance of 15-year-old Rubiana Brownell, from Avellanas. At all seven of the circuit competitions, this powerful young lady made it to the finals podium in multiple female categories.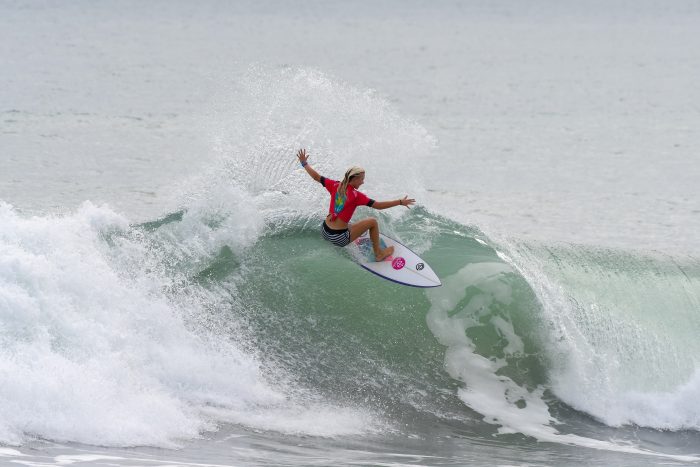 She won three on Sunday. Brownell finished first in the Women's, Junior Women's, and Girls for the date. Cumulatively, her best five dates not only earned Brownell the Women's national championship for 2018, but also titles for Junior Women's and Girls.
What makes this triple win so astonishing is that Brownell is the youngest surfer—male or female—to claim national championship awards in three different categories.
Only one other surfer in the circuit's history won three titles on the same date: former national champion and internationally ranked surfer Carlos Muñoz was also 15 when he won categories back in 2009.
"This is my best year since I've competed," Brownell said. "This is due to the commitment that I have and my passion for surfing and competing. Thanks to everyone who makes this championship possible and see you in 2019."
Finally, there's Malakai Martinez. Even though he missed the Grand Finals in Hermosa, he still won the Juniors national championship title. It's another victory in surfer's history of Costa Rica titles that began with Minigrommets, continued with Grommets, and then Boys.
As of today, Martinez is already in the quarterfinals of the Vans U.S. Open Juniors event in Southern California.
Costa Rica national champions 2017-2018
Open: Anthony Fillingim (Santa Teresa)
Women's: Rubiana Brownell (Avellanas)
Junior: Malakai Martínez (Tamarindo)
Junior Women's: Rubiana Brownell (Avellanas)
Boys: Aaron Ramirez (Jaco)
Girls: Rubiana Brownell (Avellanas)
Grommet: Axel Castro (Cieneguita)
Minigrommets: Leo Apreda (Jaco)
Minigrommet Girls: Candelaria Resano (Nicaragua)
Results Reef Gran Final:
July 27-29, 2018
Playa Hermosa
Open
1. Jair Pérez (Jaco)
2. José López (Jaco)
3. Anthony Fillingim (Santa Teresa)
4. André Chacón (Jaco)
Women's
1. Rubiana Brownell (Avellanas)
2. Valeria Ojeda (Jaco)
3. Lisbeth Vindas (Jaco)
4. Ericka Valverde (Dominical)
Junior
1. Steven Arauz (Cieneguita)
2. Gabriel Córdoba (Puerto Viejo)
3. Aarón Alvarez (Jaco)
4. Sebastian Mora (Santa Teresa)
Junior Women's
1. Rubiana Brownell (Avellanas)
2. Valeria Ojeda (Jaco)
3. Auxiela Ryan (Puerto Viejo)
4. Rachel Agüero (Jaco)
Boys
1. Darshan Antequera (Jaco)
2. Aarón Ramirez (Jaco)
3. Kenneth Peralta (Jaco)
4. Sam Reidy (Dominical)
Girls
1. Rubiana Brownell (Avellanas)
2. Valeria Ojeda (Jaco)
3. Indiana Ferri (Puerto Viejo)
4. Auxiela Ryan (Puerto Viejo)
Grommet
1. Axel Castro (Cieneguita)
2. Ziggy Myrie (Jaco)
3. Leonardo Apreda (Jaco)
4. Tosh Talbot (Mata Palo)
Minigrommet
1. David Monge (Jaco)
2. Ethan Hollander (Dominical)
3. Teo Galé (Panamá)
4. Leonardo Apreda (Jaco)
Minigromet Girls
1. Candelaria Resano (Nicaragua)
2. Rachel Agüero (Jaco)
3. Máxima Resano (Nicaragua)
4. Erika Berra (Puerto Viejo)