Thousands of Nicaraguans marched through their capital on Saturday in a show of support for the country's bishops whom President Daniel Ortega has accused of aiding an attempted "coup" against him.
The rally brought together Catholics, evangelicals, and non-Christians under images of the Virgin Mary and Nicaraguan flags, and cries of "freedom" and "Bishop, buddy, the people are with you."
It was another display of popular opposition to Ortega, who has become reviled by large sections of Nicaragua's population of six million for a brutal three-month crackdown on anti-government protests in which more than 300 people have been killed.
The president has been able to impose a period of relative calm on the country after police and loyalist paramilitaries firing weapons crushed opposition hubs in Managua and the nearby city of Masaya this month. One of the raids targeted youths taking shelter in a church in the capital, killing two.
After those operations, Ortega this week declared "the turmoil is over."
He also accused the country's bishops, who have been trying to bring about a peaceful solution by mediating talks between the government and the opposition, of helping those challenging him, whom he called "coup-mongers" and "terrorists."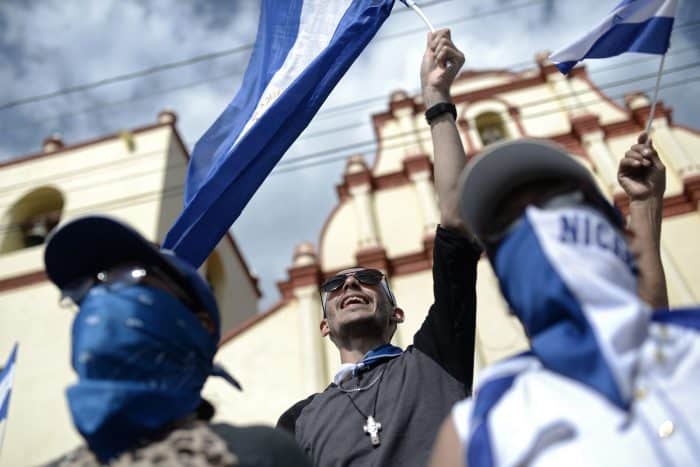 Persecution
"Given this supremely critical situation, [the church] has, yesterday, today and forever, given life and voice to those who have no voice," said one priest taking part in Saturday's march, Silvio Fonseca.
An evangelical, Henry Aguilar, 55, told AFP that non-Catholic churches had joined the "pilgrimage" demonstration in support of the Catholic bishops "because we are Nicaraguans, and the same system attacking them is also attacking us."
Daily protests continue against Ortega, demanding he step down and early elections be held. While the violence has diminished, at least four deaths have been reported since the security blitzes.
Rights groups say state-sponsored persecution of people suspected of taking part in the protests, or of helping them, has been stepped up, forcing thousands to flee over the southern border into Costa Rica.
Doctors at a state-run hospital in the northwest city of Leon told AFP on Friday that more than a dozen medics, nurses and technical personnel have been fired for treating wounded protesters and, in some cases, voicing opinions that "freedom" and dialogue was needed in the country.
Call for early polls
The bishops, through their Episcopal Conference of Nicaragua, support elections being brought forward from 2021 to next year.
The United States and the Organization of American States back that call, with Washington warning of further sanctions on Nicaragua if Ortega does not yield to the demand.
But Ortega, 72, has rejected early polls, saying they would only increase insecurity.
He accuses the United States of financing opposition militia he says are intent on toppling the government he leads with his wife, Vice President Rosario Murillo.
The left-wing leader, who first came to power in 1979 after his Sandinista guerrillas swept aside a US-backed dictatorship, has ruled Nicaragua for 22 of the past 39 years.
The unrest is posing the biggest challenge to his authority since he returned to office in 2007, not least because the business sector that had underpinned previous economic stability is now spurning him over the violence.