At least 14 people are dead after government and paramilitary forces clashed with protesters in southwest Nicaragua, according to a human rights group. The clash, which came a day after President Daniel Ortega refused to hold early elections, threatens the ongoing national dialogue.
Heavily armed men in black hoods and civilian clothing entered Jinotepe and Diriamba, in the department of Carazo, at 6 a.m. along with police. According to witnesses and human rights groups, the government forces tore down barricades that protesters had erected, causing a violent firefight.
"This has been a horror. We have a minimum of 14 dead, but it could be more. That includes at least one anti-riot officer, one paramilitary member, and two police officers," Vilma Nunez, president of the Nicaraguan Center for Human Rights (CENIDH), told AFP of the raid in the Diriamba and Jinotepe areas.
Police blamed the death of their officers on "armed terrorists" that were at the barricades.
The Episcopal Conference of Nicaragua said they "seriously value continuing the dialogue" that the Catholic leadership has been mediating after an eruption of violence left more than 250 dead in almost three months of protests.
"We can't keep sitting down with a government that lies, that doesn't accept responsibility, and continues attacking and slaughtering its people," said Silvio Báez, the Auxiliary Bishop of Managua.
A disproportionate attack
The incursions into Diriamba, 45 kilometers from Managua, and Jinotepe, 40 kilometers away, left dozens wounded and 21 in custody. Police and paramilitary members were also blockading hospitals, according to local humanitarian groups.
A dozen people barricaded themselves in the San Sebastián basilica in Diriamba, which was under siege by armed men, according to witnesses and religious figures. Police surrounded both municipalities and citizens were left without access to internet or phone lines.
Bulldozers tore down barricades and government media outlets celebrated that the zone was finally clear. More than 350 cargo trucks, which had been stuck for over a month because of the blockade, were finally able to pass.
Paulo Abrao, the executive secretary of the Inter-American Commission on Human Rights, said that the situation in Managua is "still critical" and warrants "special attention from the international community."
Abrao said it's urgent for the "repression" to stop, and that repressive pro-government paramilitary forces that have been acting with impunity need to be disbanded.
In Matagalpa, in northern Nicaragua, at least one person died on Saturday among violent protests, according to the Pro-Human Rights Association of Nicaragua (ANPDH).
Ortega, who reappeared with a crowd of supporters after not having appeared in public for almost a month, called protesters "murderers" and "delinquents" that had thrown the country into chaos.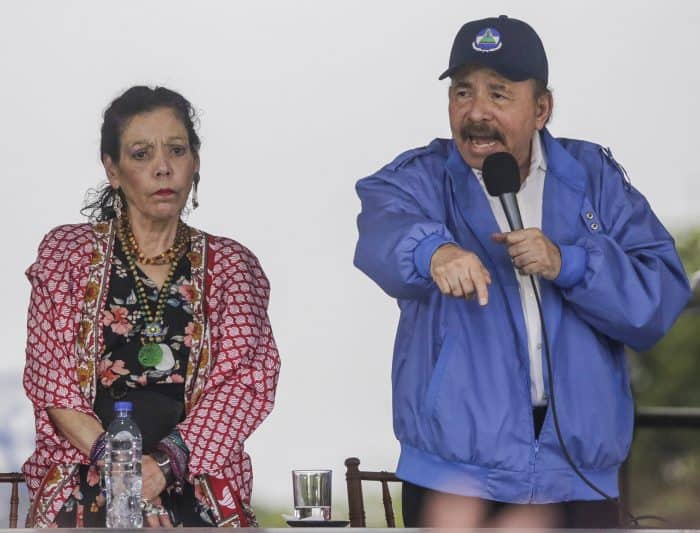 History will judge them
As a mediator between the government and the opposing Civic Alliance for Justice and Democracy, the church proposed moving the 2021 elections up to 2019.
But on Saturday, Ortega, who's been in power since 2007 and is serving his third consecutive term, refused to move the elections up.
Báez warned that the church will keep promoting the dialogue, but if talks fall apart it will be because the government "didn't want to find a peaceful solution to a national crisis that they themselves started.
"History will judge them for being uncompromising, arrogant liars," the prelate said.