Part I of III.
Costa Rica already maintains a stellar reputation as a surfing destination. According to Carlos Brenes of the Costa Rica Federation of Surf (FSC), between 22 to 25 percent of this country's tourists come here especially for the surfing. However, there is also a new segment of the sport that is gaining attention: Adaptive Surfing, which focuses on athletes with disabilities who still want to enjoy all that surfing has to offer.
Four years ago, inspired by a dear friend who was disabled in a car accident, pastor and surf coach Gustavo Corrales – from Jacó, on Costa Rica's Central Pacific coast – organized the Adaptive Surf Association of Costa Rica, inviting amputees and people with developmental brain issues or visual or auditory challenges to be instructed in the sport.
In addition, these surfers get the opportunity to compete on the national Adaptive Surf team, which takes on other adaptive surfers at International Surfing Association (ISA) games outside the country.
"They are called 'Children of the Impossible,'" Corrales said of his group. "Our association is not just for competing. It's also a fun way to engage in therapy. We adapt the surfing, not the person."
These special athletes can either surf lying flat on the board, or on specially designed boards, or with assistance from coaches. On the current national team, there are members who are amputees, members with spinal cord injuries, a blind surfer, and a man with a disease that diminishes the power and mobility of his muscles as he grows.
That man is Mateo Banderhoogth, a Tico who won a bronze medal in 2016 at the ISA Adaptive World Surfing Championships in La Jolla, California. His category was Assisted Surfing, with a coach in the water and another near the shore.
Last year, in a return to La Jolla, Natalia Vindas received the bronze medal for her 3rd place finish in the A4 category. With a spinal cord injury, she surfed to the win on her belly. As a team, the 2017 surfers placed 7th among the 28 countries that participated in these championships.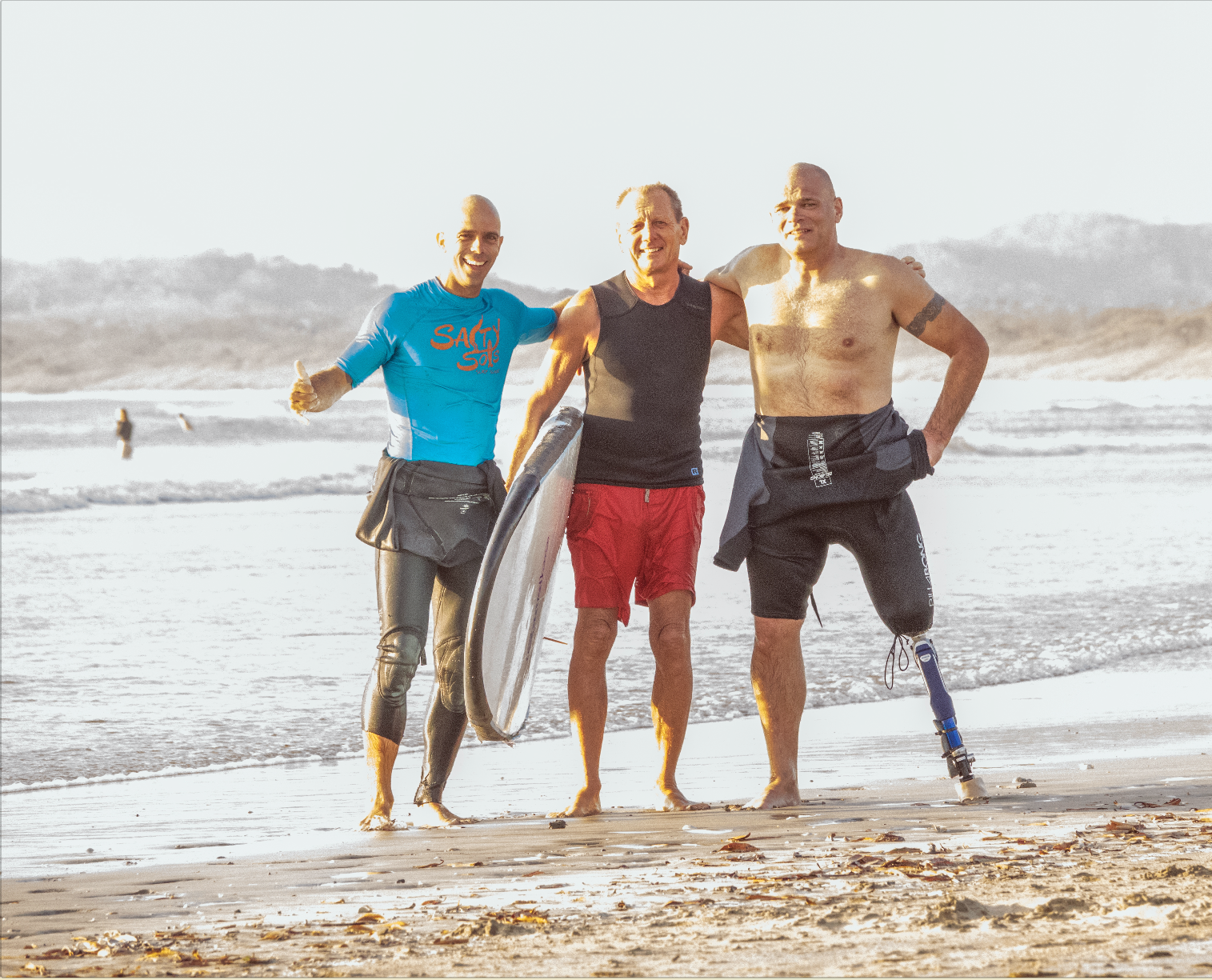 Currently, the FSC is running an Adaptive Surfing National Circuit around the country.
Why does Corrales dedicate his free time to the unpaid training of adaptive surfers?
"I have people with disabilities in my family, and to me they are just normal," he said. "They inspire me, and this keeps me happy to help them enjoy their lives. They are happy. Everybody has a purpose in life, and this project is my purpose. "
Gustavo Corrales is not the only surf instructor in Costa Rica to make lessons available to those with physical and mental challenges. The goodwill is spreading. Recently, two men with disabilities visited the northwestern province of Guanacaste, got in the water and surfed, overcoming their perceived limitations.
Stay tuned as our series looks at how a British athlete and Virginia family took to the waves of Guanacaste. 
Disclaimer: The Costa Rica USA Foundation for Cooperation (CRUSA) and Amigos of Costa Rica sponsor the Tico Times Changemakers Section to provide a space for stories and information about philanthropic work in Costa Rica. CRUSA and Amigos do not endorse any of the organizations, individuals, fundraising solicitations or opinions shared in this space unless otherwise stated.