Costa Rica's new Legislative Assembly President, Carolina Hidalgo – a dedicated swimmer and cyclist known for pedaling to work – rode her bike to the presidential inauguration ceremony, heels and all. And she wasn't the only one.
President Carlos Alvarado, who rode to the ceremony in a hydrogen-fueled bus, was escorted by a team of cyclists. Here's how La Nación captured the moment: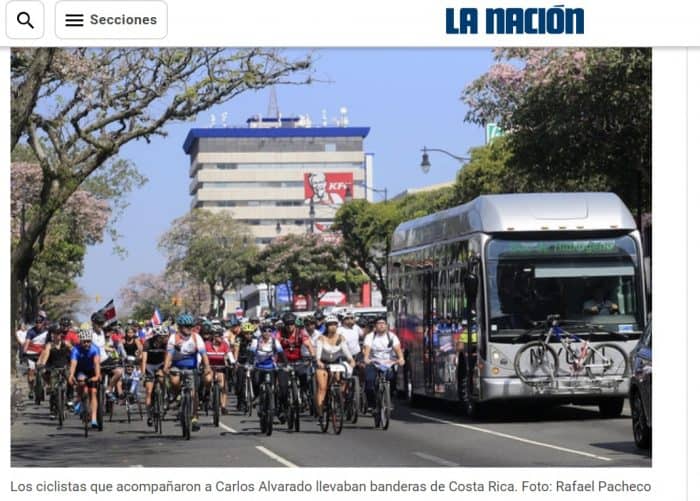 "This is going down in history. Costa Rica is the first country where the president will be escorted by cyclists," Juan Pérez, one of the cyclists who accompanied Alvarado from Parque La Sabana down Paseo Colón and Avenida Segunda to the inauguration site at the Plaza de la Democracia, told the daily La Teja.
"This isn't a pose," Diego Protti (@vsprotti) wrote on Twitter about the short bike ride of Hidalgo, a 35-year-old lawyer who was elected as president of the assembly last week. (The legislator, who swore in the new president, describes herself on her own Twitter account as "a swimmer interested in politics.") "The assembly president is a young athlete arriving at the event by bike. It's a powerful symbol in many ways: political renovation, women in leadership, choosing sustainable transportation."
This starring role for cyclists comes at a time when San José has inaugurated new bike lanes (not without some controversy and growing pains). Organizations such as Chepecletas have campaigned tirelessly for alternative transport methods in the traffic-clogged capital and to raise awareness, particularly after numerous cyclist deaths in recent years.
Read more about the hydrogen-fueled bus that carried Alvarado here.
https://twitter.com/vsprotti/status/993868520432852992