Since an earthquake strong enough to be felt across the country is enough to distract even the most avid selfie-taker, it's perhaps not surprising that one of the dramatic videos from Costa Rica's Central Pacific coast last night came from security camera footage.
This video, widely circulated on Twitter, was described by @wikisismos as a scene from Los Sueños Resort and Marina in Herradura – approximately 25 km from the earthquake's epicenter – provided by Esteban Saborío.
Registro del terremoto de Costa Rica en Los Sueños Resort and Marina en Herradura, cerca de la zona epicentral. Video: Esteban Saborío. pic.twitter.com/JedW7MTDxr

— Wikisismos (@wikisismos) November 13, 2017
The earthquake was classified as 6.9-magnitude by the National University's Volcanological and Seismological Observatory of Costa Rica (OVISCORI); however, the U.S. Geological Survey reported a magnitude of 6.5. Strong effects of the quake were felt by Tico Times readers as far away as Manzanillo, Limón, and in many other areas of the country.
Read more about the quake here.
Channel 11 sportscasters were a little rattled when the quake shook their studio in San José:
Momento Exacto Sismo de 6.5 Grados Richter En Jaco Costa Rica 2017 Terremoto pic.twitter.com/7BMjbHM14y

— RMS – Red Mundial (@redmundialsismo) November 13, 2017
@Wikisismos also shared photos from a Jacó supermarket: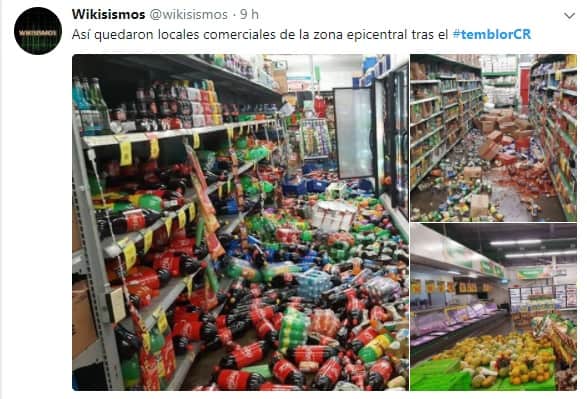 Meanwhile, many Costa Ricans commented on the country's propensity to react to an earthquake first with utter terror, then with calls and WhatsApp messages to check on loved ones, and then – all of this within a span of minutes – jokes and memes for ours. As Twitter user @Princeboy_Ran spoke for many of us when he wrote, "I'm not going to lie to you"…
no les voy a mentir…#TemblorCR pic.twitter.com/lPjWrLe0el

— Randy🐧 (@PrincePengGwin) November 13, 2017