Leilani McGonagle, the Costa Rican surfing star from the Southern Zone community of Pavones, had her sights set high. She went into her fourth consecutive final at a global Juniors championship this past weekend at the VISSLA International Surfing Association (ISA) World Surfing Junior Championship in Hyuga, Japan, with every intention of winning the gold this time. Already on her mantle are silver,  copper, and bronze medals earned the last three times she completed in the under-18 category.
On Sunday, in waves of short stature, McGonagle looked to be on her way to finally taking the top spot, as she held 1st place for most of her Under 18 Girls heat. The competitors taking to the waves with her included two past ISA Junior World champions Summer Macedo and Brisa Hennessy, both of Hawaii, as well as Kirra Pinkerton from the United States.
Alas, when Hennessy scored a beautiful 8.50 wave in the final minutes for a total score of 16.27, she was able to eek past McGonagle who was carrying a total of 14.17 (7.00 + 7.17).  However, McGonagle's second-place finish still puts the Tica in the record books with a total of six medals throughout her international championship competitions, both Juniors and Open.
Her final position also added significant points to the Costa Rican National Surf Team total, allowing the group as a whole to meet its goal of finishing in the Top 10 with a seventh-place position among the 41 countries that participated in the week-long surf competition, hosted at the soon-to-be surfing locations for the 2020 Tokyo Olympics.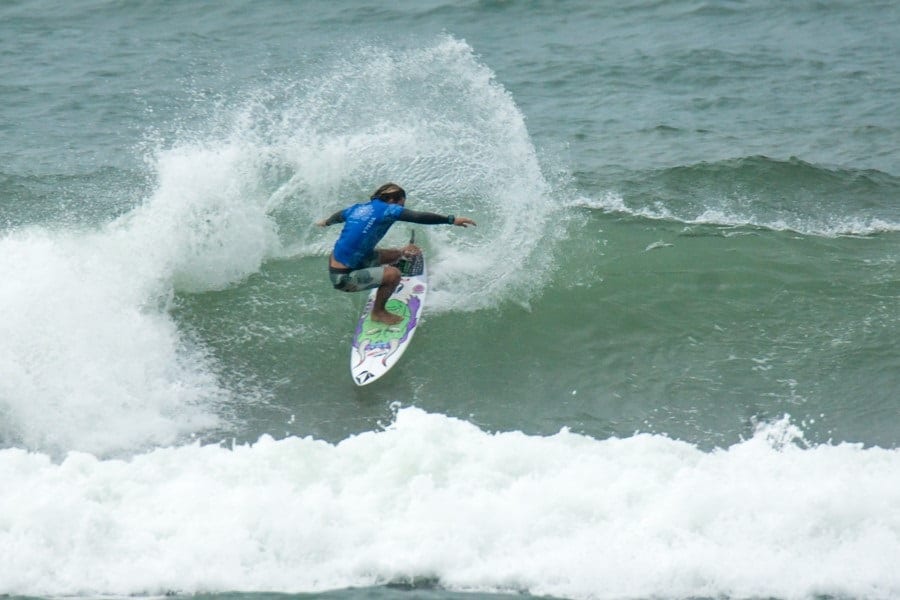 The silver was the second medal to hang around her neck in Japan this weekend. Members of the Costa Rican contingent brought home their second Aloha Cup Tag Team medal at the event that took place on Saturday.  The Aloha Cup, which may end up being the format for the Olympic competitions, is a one-of-a-kind mixed-gender relay event made up of the seven best teams from last year's World Junior Championship in the Azores, as well as the host country's surfers. After beating Brazil and Australia in the semis, the Ticos fought hard and it was close between Japan, France, and Hawaii. Costa Rica earned the fourth place and copper for their stash.
"We qualified for the final after an incredible heat and against incredible competitors," reported Jim Hogan, Costa Rica's National Team coach. "We have talent, but we need to grow a little more to rub shoulders with the current Top Four. However, the team's great partnership and commitment has made us return home with a well-deserved result and we must be very proud of it."
Organizers of the VISSLA ISA World Surfing Junior Championship in Japan were pleased with the event, where a record-breaking number of 41 countries attended with 300 competitors.
"What an incredible week of competition. We have witnessed history here in Japan on many levels. The sport of surfing is growing and advancing all around the world as it was fully on display at the 2017 VISSLA ISA World Junior Surfing Championship," said ISA President Fernando Aguerre. "We are looking into the future of surfing. We certainly will see some of the athletes that competed this week in Japan among those representing their nations at the Tokyo 2020 Olympics in three years."
ISA Aloha Cup Results:

Gold – Japan
Silver – Hawaii
Bronze – France
Copper – Costa Rica

Individual Results for the Costa Rica National Surf Team:
Gabriel Córdoba: 49th
Francisco Coronado: 49th
André Chacón: 49th
Oscar Urbina: 33th
Aldo Chirinos: 25th
Sebastián Mora: 13th
Malakai Martínez: 17th
Joseph Méndez: 13th
Coral Wiggins Araya: 17th
Eva Woodland Solano: 17th
Zulay Martínez: 9th
Leilani McGonagle: 2th
Final Results:
1 (Gold) – USA
2 (Silver) – Hawaii
3 (Bronze) – Japan
4 (Copper) – Australia
5 – France
6 – Brazil
7 – Costa Rica
8 – Argentina
9 – Portugal
10 – New Zealand
To view full team ranking, click here.
Girls U-16
1 (Gold) – Alyssa Spencer (USA)
2 (Silver) – Keala Tomoda-Bannert (HAW)
3 (Bronze) – Samantha Sibley (USA)
4 (Copper) – Gabriela Bryan (HAW)
Boys U-16
1 (Gold) – Joh Azuchi (JPN)
2 (Silver) – Taro Watanabe (USA)
3 (Bronze) – Keanu Chris Kamiyama (JPN)
4 (Copper) – Lucas Vicente (BRA)
Girls U-18
1 (Gold) – Brisa Hennessy (HAW)
2 (Silver) – Leilani McGonagle (CRC)
3 (Bronze) – Summer Macedo (HAW)
4 (Copper) – Kirra Pinkerton (USA)
Boys U-18
1 (Gold) – Ignacio Gundesen (ARG)
2 (Silver) – Noah Hill (USA)
3 (Bronze) – Cody Young (HAW)
4 (Copper) – Dylan Moffat (AUS)