Costa Rica opened the oral proceedings of its case against Nicaragua before The Hague-based International Court of Justice (ICJ) on Monday by describing Nicaragua's border claims as ridiculous.
Nicaragua and Costa Rica are facing off before the ICJ in order to define maritime boundaries both in the Pacific Ocean and the Caribbean Sea, something they have failed to achieve after negotiations that started in 1976.
Costa Rica's legal team complained that Nicaragua's written arguments included a map of Costa Rica without the Nicoya Peninsula; Nicaragua argued that the maritime limits disputed before the ICJ should not take that territory into account.
Nicaragua's lawyers argued that the peninsula, which includes lands from the provinces of Guanacaste and Puntarenas, "due to its shape, should not be taken as a reference point to draw the maritime border in the Pacific Ocean."
They consider that the peninsula grants Costa Rica an "unfair advantage" in its proposed maritime delimitation claim.
The pronounced protrusion of the Nicoya Peninsula is the type of irregularity to which the ICJ has referred in similar cases, Nicaragua's lawyers said, referring to ICJ jurisprudence in cases of maritime delimitation.
The argument states that the "equidistance that Costa Rica presented is entirely derived from the pronounced protrusion of the Nicoya Peninsula, which produces unnatural and unreasonable results."
If ICJ Justices accept Managua's arguments, the maritime delimitation would be drawn thousands of square miles south of Costa Rica's proposed border.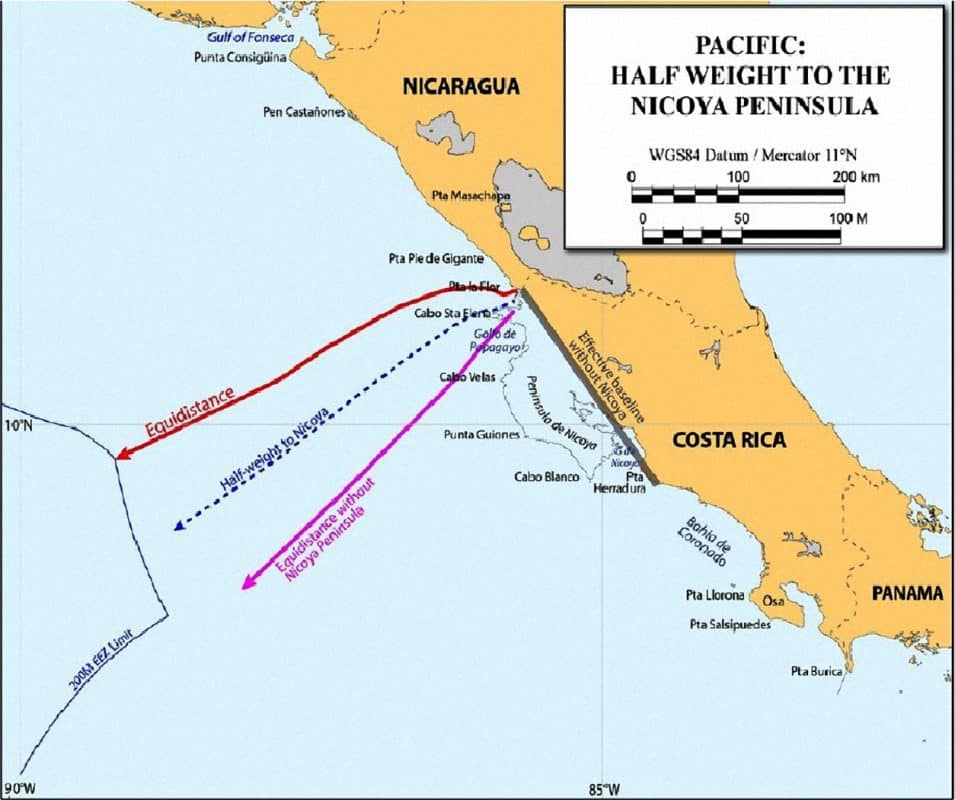 Inconsistent and exaggerated
Costa Rica's Ambassador to the Netherlands, Sergio Ugalde Álvarez, a member of the international team of experts representing the country, said Monday that Nicaragua is trying to ignore the existing geographical reality.
"They eliminated the Nicoya Peninsula as if it doesn't exist. Then, on the basis of eliminating a significant part of our territory, they are asking the Court to draw a substantially smaller limit than what International Law should set," he said.
He added that Nicaragua relies heavily on unrealistic or exaggerated claims, resulting in an "extreme reshaping of the actual geography of the disputed areas."
Ugalde said the Costa Rican legal team has extensively reviewed ICJ jurisprudence and did not find any precedent for one country being allowed to eliminate part of the territory of another country in order to gain an advantage in setting maritime boundaries.
The ambassador added that the elimination of the Nicoya Peninsula "is laughable" and that "it only can exists in Nicaragua's imagination."
"For forty years, Costa Rica has succeeded in negotiating its maritime borders with all its neighbors except for Nicaragua," Ugalde said.
Costa Rica's Foreign Minister Manuel González Sánz attended the hearing and said that they are completely certain that the Court will reject Nicaragua's legal arguments, which seek to reduce important Costa Rican maritime areas without a legal basis.
"We know Nicaragua always asks for exaggerations to see if they can actually make something out of it. We reject that form of litigation. That's not what Costa Rica does," González said.
Legal preceeding
Costa Rica will continue presenting its arguments until Wednesday. Nicaragua then will present its oral arguments on Thursday, and both countries will have another chance to respond to each others' claims. All legal proceedings from both countries will end on July 13.
The ICJ will also issue a ruling on a border dispute filed by Costa Rica over land borders in the northern part of Isla Calero or Portillos, a small wetland, according to previous ICJ ruling, belongs to Costa Rica.
Nicaragua, however, following the ruling, sent military personnel to the area who have set up camps within the territory, "clearly to claim it as its own," Ugalde said.
In 2015, the ICJ granted Costa Rica financial compensation for environmental damage in that territory caused by "Nicaragua's illegal activities inside Costa Rican territory."
However, the two countries have failed to reach an agreement on the amount, and now expect the CIJ to calculate a compensation figure.
The countries's legal teams expect a final ruling on these claims by the end of this year or in early 2018.
---
Below is a timeline of events in the Costa Rica–Nicaragua border disputes: