The Public Works and Transport Ministry (MOPT) is moving forward with its plan to replace traffic lights in the capital with solar-powered systems. The ministry will begin the third stage of the project next month.
Traffic lights at 159 intersections in San José already run on solar power. MOPT's Traffic Engineering Department reported in a news release on Wednesday that work to install 76 more is expected to begin in July or August.
The director of the Ministry's Traffic Lights Department, Diego Rugama, said that he expects to end the year "with total of 235 fully operational solar-powered traffic lights." The figure represents half of the 474 traffic lights currently in operation in the Greater Metropolitan Area, which includes San José and parts of the provinces of Heredia, Alajuela and Cartago.
The ministry's Roadway Safety Council will fund the new stage of the project, which will require an investment of $1 million, Rugama said.
He also said that MOPT seeks to replace all Greater Metropolitan Area traffic lights by 2022.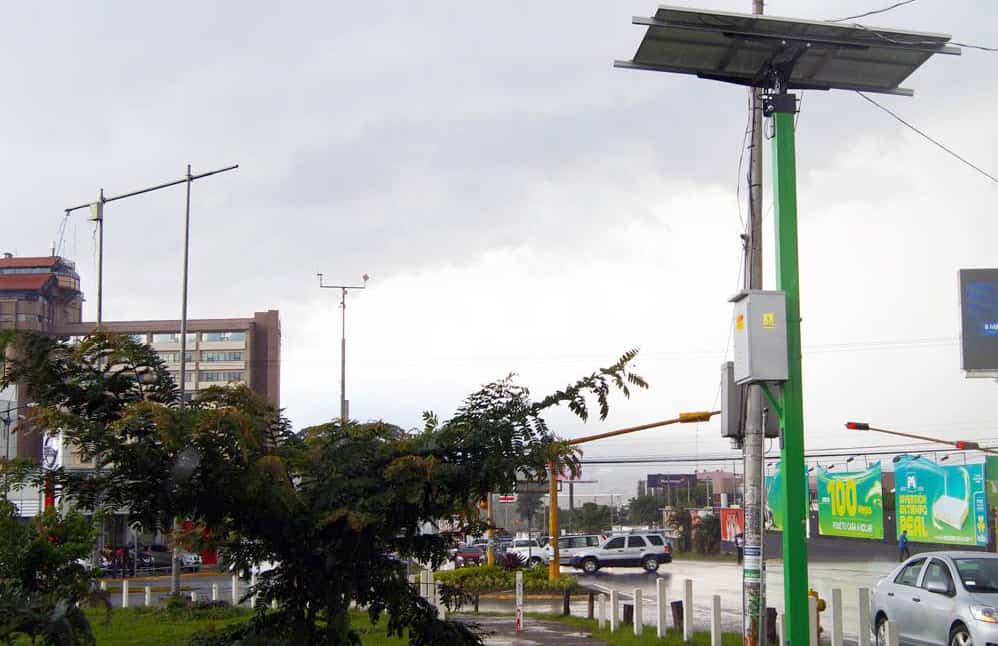 Energy savings
The 159 solar traffic lights currently in operation "represent savings in electricity of 80 percent over traditional traffic lights," Rugama said.
A solar traffic light system includes a solar panel and a set of lithium batteries that store energy that allow them to operate at night or on cloudy days.
The batteries can supply enough power to operate an average of 14 hours. If the batteries are depleted, the system automatically switches to the city's power grid, ensuring that traffic lights do not stop working due to an energy failure.
Rugama also explained that before installing a new solar-powered traffic light system, the Ministry conducts technical studies to evaluate two basic conditions. One is the amount of radiation at the site, and the other is an assessment of all nearby obstacles that can block sunlight, "like tall trees or buildings."
Technical staff then calculate the average number of sunlight hours at the location to determine the number of panels and batteries required.
MOPT officials have said that the traffic lights replacement project is an important part of Costa Rica's plan to achieve carbon neutrality.