Costa Rica is not a "circus country," persay, but circus arts have caught the attention of more and more Costa Rican artists in recent years. One example: this month marked the second edition of the country's new International Aerial Dance Festival (FIDACR).
Several artists came from all over the world to offer workshops and shows in different disciplines. One of them was Terry Crane, a U.S. aerialist who has practiced several disciplines but whose main specialty is the rope, which he's been practicing for over 17 years. Crane brought to the festival a very special workshop: the infinite rope. This was an apparatus he created approximately five years ago but had been envisioning for years.
The apparatus consists of a circle of rope hung on two poles. One of it main particularities is that it must be used by groups, unlike other kinds of aerial apparatus that allow the artist to perform solo.
Crane is the founder and director of the contemporary circus company Acrobatic Conundrum. He studied at the International Arts Academy of Beijing, the National Circus School of Montreal, and the University of Oberlin.
The Tico Times attended one of the activities of the FIDACR and talked to the artist about his creation, the impact it may have had, and his thoughts about the festival. Excerpts follow.
How did you come up with the idea of the "infinite rope"?
A long time ago I was in circus school and really wanted to create an apparatus where I could just be falling, because that's my favorite part: doing the drops. And make somebody else do the work, you know, so somebody else is pulling and I'm dropping. Five years ago, I was working with some other people with this circus company that we created, and I told them this idea and they were really supportive. It was difficult to find a rigging company that would make it, but someone did make it and I've been using it ever since.
My original idea of constantly falling has evolved a little over time, and there's a little bit of technique that we have added to it, but, it's an amazing apparatus because there are so many things you can do with it. It's really versatile.
There are other people who have done similar things, although this is the first time I've seen the end [of the rope] attached, so it makes a circle. It's the only one in the world, as far as I know.
What has it been like to create this whole new technique?
It was a lot of trial and error, and it had always been with a group: you need at least three to pull on one side and one person on the other, so each person is holding one-third of that person's weight. What I found really interesting about this apparatus is that it forces you to work as a team because there is nothing that holds you in the air besides the people… They have to listen to each other. They can't just go at their own speed. They have to follow the speed of this other person, and they can actually feel it through the rope.
What has been the response of other artists and the audience?
I think that… other professionals are really interested in it, because they understand the technique. It took us a while to really teach the audience what was going on, too. Now we have been able to perform in such a way where they really understand the kind of risks involved and this dependence we have on each other. But I think people have always found it really interesting: we love to see things spin, we love visual games, things we don't understand.
Sometimes it makes them laugh, you know. It's fun to see people take risks and succeed, and also fun when someone is climbing on one side and not getting anywhere.
What would you say your impact (through your art, your company, and the infinite rope) has been on artists and aerial disciplines?
I'm not so bold as to say that I've had an influence… In my style of aerial, if something is technical or beautiful, it's not enough. I need something with content or a character… So in my acts I try to present myself as really human. I come out a little bit nervous, and then I dance and I'm pretty graceful in the air, but also kind of funny and eccentric.
So if I've had an influence, I hope that it's that people should really do work as an extension of themselves. I think of circus as not necessarily political, but as humanist. The work that we do is about cooperation. You get to see a group working together and you also get to see individuals taking risks and being courageous. Circus for me is about those two things.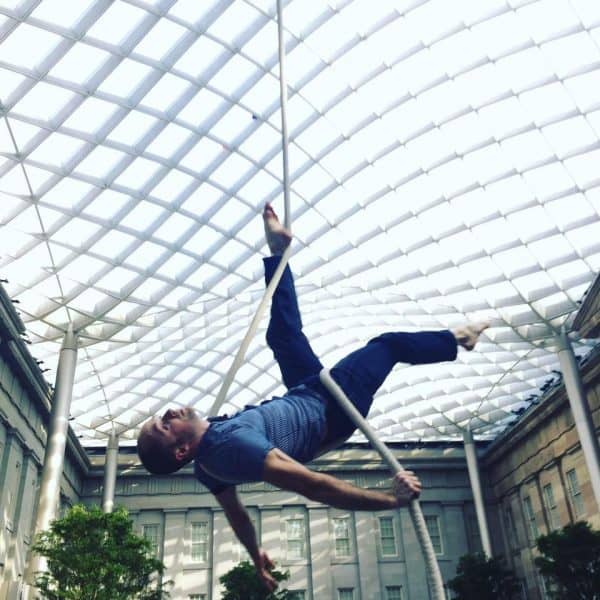 The circus is not very developed in Costa Rica, so what do you think about this festival and its impact?
I think it's really extraordinary, actually. Oftentimes people who are really inspired but come from marginalized communities where there is not a lot of support, do amazing things. The thing happening with FIDA is so awesome, so tremendous, because they have managed to pull in so much support from local sponsors and through the relationships with the community. I'm excited to be here with these people and to be part of this team.