Dancing through flames and walking barefoot through the sand at Playa Sámara: That's the life of Allan Barboza.
Barboza, 27, has been working as a fire performer for four years now, after beginning as a juggler and moving on to acrobatics. He has traveled around Latin America performing, learning, and supporting social projects, such as social circuses.
The Tico Times visited the Nicoyan beach town where Barboza is now living and, with a beautiful view of the blue ocean stretched out before us, talked to the artist about his decision to choose fire arts and his experience with the circus. Excerpts follow.
How did you start performing with fire?
I wanted to find a profession that would allow me to be free, and travel. I wanted something that I liked and would give me self-discipline. This art form has educated me a lot. It has allowed me to flow because of the discipline it involves and the love I have for it.
I've practiced many other disciplines besides fire. Five-ball juggling is like my hobby… but fire performances are better paid. That's why I dedicate a lot time to training with fire, also because I like it a lot too, of course, but if I found something else I could start training, no problem.
You said it has educated you. How is that?
Through work schedules, training schedules, meal schedules, eating well, sleeping well, exercisingn constantly… All that means education, you know, educating my body in order to be stable at the moment of a show. I have to have my body at 100% in order to do a good performance.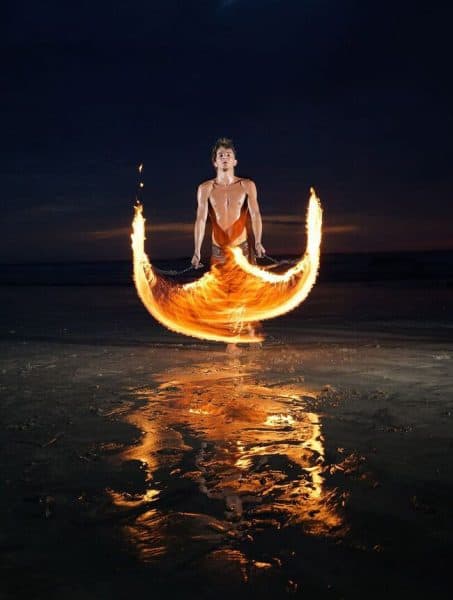 What was it like to be a part of social circuses?
It's a very broad experience. Sometimes they are created by entire communities, but in general they are created with children. It offers them something to do, gets them out of the streets, out of drugs and the problems they may have at home. It's not just to go and teach them how to do something, it's also about listening to them. Like how they are: if they are hungry, if they are happy, how is school going.
I participated in one social circus in Nicaragua, and the "Circo Fantástico" in Pérez Zeledón, here in Costa Rica. And there are many others I'd like to go to in Africa and Europe.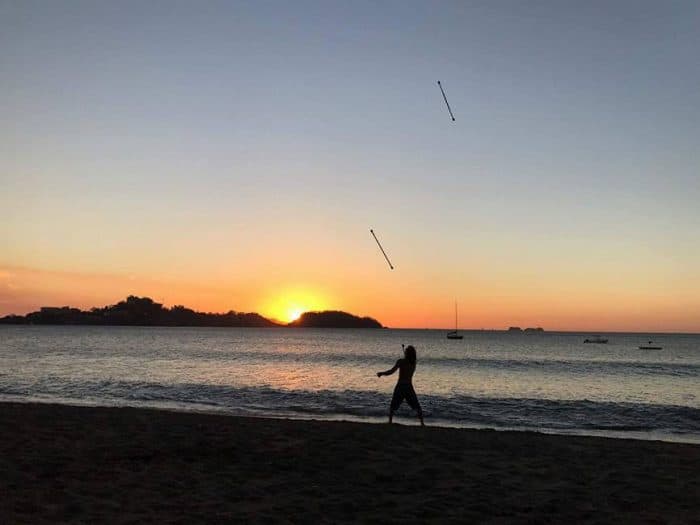 How did you get into this kind of art?
Because of of my brother and his friends; he has always liked it. I started learning with them, and then I started to buy my own stuff. I had a stable job, so with that money I bought things. Those are not cheap, you know, so it was also because of love of art.
How did you go from doing it as a hobby, to doing it professionally?
It was the desire to work for myself and find something that would really make me happy. It was difficult at first. The first two years were really rough, many regrets. I traveled for about a year and a half, and that was my school. You always find nice people wanting to help artists. You find really nice experiences out there.
You can contact Allan Barboza at his Facebook page or throug his email allan22sbv@gmail.com
Our "Weekend Arts Spotlight" presents Sunday interviews with artists who are from, working in, or inspired by Costa Rica, ranging from writers and actors to dancers and musicians. Do you know of an artist we should consider, whether a long-time favorite or an up-and-comer? Email us at kstanley@ticotimes.net.