LA FORTUNA, Alajuela — I saw the fear in Guiselle's eyes when our SUP guide Isidro asked her to jump off the back of our boat into Laguna Arenal, a manmade lake that is up to 70 meters deep, roughly 35 times deeper than she is tall.
Guiselle, 49, does not know how to swim, but she was wearing a perfectly good life vest. After reviewing all the adventure tours offered to us by our new friends at Desafío, she was the one who wanted to try stand-up paddling. I was a bit apprehensive because my balance is not always so good and I thought I would keep falling off. So my only fear was that I would make a fool of myself.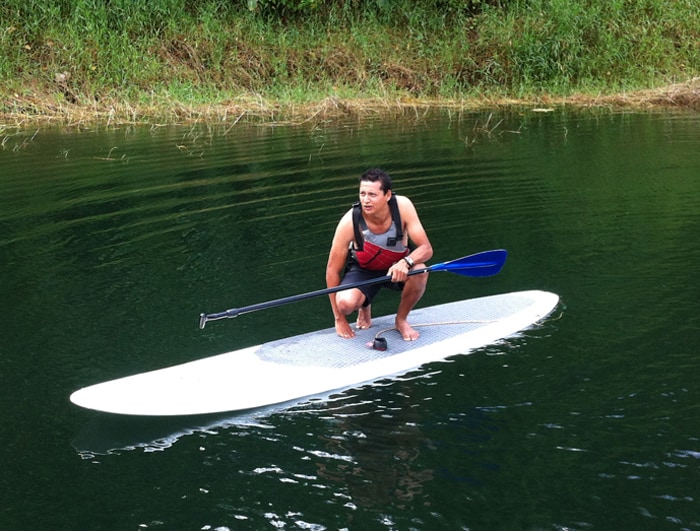 Guiselle's fear was rooted in something more primordial. When you don't know how to swim, the fear of drowning is terrifying, and willingly jumping into deep water goes against all your instincts. Isidro and I said it's basically impossible to drown in still water wearing a life vest, but Guiselle didn't look so sure.
________________
Costa Rica's Greatest Places
In this series, Tico Times Travel takes an in-depth look at some of Costa Rica's greatest destinations, with multiple articles exploring their appeal. In April, we'll be looking at all the attractions of Arenal — adventure tourism, hotels, restaurants, real estate and of course that volcano and all those hot springs.
PART I: Valle del Sol
PART II: Quepos/Manuel Antonio
PART III: The Flamingo Coast
PART IV: Nosara
PART V: Arenal
________________
Arenal is the unofficial capital of adventure tourism in Costa Rica — whitewater rafting, ziplining, canyoning, mountain biking, horseback riding, all-terrain vehicles — and all of these adventures are served up with a few spoonfuls of fear. The companies that offer these activities will boast of their safety records, but people have died doing all of these things.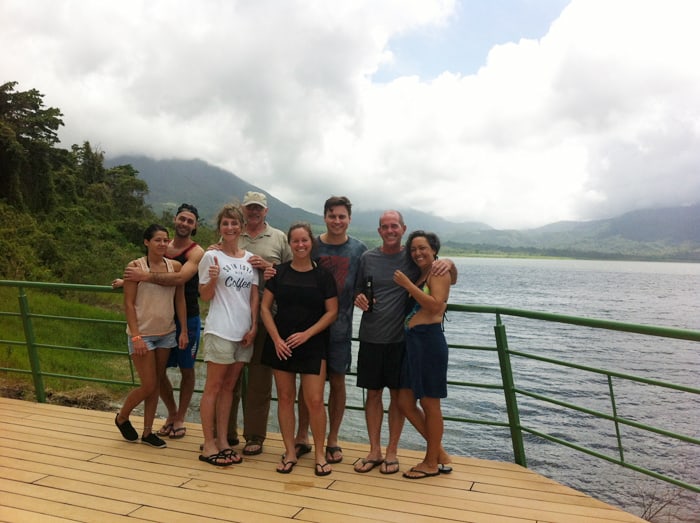 And I think that's part of the reason we do them. When you strap in for a Tarzan swing, or a zipline strung between two mountains, you face a potentially deadly fall, and your adrenaline surges to off-the-charts levels — yet when you survive, you've cheated death, and you'll never forget it.
Finally, after a few deep breaths, summoning all her courage, Guiselle jumped off the boat. She disappeared briefly under the water, then shot to the surface gasping and paddling for Isidro's board, where she held on for dear life. And then, pretty soon, she was standing on her own board and calmly paddling around.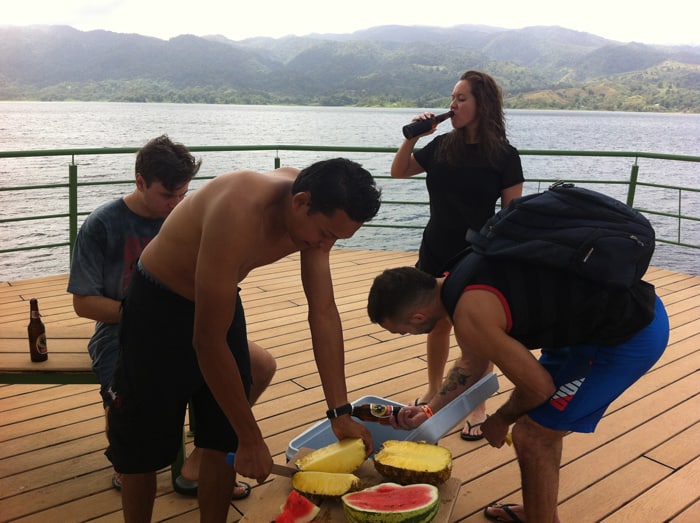 A couple of years ago I wrote a story about driving to Monteverde to go bungee jumping — something that my otherwise brave brother Paul would never consider doing. But the story was about my fear of driving in Costa Rica, something that the reckless Paul fears not in the least. I concluded that we're all entitled to our own fears, and nobody has the right to judge anyone else's.
Ziplining
Guiselle had also never gone ziplining before, and she freely admitted her fears as the guides strapped her into the harness that would keep her alive today on the 12 cables at Ecoglide.

A friendly photographer told us he would be our paparazzi today, and Guiselle asked him to please take her photo before she soiled her pants.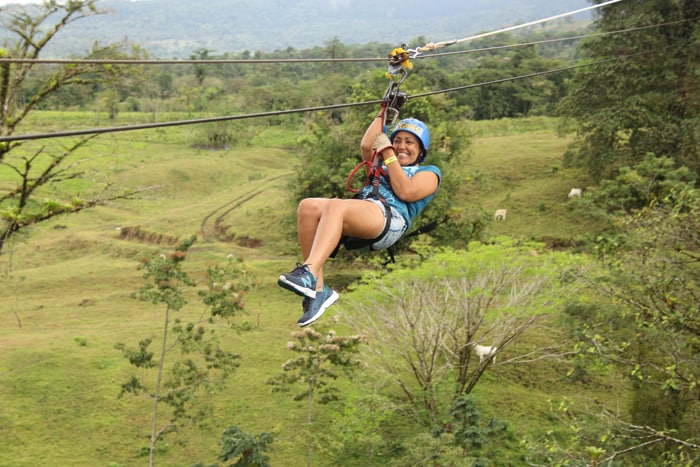 An Indian family from Dallas was in front of us on the first platform, and a laughing preteen girl said, "I'm nervous, I'm excited, I'm scared." You're human, I thought. That is exactly how you should feel.
Guiselle, and in fact everyone in our large group, did fine on the entire canopy tour. Pictures captured her smiling and laughing, which is one way we deal with fear: just laugh at it.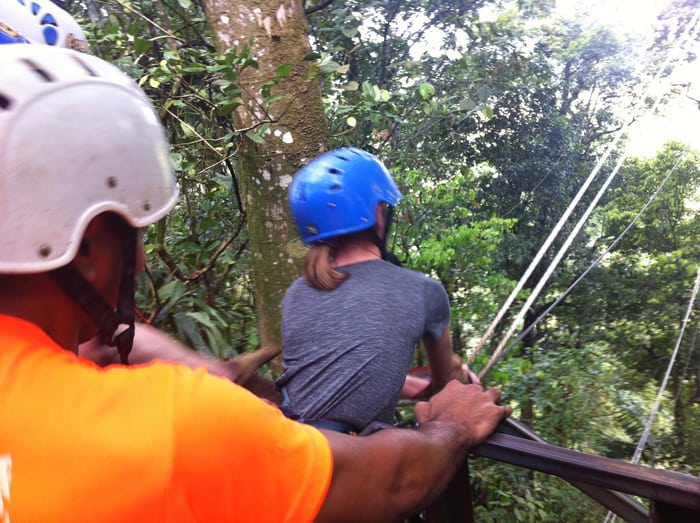 She opted out of the Tarzan swing, but I opted in. It's a vertical fall of about 18 meters with a radius of 45 meters. The guide said they would buy a beer for whoever screamed the loudest, so I screamed my head off. It turned out we all got a beer anyway.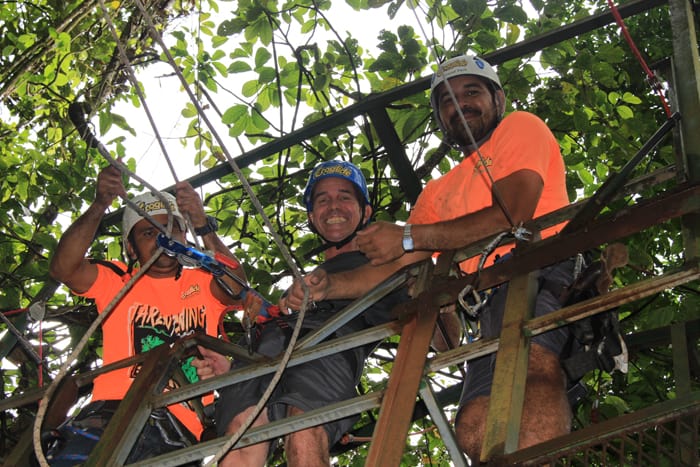 Zorbing
We had heard that Mistico Arenal Hanging Bridges Park offered something called Zorbing, where you roll down a hill in a giant plastic sphere with 70 liters of water inside. It sounded to us like a good way to bruise your face and get water in your lungs, so of course we had to try it.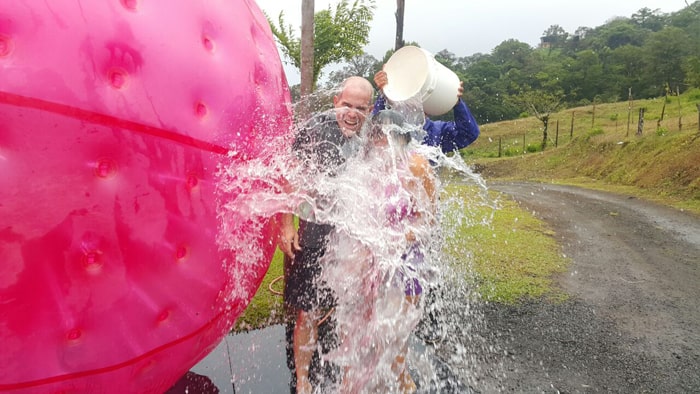 It was the bomb! Zorbing was invented in New Zealand, and so far it exists in only seven countries, according to our guide, Allan, and the only place you can do it in Central or South America is at Mistico. As Allan drove us up the road, we saw a strange, curvy zigzag carved into the green hillside, the track that we were about to spend 45 seconds descending. Allan told us to relax, keep our hands up and avoid swallowing water.

Guiselle and I slid head-first into the giant sphere through a little zippered porthole, like two giggling grown-ups re-entering the womb backwards. Allan gave us some last-minute instructions, and Luis zippered us in and gave us a push.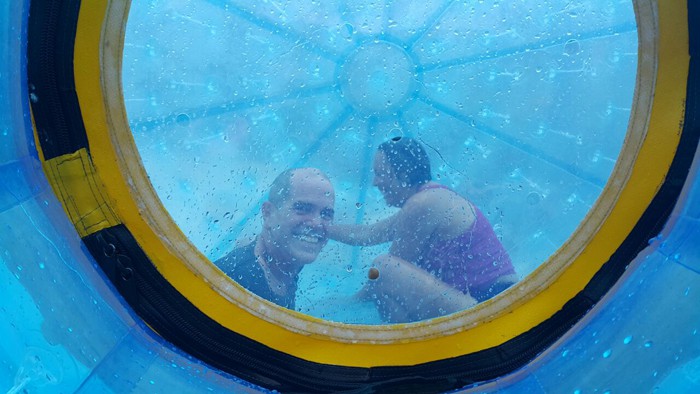 We immediately started laughing. The point of the water in the bottom of the sphere is to make the riders slip and slide so that their butts are mostly oriented toward the earth. Without water, you would fly head over heels and there's no telling how many places you could break things on your body.
But in a foot of water (which always rolls downhill before you do) your butt never flies far into the air because it's lubricated by this big pool of H2O. Instead it slides and bounces down the grassy zigzag, which is mercifully free of rocks or other threats to the integrity of your skeleton.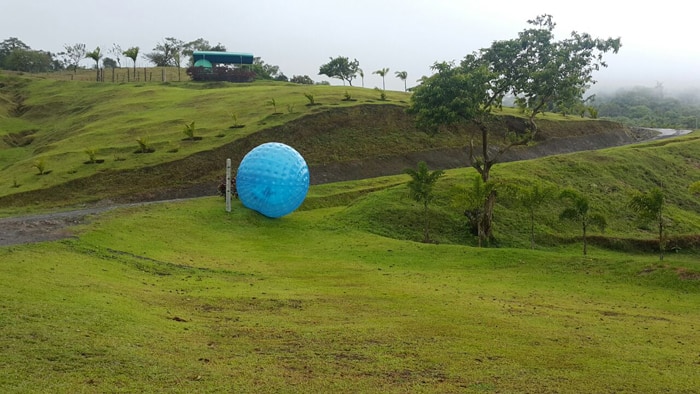 All of this time — 45 seconds, and you get to do it twice — Guiselle and I were laughing our heads off. At first the slope is gentle, lulling you to relax, but then it gets steeper and curvier, and soon we were crashing against each other in a crazy, watery, spherical environment, roaring with laughter.
It was like a cross between the Jamaican bobsled team and Waterworld. We had no control over the script, but it was lots of fun and very wet.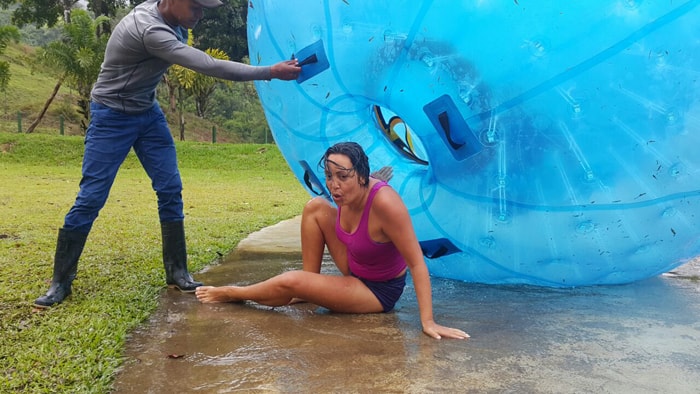 Hiyo, Silver
We went horseback riding with a cowboy named Alex, an activity offered by the Montaña de Fuego hotel, where we spent one night. Alex was a funny guy — it seems all tour guides in Costa Rica are funny guys, though I don't know why they're almost all guys.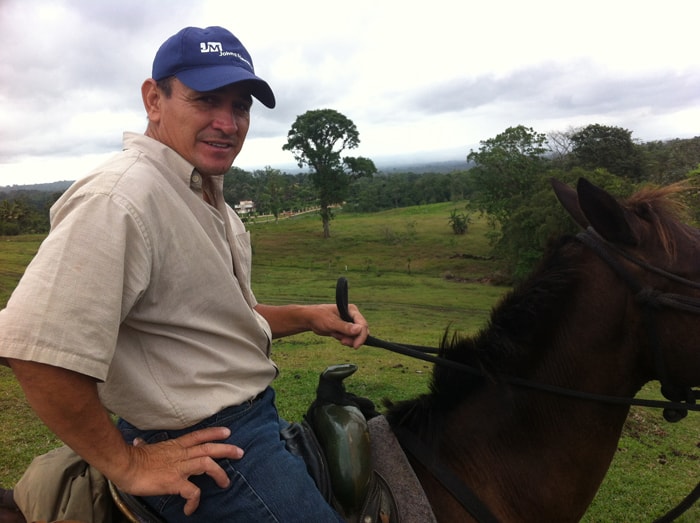 Guiselle mounted a horse named Indiana, and I took Centenario, though I kept forgetting his name — Bacardi? Flor de Caña? Alex led us across the highway, away from the volcano, for a shady stroll to Río Arenal.
Alex made sure we were saddle-worthy before emitting an otherworldly scream that told the horses to break into a run. Once again, we broke into fearful laughter — this was lots of fun, but if you don't think horseback riding is dangerous, look at Christopher Reeve.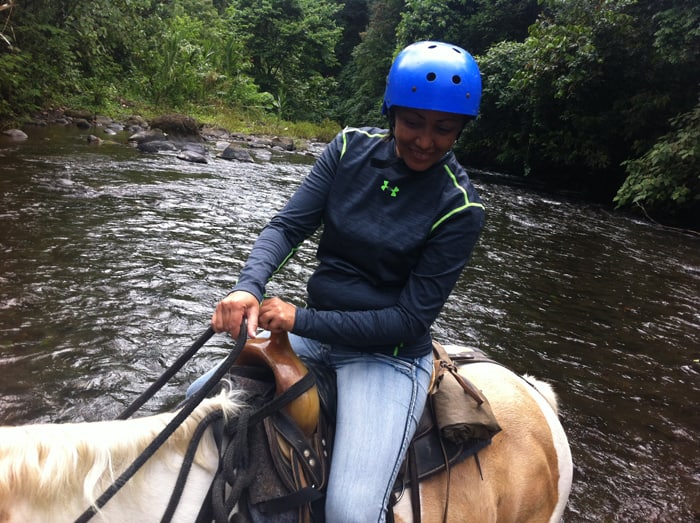 Guiselle clamped her hand onto the pommel in front of the saddle, and I briefly did too, though I know that real cowboys don't do this. I forced myself to let go, trusting my legs to hold me on the horse, and for those thrilling moments I was a real sabanero, arms jouncing freely.
Comic relief was provided by a couple of stray mules and a little horse that started following us. Alex apparently knew where they belonged, and it wasn't with us, so he cut a tree branch and turned around to face our slow-motion pursuers. Then he shrieked to race the dead and charged at the three animals at a full gallop, waving the branch menacingly. The trio of strays, terrified, ran like hell to get out of his way, while Guiselle and I laughed uncontrollably.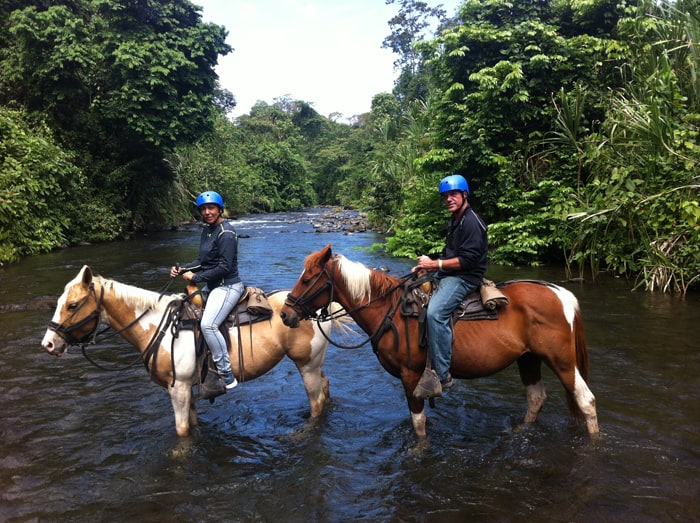 I … do?
If you're looking for a once-in-a-lifetime adventure, why not get married here? Tui Frye, 41, has a company called Blue Butterfly that specializes in "adventure weddings and elopements." And with La Fortuna's adventure opportunities, waterfalls, volcano views, hot springs and spas, she thinks this is the perfect "adult playground" for such an occasion.
"Most weddings and events I tend to do are really out of the box," she said. "I've done a wedding under the big ceiba tree outside of Nuevo Arenal, the Avatar Tree."
Some couples may want to do an extreme hike on their big day, for example, or get married at a remote waterfall. She once did a wedding at the Rancho Margot farm, on the south shore of Lake Arenal, with guests who were staying across the lake near Mistico.
"So we had to bring them by bus to the dam, then in boat across the lake, then again in buses, then we had to take them to a mirador that's like a horse trail," she said. "It took almost three hours just to get them there. It was a huge adventure."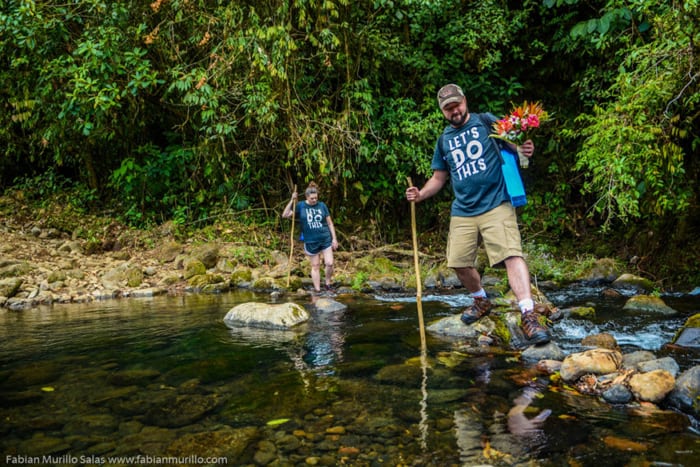 She said that Juan Sostheim, the owner of Rancho Margot, was building a place just for this event, and on the morning of the wedding, Tui panicked to see that workers were still sanding and painting the tables where she needed to start setting up.
"And the bride showed up for the wedding four months pregnant, and I thought, that woman is going to die when she sees that this place isn't finished," she said. "The bride came, super relaxed, and later I discovered that she worked for years for a California TV program called ¡Extreme Home Makeovers,' where they make over a house in a week, so for her it was totally normal."
Tui said she has her eye on several spots that would be perfect for a nontraditional wedding.
"A lot of times people see a picture and say, 'I want that.' Others say, 'I want something really different.' I have weddings already planned in my head, and I'm just waiting for the right customer," she said.
Choose your adventure
If you're looking for something to do in Arenal, you won't be hurting for options. Here are some adventure companies in the area we confidently recommend, in alphabetical order.
Arenal Mundo Aventura
This ecological park offer a three-hour zipline adventure ($69) with 12 cables that allows you to fly over La Fortuna Waterfall on a 980-meter cable at a dizzying height. A shorter canopy tour ($51) offers the seven most extreme cables.
Mundo Aventura also offers guided nature hikes, birdwatching, a night hike, horseback riding and rappelling.
Website: http://www.arenalmundoaventura.com/
Phone: 2479-9762
Canoa Aventuras
Canoa specializes in canoeing, something that is not otherwise easy to find in Costa Rica, where most water adventures involve rafting, kayaking, stand-up paddling or surfing.
Canoa offers canoeing on the Tres Amigos River, with lunch ($147), a safari float on the San Carlos River with a visit to a local farm and a snack ($67), and a combination tour with a visit to Arenal Hanging Bridges, La Fortuna Waterfall, a hike around Arenal Volcano and a visit to hot springs ($161).
Website: http://www.canoa-aventura.com/en
Phone: 2479-8200
Desafío Adventures
This pioneer of adventure tourism in Arenal was founded by Suresh Krishnan, a river guide from India and Long Beach who set up shop here around 1992-93. In 2001 he was joined by his dynamic now-wife Christine, whose outstanding Spanish and big personality helped pave the trail that Suresh blazed. Just walk around downtown La Fortuna with Christine for a bit, and you'll see that every few minutes she has to excuse herself to go kiss and greet somebody.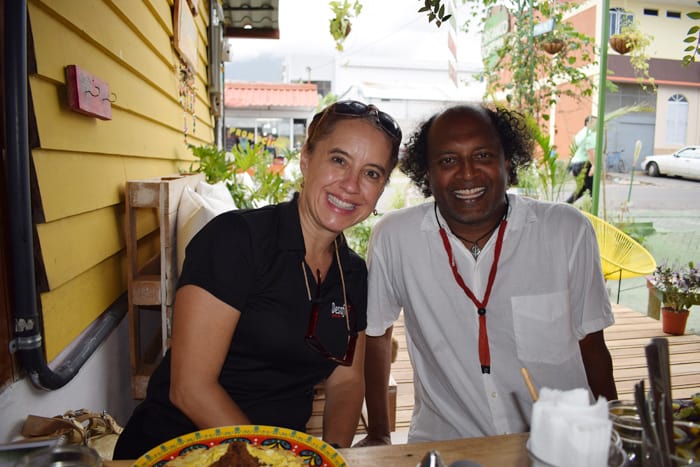 Desafío ("Dare") started as a rafting company, and is still the go-to choice for rafting the Río Sarapaquí or the Río Balsa, and soon it hopes to return to the Río Toro.
The company's most popular adventure is "Gravity Falls," a good play on words to describe the region's best canyoning — i.e., waterfall jumping and rappelling in a beautiful river canyon.
Also popular is "Lost Canyon Adventures," in another "incredible canyon," Christine said, with a series of big waterfalls.
"This is focused more on rappelling, and from the waterfalls you do a type of ziplining, a guided rappel, it gives you this sensation of hooooooo," Christine said. "And there's a canyon where you have to go jumping, using your hands, your feets, your butt to get down. It's quite an adventure, but it's great."
Desafío also offers the aforementioned stand-up paddling on Laguna Arenal, and in fact can set you up with just about any adventure in the region.
"Diversify or die," said Suresh. "We thrive on innovation." 
Website: https://www.desafiocostarica.com/
Phone: 2479-0020
Ecoglide
The 12-cable Ecoglide zipline operation prides itself on its safety, and the owner, don Manolo, told me that he rejected the first system installed here because there was only one cable.
"The first time he installed it, I went to try it, and I said no," Manolo told me. "Because it only has one cable. It scares me too much. I'm not going to trust my life to one cable."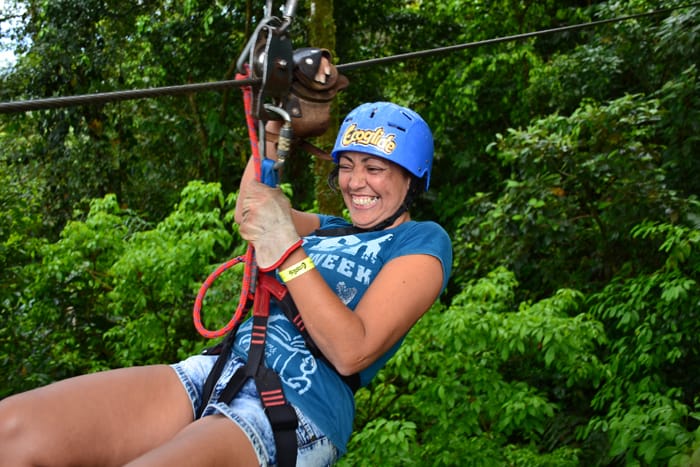 Today there are two cables.
"There's one steel cable and one galvanized," Manolo said. "We're the only one with a cable of pure steel. That cable has a problem: it doesn't bend." The lower cable, made of galvanized steel, does bend. "That's the one that could fail," said Manolo. "But the one above, impossible."
Website: http://arenalecoglide.com/en/
Phone: 2479-7120
Jacamar Naturalist Tours

Jacamar offers a wide variety of tours, including a three-hour boat ride in the Caño Negro Wildlife Refuge, a safari float on the Río Peñas Blancas, an Arenal Volcano hike, kayaking on Lake Arenal, a tour of Tenorio Volcano National Park and Río Celeste, ziplining at Athica Canopy Tour & Adventure Park, and a highly recommended spelunking expedition at Venado Caves.
Website: http://arenaltours.com/
Phone: 2479-9767
La Fortuna Waterfall
This 70-meter catarata is a must-see, visited by 100,000 people a year, and to see it all you need is a car, a taxi, a horse, a thumb, or two good legs, because it's just 5.5 km from downtown Fortuna.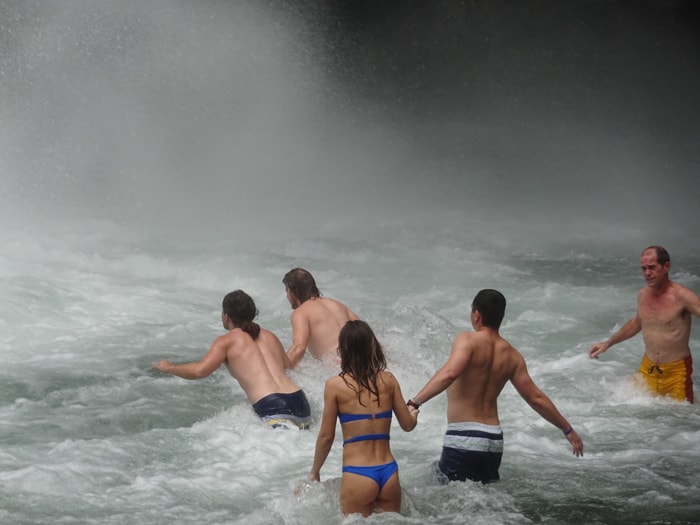 I drove there a year and a half ago from Nuevo Arenal with my brother and my nephews, one of whom repeatedly forced the lifeguard to blow his whistle. At the time admission was $11, though the price appears to vary.
Website: http://www.cataratalafortuna.com/
Phone: 2479-8338
Mistico Arenal Hanging Bridges Park
Mistico did not invent the idea of hanging bridges in Costa Rica, but it may have perfected it. This 600-hectare property, owned by the same family for more than 100 years, showcases 16 bridges — 10 fixed and six hanging. The longest is 100 meters and the highest is also about 100 meters — roughly the size of the towering Banco Nacional HQ in San José, said marketing manager Tadeo Francisco Morales Gomez.
"They kind of borrowed the idea from some hanging bridges in Monteverde, but those were made of wood and rope, a little more rustic," Morales said. "These were the first hanging bridges made completely of steel and aluminum."
The technology that built these bridges is German, but the jungle is 100% Costa Rican. A previously unknown bug was discovered here in 2014 and dubbed the Mistico long-horned beetle, and the scientists told Morales that without these bridges they would never have been able to study the tree where they discovered this bug.
Mistico offers a 3-kilometer, 2- to 3-hour guided hike for $38, or you can just show yourself around for $26, and stay all day if you want.
Mistico also offers a canyoning adventure at Spider Monkey Canyon, said to be somewhat less extreme than the one offered by Desafío.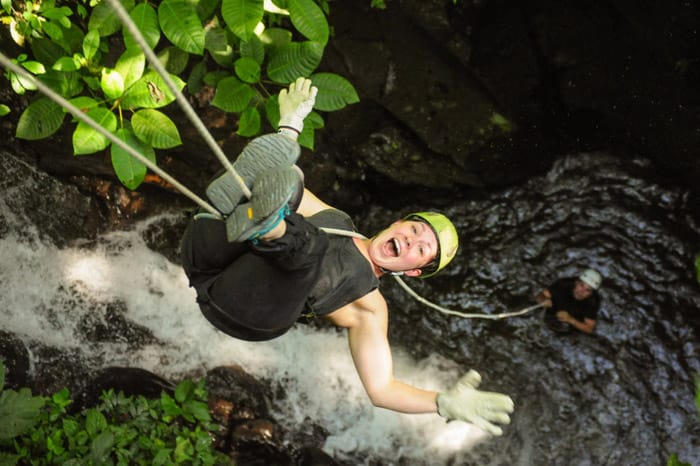 But don't forget about the Zorbing. Trust me, it will be the best $35 you ever spent on 90 seconds of your life.
Website: http://www.misticopark.com/
Phone: 2479-8282 
Sky Adventures
I went ziplining here a year and a half ago with my fearless son Nathan, then 19, and we bonded over terror, fear of heights and James Bond music.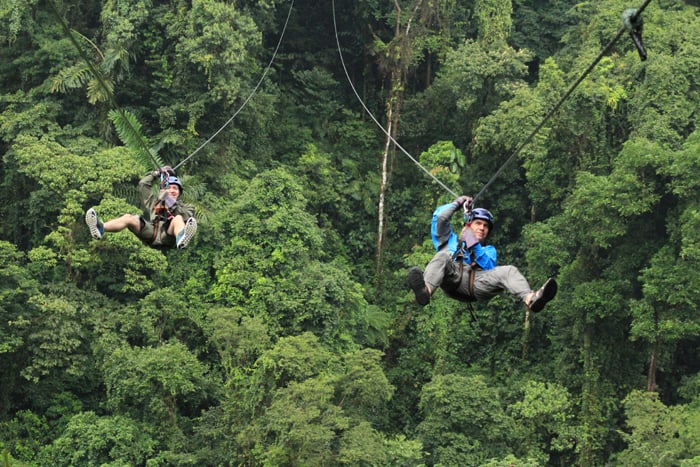 Sky Adventures is perhaps the most sophisticated zipline operation in Arenal, and among its most terrifying, if you choose its Sky Limit challenge course. But for daredevils with a small "d," there's also Sky Trek, where you zipline safely from one place to the next doing nothing but hanging onto overhead handles, and somebody else does the braking.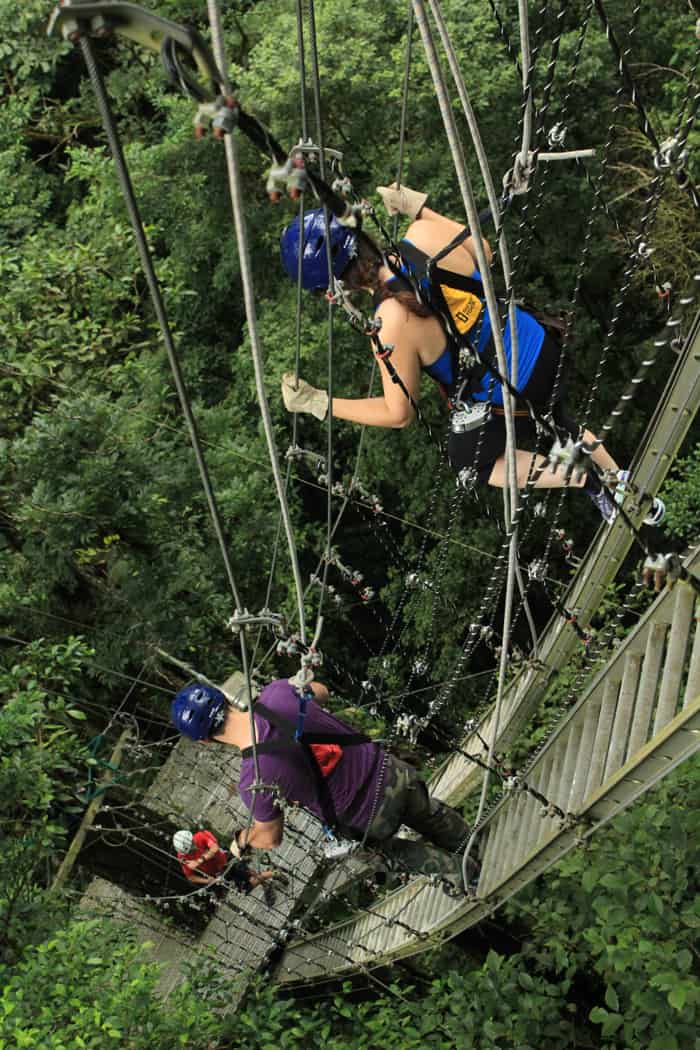 Sky also offers the incredible Sky Board, where you strap what I would call "jet boots" to your feet and fly above Lake Arenal, propelled by a powerful stream of water under you.
There's also a very cool aerial tram here, and the company offers a river adventure, mountain biking and kayaking on the lake.
Website: http://skyadventures.travel/
Phone: 2479-4100
Contact Karl Kahler at kkahler@ticotimes.net