NOSARA, Guanacaste — We spent close to six weeks in Nosara, occasionally doing some cooking but usually eating out, and we came away impressed with a number of restaurants here.
These were my 10 favorites, in a range of prices, in alphabetical order.

________________
Costa Rica's Greatest Places
In this series, Tico Times Travel takes an in-depth look at some of Costa Rica's greatest destinations, with multiple articles exploring their appeal. In February and March, we'll be looking at all the attractions of Nosara — yoga, surfing, hotels, restaurants, real estate and more.
PART I: Valle del Sol
PART II: Quepos/Manuel Antonio
PART III: The Flamingo Coast
PART IV: Nosara
________________
1. Beach Dog Café
The Beach Dog is a fun place to eat along the road near the Harbor Reef — but if you're expecting ordinary "beach food," you're in for a surprise. One glance at the menu and you know there's a real chef behind this place, with creations like chili lime mango fajitas, Cajun crusted fresh catch and coconut buffalo wings.
That chef is Mike Streda, 38, who was born in Windsor, Ontario, moved to B.C. chasing snow, then moved to Nosara chasing waves.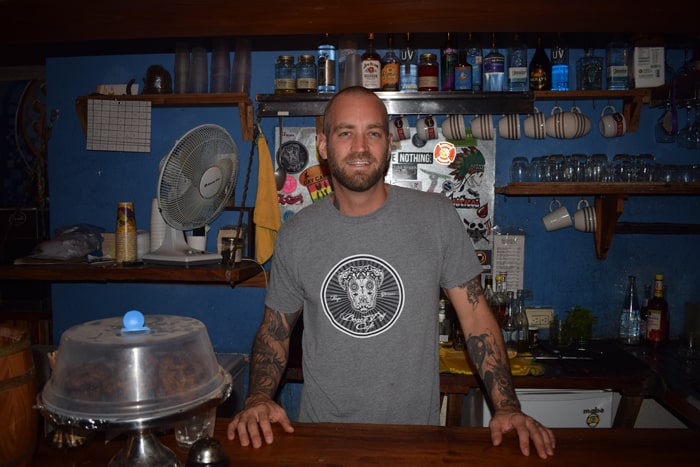 "I always wanted to own a restaurant," he said. "I was a chef for 15 years; that's what I've always done." I asked if he went to cooking school, and he said he went to the school of life.
He said in all the restaurants where he worked, he always wanted to change things, but he wasn't the boss.
"I wanted to have my own place to put my own menu together and do things the way I wanted to do them. Fresh, healthy, simple, all the flavors on the palate."
We snacked on the Picklemole, which is guacamole made with, yes, pickles.
"I came up with that at a party because we didn't have lime and I needed something sour and we had pickles," he said. "And I put it in, and everybody likes hot sauce but I find that kind of cancels the flavor, so we put the jalapeños in there, and it was born."
Guiselle had fish and chips with a good tartar sauce and a cabbage-carrot salad. I had Thai chicken curry with pad thai noodles.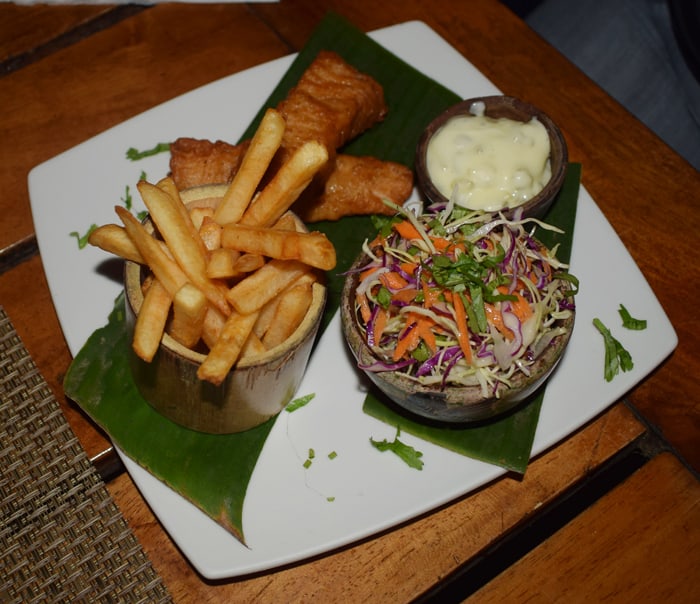 The cocktail menu is also interesting, with creations like the Tequila Sunburn, with passion fruit, O.J. and grenadine, or Lucy's Magnifico Mojitos ("the best in town!").
You'll find live music here three nights a week, and if you really like the place there's a mini-hostel in back with three boutique-style rooms, "high thread-count sheets and fresh muffins and coffee in the morning," said Mike.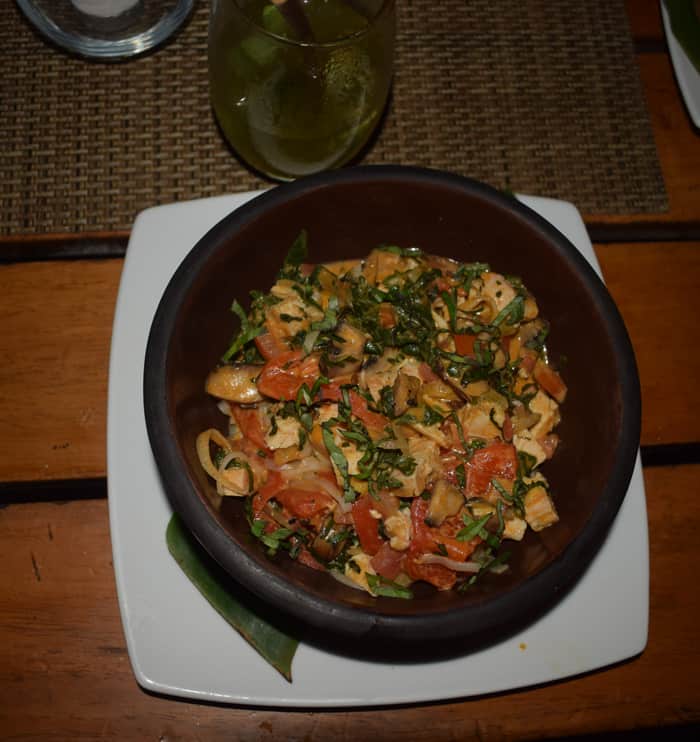 2. Burgers and Beers

Victor Garita is a Tico who always liked hamburgers. Even when he spent a year interning as a chef at a Ritz-Carlton in Barcelona with three Michelin stars, he liked the hamburger joint down the street.
He came to Nosara, worked at the Harmony Hotel a while, and couldn't help noticing that this town was flooded with visitors from the U.S. What do they like to eat? Obvio, hamburgers. And what would they like to drink with that?
So was born Burgers and Beers, which opened three years ago in north Guiones and has been wildly popular. Victor created the world's simplest menu, with just six hamburgers: The Classic, the Fish, the Blue Cheese, the French, the Barbeque Mushroom and the Vegetarian.
"Instead of doing a bunch of experiments, I turned famous dishes into hamburgers," he said. "The French is chateaubriand. Chateaubriand is part of the tenderloin, and they served it with loaves of baguette, like a bed of bread, then they put the meat on that and the Bernaise sauce on top. That's one of my favorite dishes, so I thought if we transform it into a hamburger, it's going to work."
His Blue Cheese Burger (which I tried and loved) was inspired by a pizza he had once.
"I said OK, wow, the blue cheese with the sweetness of the caramelized onions is a boom of flavor. If we transform it into a hamburger with a good quality meat, with arugula, it's going to work. And in fact it did.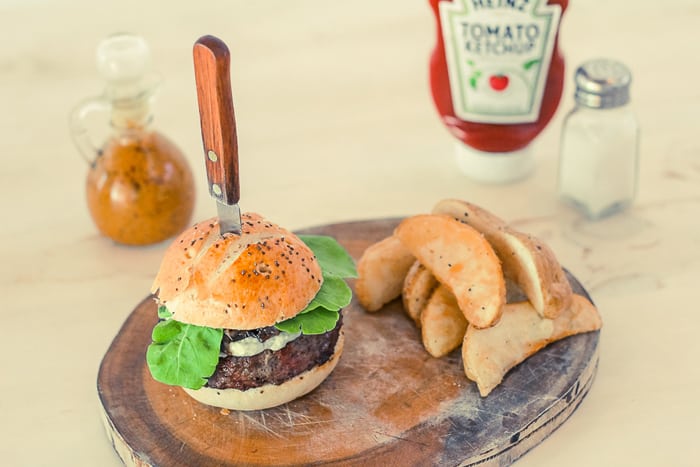 "The Fish Burger is a fish with tartar sauce, so it's fish and chips," he said. "Vegetarian is a portobello mushroom: we cook it with a little bit of garlic, rosemary, goat cheese in the middle and then another portobello mushroom on top, and that has Dijon mustard with arugula. I thought, there's no way for that to taste bad.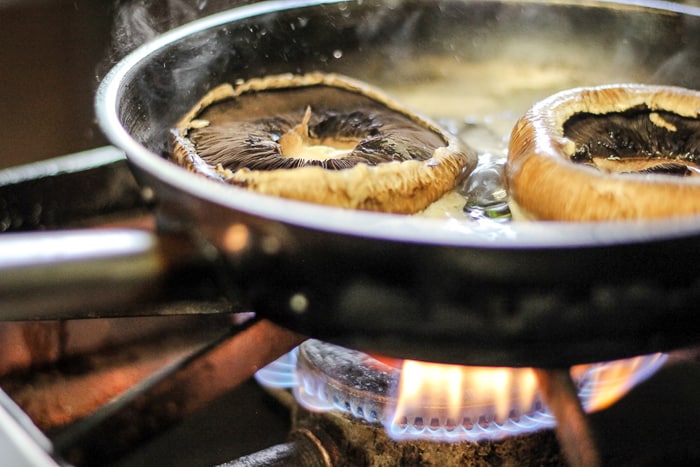 "If it tastes good on a plate, it will taste good as a hamburger, with good bread, good meat, good ingredients, presented nicely, it has to work. And it did."
Victor went to San José in search of the best craft beers in Costa Rica. On the day I visited he had 14 on tap and a dozen others in bottles, including India pale ale, summer ale, saison, stout, porter, wheat beer and fruit beers.
By the way, there's also a seafood side to this restaurant that serves fish, shrimp, octopus, lobster and clams in casados or soups or tacos, with rice.
"Here, the idea is build your own plate," he said. This side of the restaurant caters to everyone who wants something other than a burger and beer.
But it's the other side that's usually packed.
3. El Chivo Cantina

This is the perfect place to watch the Super Bowl, we learned, especially if you're a Patriots fan. I was pulling for Tom Brady because he has a house in Santa Teresa, because he has a wife named Giselle, and because he once jumped off the Montezuma waterfall.
Before halftime, I thought this was going to be Brady's final humiliation, but after the Lady Gaga halftime show he pulled off the comeback of the ages. So I said to (my) Guiselle, "From now on, Tom Brady should refuse to play unless Lady Gaga also plays."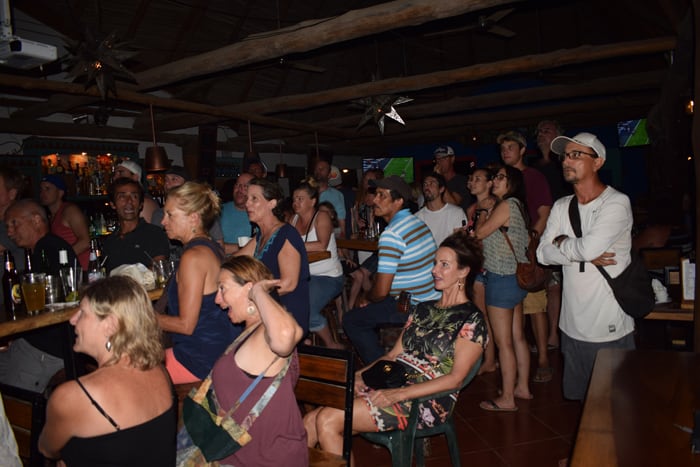 To go with our Super Bowl we had – what else? – chicken wings, and they were succulent, as was the craft beer. On an earlier visit I had a wet burrito, saucy and cheesy and rich, and Guiselle had a non-wet burrito.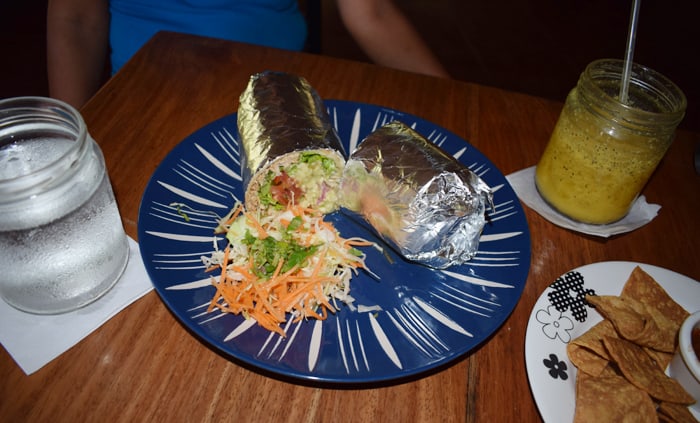 El Chivo's interesting décor includes starburst patterns hanging from the ceiling of the big rancho, with Mexican skeletons and skulls on the walls. There are even "Tequila Factoids" posted, informing diners that tequilas are mescals but mescals are not tequilas.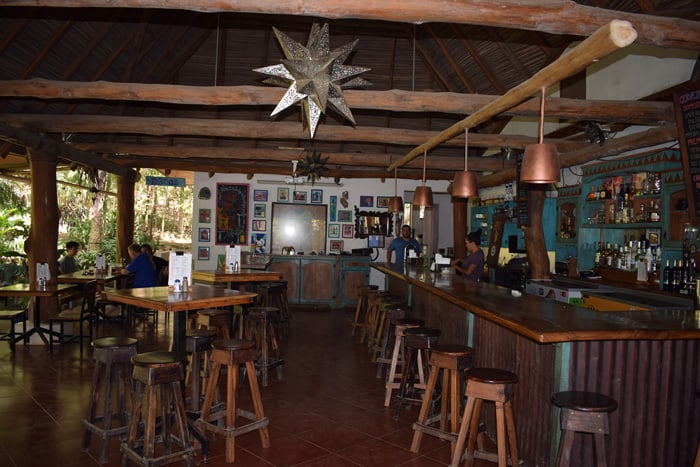 El Chivo ("The Goat") is owned by an Australian named Matt Hazelton, who said Super Bowl Sunday is one of the biggest days of the year in this bar. He told me it was a bit touch-and-go setting up new TVs with a new feed, not knowing if it would work, but it worked perfectly. The only thing that didn't work was the Atlanta defense in the second half.
4. Il Basilico

Il Basilico is an excellent Italian restaurant offering pizza, pasta, seafood and salads, and it's a popular gathering spot for both locals and tourists, often with live music to keep things hopping.
We had the pasta al Cartocho with shrimp, fish, octopus, clams, mussels and a splash of white wine. It came in a freshly baked "bread basket," looked like a giant pie and tasted like a dream. We also tried the H.P.M pizza, with ham, pepperoni and mushrooms, and it was excellent.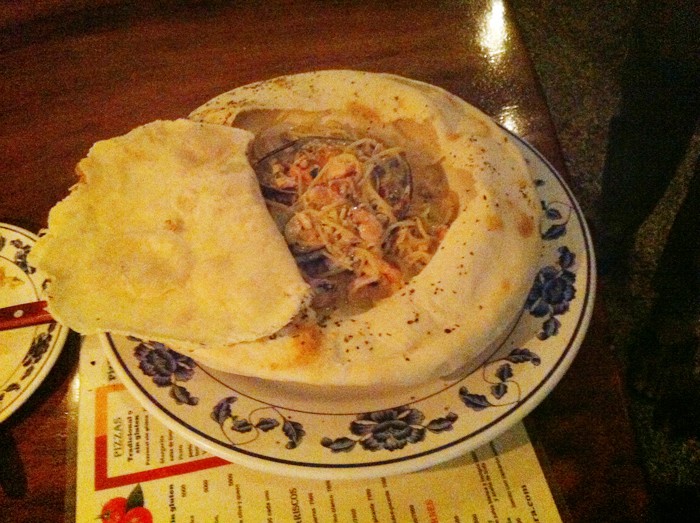 Proprietors Alexander Cabalceta and Jens Castrillo said it's hard to name the most popular dish here because so many are popular.
"From the first salad we serve until the last dessert, they're all good," said Jens, the head chef. "That's one thing that few restaurants have. Some restaurants specialize in one or two dishes; here we have a lot of great dishes."
Some of the pizzas served most are the Basilico, with ham, salami, onion, garlic, parsley, black olives, tomato and fresh basil, and the vegetarian Greek pizza, with feta cheese, onion, mushrooms, tomato and artichokes. And this being health-conscious Nosara, gluten-free pasta and pizza also sell well.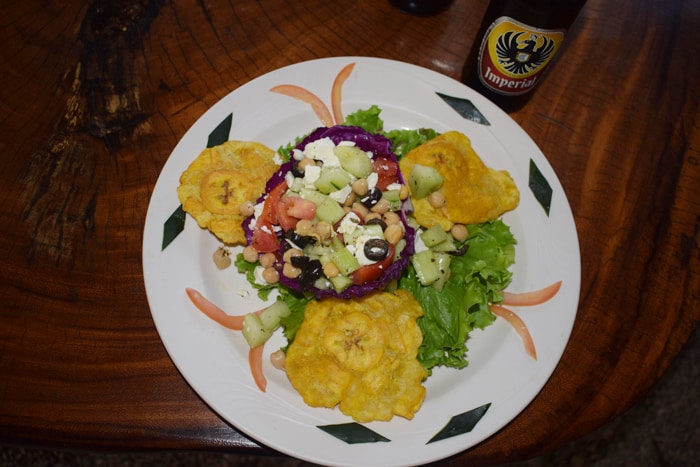 Alexander, nicknamed Chandy, said they had a pasta dish with bacon, onion, mushroom, truffle oil, basil and parsley that didn't sell well because it had an obscure Italian name. They changed the name to Penne Surfo, and now people order it all the time.
Basilico is Italian for basil.
"To me as a cook," Jens said, "basil is one of the best herbs there is. You can use it in almost everything. It's an herb that refreshes your mouth."
Chandy said, "We have a pizza party every Saturday night where all pizzas are $10, with music, and you need reservations and you have to be patient. We have 110 people seated and people lining up outside."
5. La Luna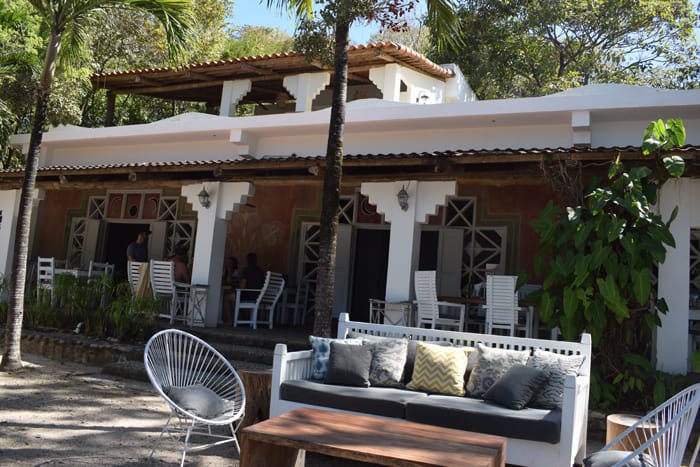 I don't know which restaurant is No. 2 in Nosara, but the reason it isn't No. 1 is because of La Luna. Right in front of Playa Pelada, this acclaimed restaurant has both the best location and the best food in town.
You can sit indoors looking out or you can sit in the shady open area in front, gazing at what appears to be a private little beach on the southern end of Pelada, with a rocky point to the left and a handful of beachgoers on the sand.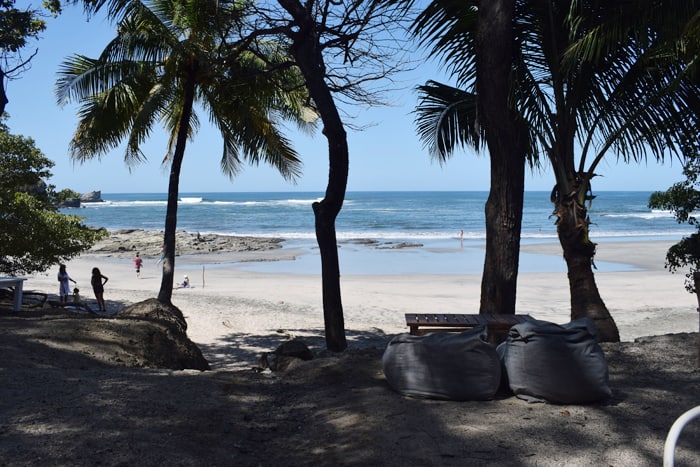 I was unable to meet Angelina, who owns and runs this outstanding restaurant, but the influence of her Greek and British parents shows in the menu, including the Mediterranean Feast breakfast and the full English breakfast. On my first visit, at dinner with my brother Paul and nephew Aladdin, Paul saw the antipasto platter on the menu and ordered it without hesitation, though it cost ₡17,300 — about $30 for what is supposed to be an appetizer.
It had marinated vegetables, Greek olives, assorted cheeses, prosciutto, salami, onion chutney, beet and feta spread, tzatziki, nuts, grissini and homemade bread — and the platter was the size of an extra-large pizza.
An hour later, Paul said, "That was the best antipasto I ever had, and I order antipasto whenever I see it." The three of us polished off the platter but were unable to eat another bite.
Main dishes here include Mediterranean grilled kebabs, steak, fish or shrimp tacos, red snapper, seafood lime fish, tuna and whole red snapper. Entrees range from ₡8,300 to ₡12,400. La Luna also offers brick-fired pizzas, Mediterranean, falafel and hummus platters, salads and starters, with a large cocktail menu and wine list.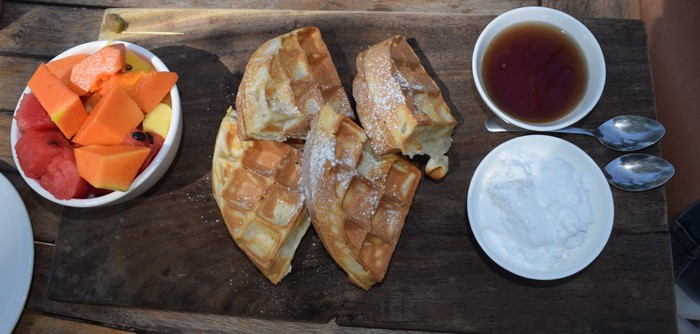 Someone told me I had to try the breakfast there, so Guiselle and I showed up on a Saturday morning to share the waffles with fresh fruit, and I had to try "The Best Bloody Mary," with spicy tomato, Absolut vodka, celery leaf and olives. It was — how do you say "divine" in Greek?
6. Le Bistrot
Le Bistrot was one of my three favorite restaurants in Nosara, along with La Luna and Tibidabo. Located at the Giardino Tropicale restaurant on the main road, it's owned and operated by Fabien Piguet and Alex Juvet, who are from the French part of Switzerland.
The two partners do all the cooking, and they frequently change the menu, displaying the specials of the day on a blackboard. Five of us ate there, and everything we ordered was excellent. I had the spinach and ricotta ravioli in a gorgonzola sauce (₡7,500); others tried the chicken breast in coconut curry with cashews (₡7,500) and shrimp flambeed in Knob Creek whiskey (₡10,900).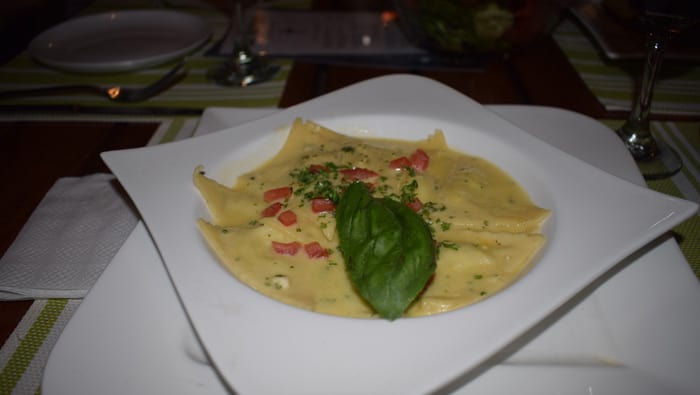 "We specialize in French-style food, Mediterranean food, with all the base sauces, with lots of wine, butter, sweet cream, olive oil, fresh olives," said Fabien in Spanish. "And we have a bit of Peruvian food — the wife of my partner is Peruvian, so we have Peruvian ceviche, for example."
He said the most popular dish is the wood oven baked fish, which might be red snapper or mahi-mahi, whatever is fresh.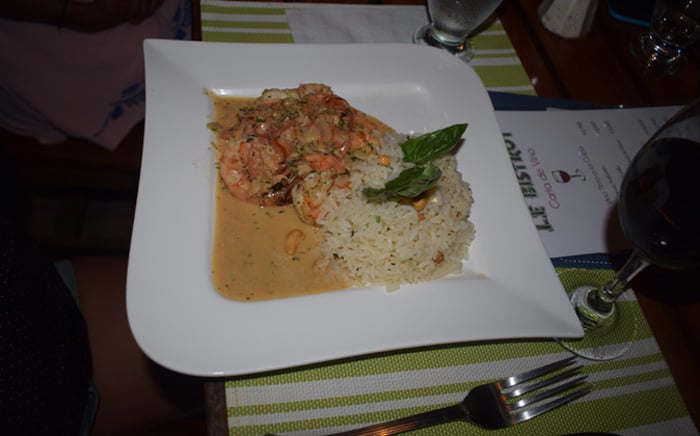 "It's a little boring for us to work from a fixed menu," he said. "We don't want to cook the same thing all year, and it's boring for the residents who come here, because we're trying to win them over, and they come a lot. We don't give them a menu; we show them the blackboard. They come back and there's something different."
There's also a good wine list, and not too expensive, with bottles that start at ₡10,000.
Fabien was the head chef down the street at Café de Paris for 15 years, Alex has worked in the Middle East and South Africa, and both have cooked in fine restaurants in San José.
"It's very simple, nothing complicated," Fabien said.
Well, it tasted complicated.
7. Marlin Bill's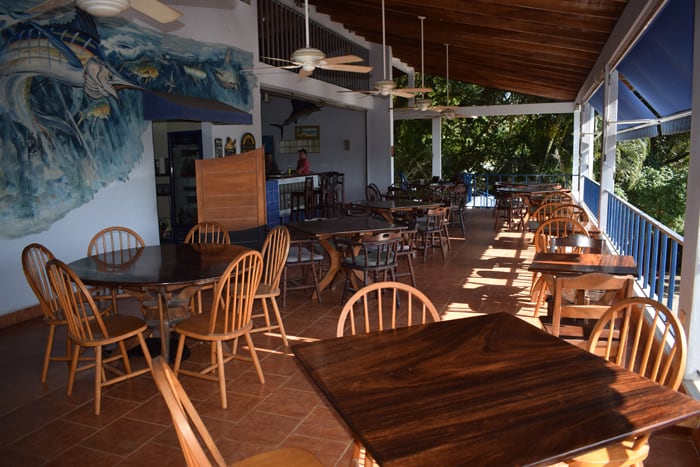 William Lancaster, 57, came to Nosara in the early '90s and ran a couple of restaurants before opening Marlin Bill's in its current location, on a hill above the main corner in Guiones, with a rare ocean view.
He said he got the name from a little fishing tournament when the water was rough and everyone else stayed inshore, but he and his partner went offshore and caught a couple of marlin in a 20-foot panga.
"So we came back in and it was like a joke at the party: 'Hey, I'm Marlin Bill.' My wife said, 'That's gotta be the name.'"
Bill, from Florida by way of Virginia, started washing dishes in a restaurant at the age of 14, and he quickly took up cooking.
"It's all I've ever done," he said. "It's a lot easier than washing dishes."
He described his food as international fare, mostly seafood. "All my friends are sportfishing guys in Garza, so I do really well at getting fresh fish from them. And then I love steak, so we do a USDA choice New York strip," he said. "We've got pork chop, like a 16-ounce bone-in pork chop, custom cut for me in San José from Don Fernando's."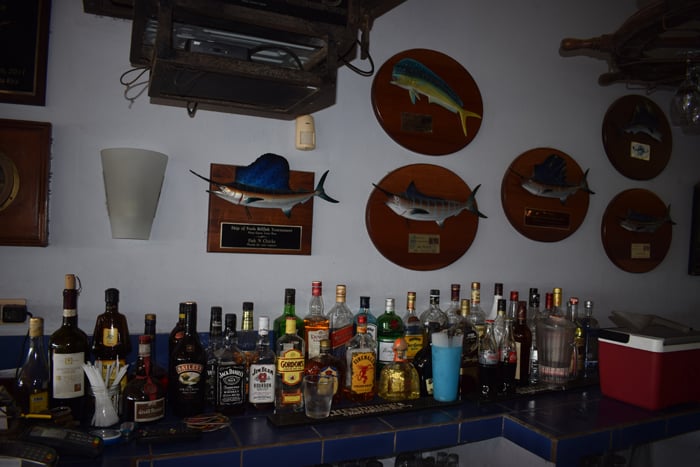 He said the chicken and eggplant Parmesan are popular among surfers because it's more than most guys can eat in one sitting.
Marlin Bill's has a full bar and a good selection of craft beer, including some that comes from Hojancha, which is in a "blue zone" known for long lifespans.
"So you drink this beer and you'll live to be 100?" I asked.
"But you might not remember it," said Bill.
8. Olga's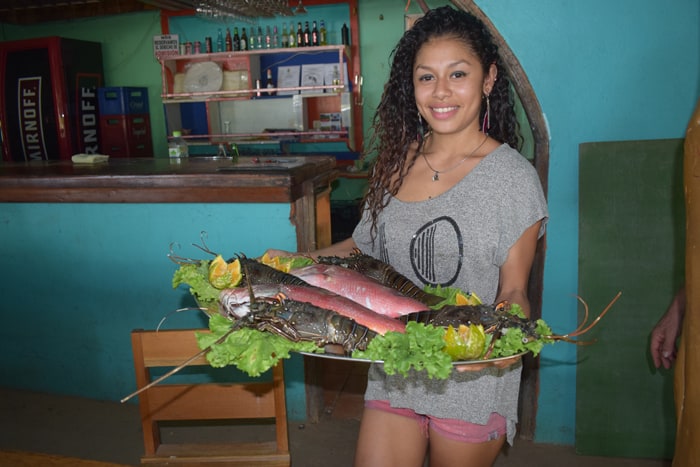 Olga's has a beachfront location in Pelada that is very unusual — the only other beachfront restaurant in the Nosara area is La Luna next door. Nosara is home to a nature reserve that prevents any construction within 200 meters of the high-tide line, but Olga's and La Luna had a prior claim, so they are the only beachfront restaurants in Nosara (unless you consider Playa Garza part of Nosara).
Olga's has a somewhat crude concrete building with a patio roof made of bamboo and tarp, and most people eat outside, though there's a lot of unused space inside that looks like a dance floor. A lot of Ticos come here to enjoy the spot, have a beer or let their kids play on the beach.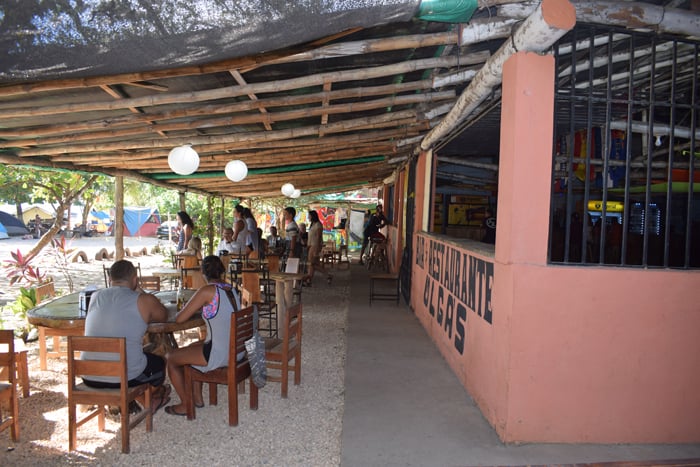 The food is basic but palatable. I had a steamed filet of tilapia in a shrimp sauce and Guiselle ordered breaded shrimp with garlic, which came out unbreaded but with lots of garlic. We thought both were pretty good.
Don Pepe, who worked in construction for 30 years but has been the proprietor here for eight months, said the chef worked at the Lagarta Lodge for 11 years, and he has really stepped up the food.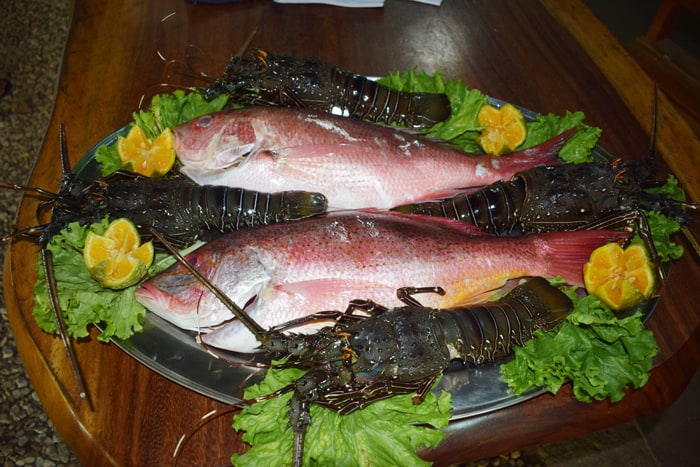 Beers cost ₡1,000, and if you want a cheaper beer I can give you directions to the Super Nosara. Otherwise you can just chill out here people-watching, with a good mix of colorful locals and happy tourists. The little beach in front is really pretty, with a shelf of rocks to the left and lots of shade trees on the sand.
9. Rancho Tico
Marlin Bill told me Nosara went from six restaurants to 55, and when I asked him which were some of the best, he named Rancho Tico without hesitation.
"They're consistently really good and their prices are excellent," he said. "It's probably the oldest standing restaurant in Nosara."
Rancho Tico is both a hotel and a restaurant, and it's something of a locals' secret because it's in Nosara centro, far from the beach (and the prices) in Guiones and Pelada.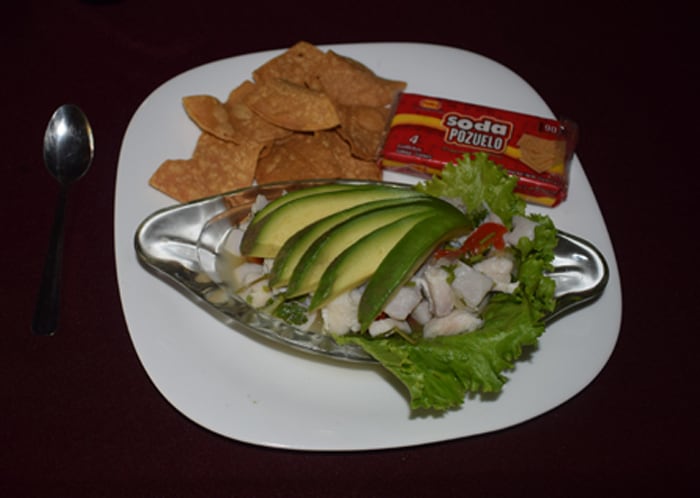 The huge restaurant is somewhat famous locally for traditional Costa Rican food, with all the dishes you would expect (ceviche, casados, arroz con pollo, seafood, chicken, beef, fish). There's a full bar and a dance floor where locals do Zumba at night.
The jefa here, Doña Victoria, told me she once seated 180 people for a high school graduation party. Yet she said Rancho Tico does not have a website, a Facebook page or an email address, and it never advertises.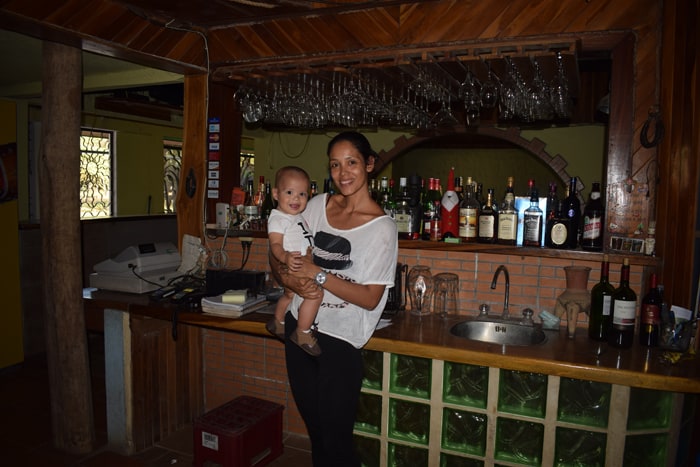 I met up here with some friends of friends, a couple of brothers who were barnstorming around Nicoya in a rented truck, and they brought in a mess of fish they had caught. The kitchen cooked them up in three styles — sashimi, grilled and deep-fried, and it didn't charge much for the trouble.
By the way, if you're looking for a place to stay, Rancho Tico is one of the best deals in town, with air conditioning, TV, fridges, mini-kitchens, Wi-Fi and everything else except hot water, a swimming pool or a beach — all for $20 a person. Shop around at the $80 hostels in Guiones, some of which also lack hot water, a swimming pool or a beach, and you'll know this is a steal.
10. Tibidabo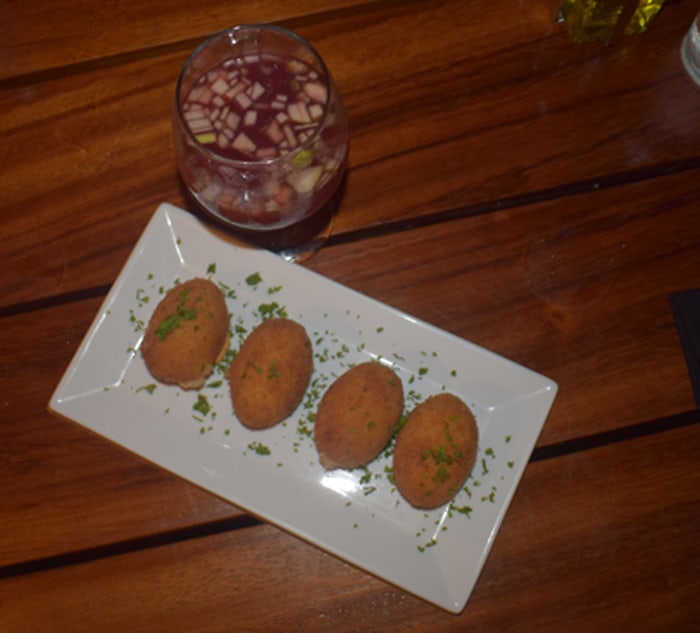 What would happen if a Spanish foodie who had worn a suit and tie all his corporate life left Spain after the meltdown of 2008, came to Nosara and realized there were no Spanish restaurants?
What happened was Tibidabo, an elegant tapas place just off the main street in Guiones that is among the finest dining experiences in town. Guiselle remarked, at the time and afterwards, that the place was beautiful, from the caña ceilings to the simple gray walls to the immaculate gardens.
I was more focused on the food, and after sipping the sangría and the house red, we were served four Spanish croquettes with chicken and vegetables, elegantly served on a white plate with a pink splash of what was probably aioli underneath each of them. I bit into one, and it melted in my mouth — it reminded me vaguely of an Arkansas hush puppy, but much softer and creamier, and much tastier.
Next came the montadito de pimiento asado, a harmonica-sized piece of bread topped with a grilled red pepper and anchovies — a happy collision of sharp and sweet flavors having a party on my palate.
If I had a larger appetite, I could tell you about the tuna tartare with avocado, mango and strawberry, or the shrimp sauteed in garlic, or the shredded fried eggs topped with shrimp and garlic. There are 37 tapas on the menu, not counting the pièce de résistance, the paella (which has to be ordered in advance). If there's anything bad on this menu, you might have to come back 37 times to find it.
Tibidabo is a mountain overlooking Barcelona, the hometown of Luis Velasco, whose mother used to tell him that if he ever got lost, he could find his way home if he walked toward Tibidabo. Luis came to Costa Rica, married a Tica named Laura, opened a restaurant and called it Tibidabo, his lifelong landmark for "home."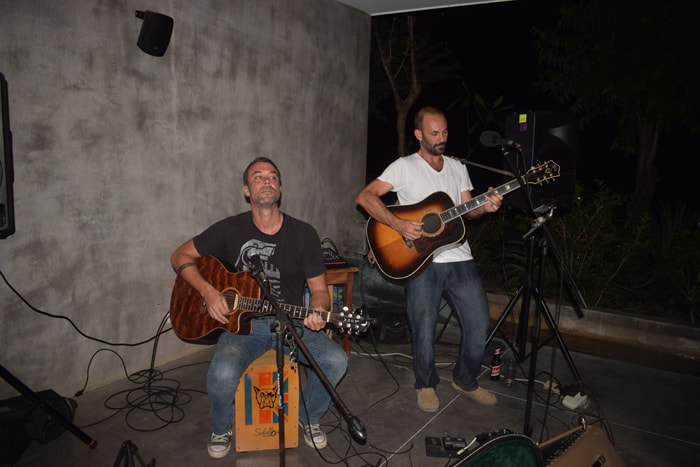 As we were talking to Luis, a great two-man band with the superb name Mini Super started playing in the corner, engaging the fifth of my overstimulated five senses. All we had were two tapas and a salad, but this was not a snack. This was an experience.