Recommended: The Tico Times interviews Lama Thubten Wangchen
It's noon on Sunday, Feb. 19 and we're at the home of Costa Rican artist Juan Carlos Chavarría's house in La Uruca, San José. As we pass through the garage, we enter a room filled with Chavarría's artwork made out of material from decommissioned guns. The Lama Thubten Wangchen, a special representative of the Dalai Lama to Europe, observes these vibrant and impressive piece, which contain a message of passive transformation through art.
An hour has passed. People keep entering the room to listen to the Lama's peaceful message. As everyone looks for a comfortable place, the Lama sits down on a white sofa in the center of the living room. As we all get comfortable, Chavarría introduces the Lama, who offers up a "pura vida" and a few words expressing how proud he is to be in Costa Rica.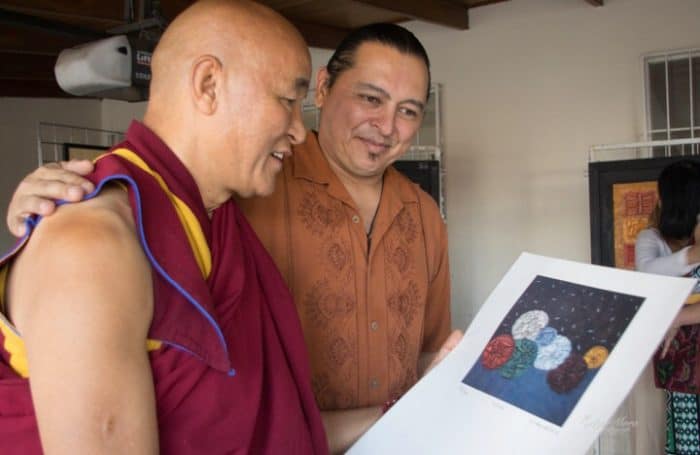 "Weapons destroy peace, nature and happiness. If there's no peace in a country, then how do we achieve it?" he asks his listeners.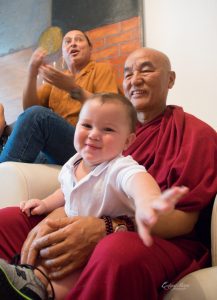 The Lama acknowleges that it is very easy to speak about peace, but much more difficult to truly achieve it. He recommends that the wisdom of the elderly be used as a tool of education for the younger generations, making it clear that they're the future of the world.
Dressed in the usual Tibetan monk's maroon robe, the Lama sits comfortably and describes our need for a more harmonious and peaceful society in which people smile more.
"[To reach] this peace, it starts with each one of us," he says. "You should feel proud of Costa Rica's peace, but we all need moral support, the support from all institutions, political and governmental."
As the Lama concludes this brief message, the young Costa Rican poet Ileana Castellón is introduced. She passionately recites a few lines on the topic of peace, reflecting on the critical moment in which humanity finds itself.
"It's very difficult to maintain this peace, but it's not a hard task when you're seeking it," Castellón says.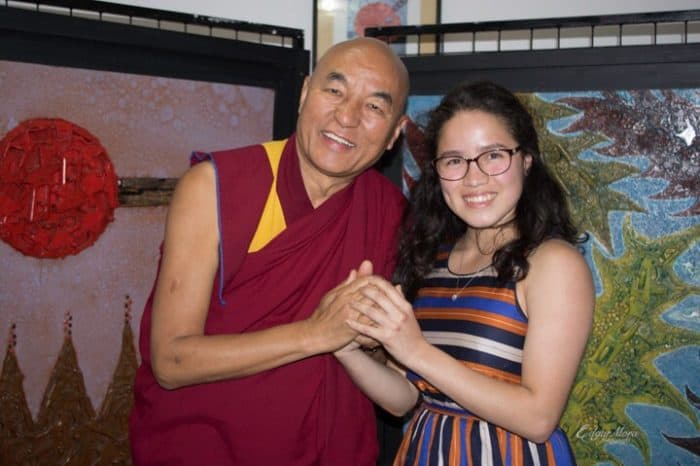 In this family-like setting, people freely express their concerns regarding the world's current turbulent situation. The Lama answers with a hopeful tone, explaining that humanity has always been conflictive, no matter the time period, and that a key to responding effectively is to listen to each other.
Time passes quickly while we discuss these topics. It's 2 p.m. already and we're on our way to another activity. Wangchen, his manager Ana Lorena Wong, photographer Edgar Mora, and I jump into a brown Nissan Qashqai to get to Renata Beffa's house in Villa Real, Santa Ana. As we drive along Ruta 27, Santa Ana's beautiful mountains are seen to our left.
We get to Villa Real and enter a beautiful, crea- colored home. As we enter, we take off our shoes and continue through the stairs to get to the living room. Slowly, people gather all over the living room and the terrace. The rooms gradually fill both with people and with calm and joyous music, thanks to musician Randall Nájera, with his violin, and Rodrigo Oviedo, with his guitar and keyboard.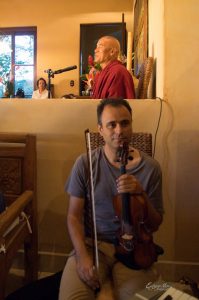 This spiritual gathering unites about 100 people from different parts of the world. Just from overhearing snippets of conversation, it is clear that the room is filled with people from Costa Rica, the United States, England, Tibet, Canada, Colombia, Italy, and Guatemala, all here to listen to spiritual guidance from the Lama.
The activity starts with a few words from behalf of Beffa as she introduces the Lama when he enters the room. He sat down in his chair, thanks everyone for coming and thanks the musicians. As he finishes thanking other people, he closes his eyes, puts his hands together and begins singing a chant.
He greets everyone and explains his visit to our country and the rarity of a Buddhist monk in Costa Rica. His main purpose is sharing his knowledge, exchanging ideas and enjoying time with the people he meets. Along with these desires, he focuses on the importance of having a healthy body and healthy mind in order to lead a balanced life in a humane world.
"We are humans looking for peace and happiness. Our socioeconomic status does not matter and all religions guide us towards being people of good. If you can't do any good, then do no harm. We're all in search of peace and happiness, but the problem will remain until everyone decides to change their interior. [We've got to] take care of our soul, spirit and conscience," the Lama tells the gathering.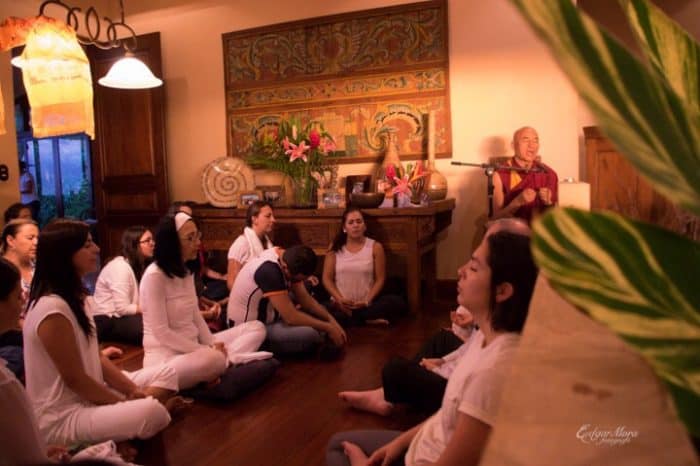 Wangchen refers to various other topics such as success, impermanence in the world, and life itself as a source of potential we can enjoy to develop our hearts, mind and souls. As well as in the previous activity, he mentions that the world is in suffering right now. Everyone has conflict at some point, he says. The question is how we will resolve these issues.
He explains that we've got to learn to forgive, accept and give compassion in exchange as a form of love towards others. This relates to the way in which karma works. If we act upon our good decisions, the well-being of our future will be the result. The same happens if we act based on hatred and negative feelings: the result will be a negative future.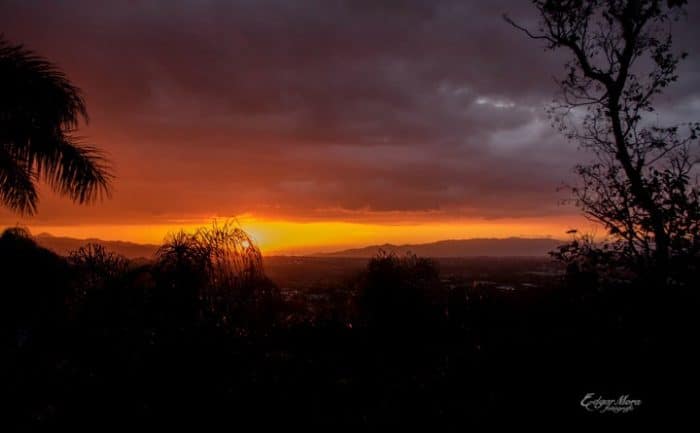 Ever day we are becoming older, so we must live with dignity and not be afraid of death: our future is entirely in our own hands.
A long day full of spiritual activities concludes with the singing  of some chants, along with the words Om Ah Ra Pa Tsa Na Dhi, Nájera and Oviedo's accompanying music, and beautiful vibrant orange sunset whose light illuminates us all.