Volcanologists follow presence of magma at Turrialba Volcano's crater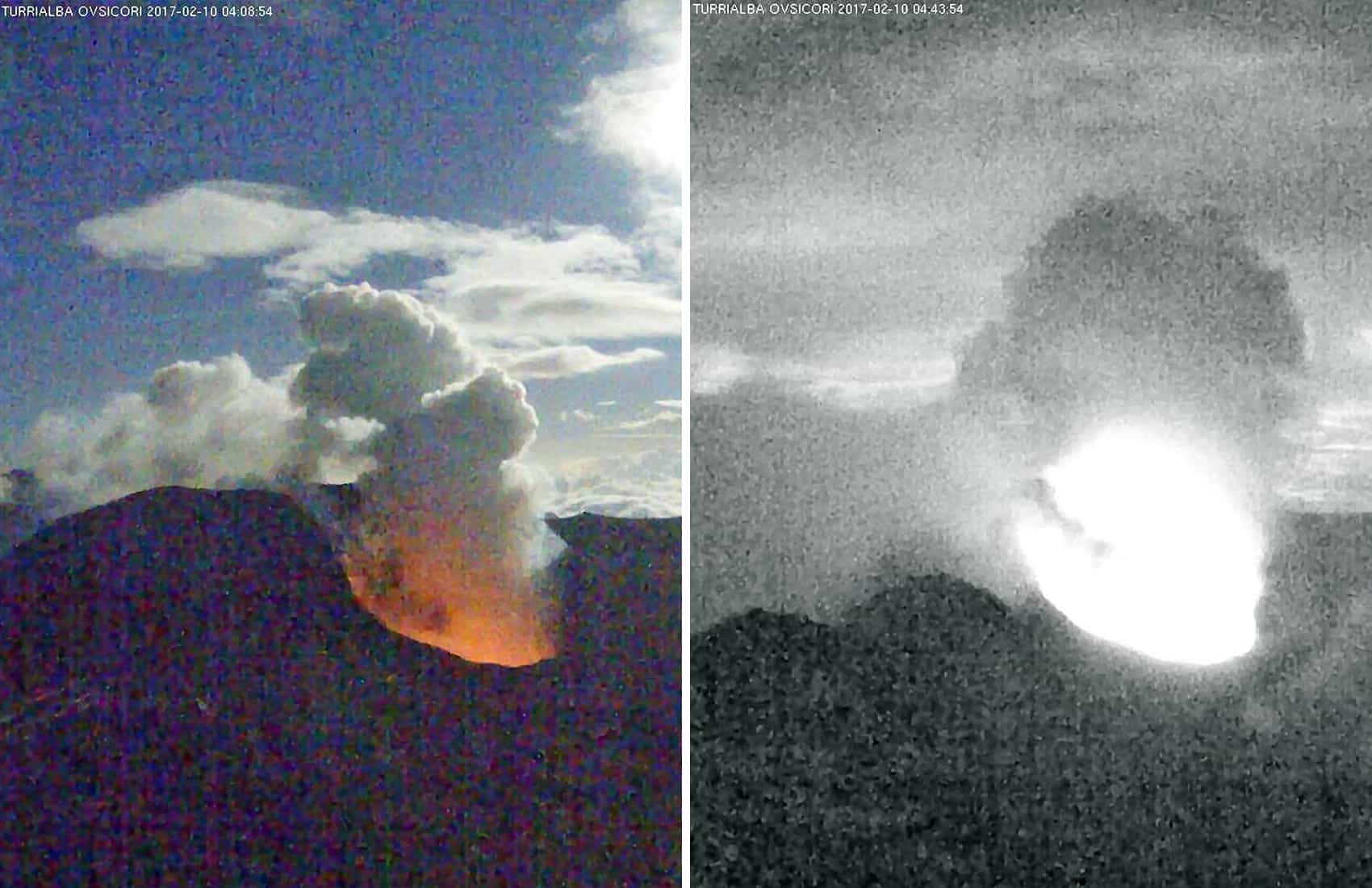 Experts from the Volcanological and Seismological Observatory of Costa Rica (OVSICORI) are closely following an increase in incandescence in the crater of Turrialba Volcano that, they say, suggests the presence of magma.
The agency on Friday morning reported that despite dense vapor trails over the crater it was possible to see a reddish glow. That glow "signals a high flow of thermal energy inside the crater from a semi-crystallized magma body close to the surface," the report noted.
Current weather conditions in the area have prevented OVSICORI staff from approaching or conducting flyovers with a drone over the crater. As a result, they have not been able to determine the exact origin of the incandescence or measure the depth of the magma body.
Turrialba, located some 70 Kilometers (43 miles) northeast of San José, has presented incandescence and spewings of incandescent materials in the past, though "expelled materials usually land in the surroundings of the crater and have not posed any risk to nearby communities," the agency noted.
Spewings of incandescent materials at Turrialba are similar to those that have occurred for decades at Arenal Volcano, the report adds.
OVSICORI volcanologist Marino Protti said in a Facebook comment that the incandescence coming out of the crater occurs because of high temperatures of rocks and gases inside.
See the incandescence visible through the vapor and ash plume on the crater.
Volcán Turrialba el 10 febrero 2017. Video de las 3:40 a las 4:20 a.m A pesar del denso vapor de agua en la pluma de gas y aerosoles, se logra apreciar resplandor rojizo dentro del cráter activo del Turrialba señalando un alto flujo de energía térmica en el interior del cráter activo proveniente de un cuerpo de magma semi-cristalizado y relativamente pobre en volátiles magmáticos (gases) que se encuentra cerca de la superficie terrestre.Imagen: Webcam ubicada en la cima del volcán Turrialba a unos 950 metros al sureste del cráter activo administrada por el OVSICORI-UNA y donada por USAID-OFDA-LAC de los Estados Unidos de América . M. Martínez.

由 OVSICORI-UNA 发布于 2017年2月10日
Ashfall continues
OVSICORI also reported continued ash spewings over the past several days, although at lower intensities than those recorded last month.
Ash and gas explosions in the first days of January prompted the National Emergency Commission to declare a Green —Informative— Alert for the Central Valley. On Jan. 26, agroup of volcanologists found rocks from a magmatic eruption a full 200 meters (656 feet) from the crater.
OVSICORI last year warned that spewings of incandescent materials at Turrialba could increase in frequency and volume. However, volcanologists at the time noted that this is an expected behavior for an active volcano.
You may be interested