In San José this week, Starbucks officially presented its Hacienda Alsacia coffee, a new variety of Arabica named after the farm that the company owns in Costa Rica.
Country Manager Mónica Bianchini said at a press conference on Thursday that Alsacia is available exclusively at Starbucks shops in Costa Rica. The Seattle-based company is currently conducting research to assess options to take it to other countries, she said.
Bianchini described the new coffee's taste this way: "medium body, medium acidity, and fairly balanced by citrus and milk chocolate accents."
Starbucks experts managed to get a balanced and subtle flavor by breeding and combining various varieties such as Catauí, Caturra and Villa Sarchí, she told The Tico Times.
The company grows Hacienda Alsacia between 1,400 and 1,600 meters (4,593- 5,249 feet) above sea level on the very fertile slopes of Poás Volcano.
The farm is also home to Starbucks' Global Agronomy Research & Development Center, where the company conducts research to develop new coffee varieties.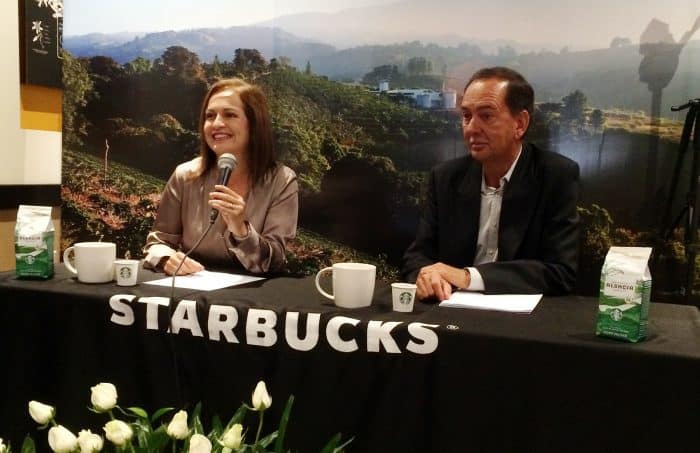 Resistant coffee variety
Starbucks Director of Global Agronomy Carlos Mario Rodríguez Solís said research in the past four years lead them to develop the new variety.
Investigators sought to produce a top-quality coffee, but also crops than can endure the effects of climate change as well as plagues and disease. The Hacienda Alsacia variety is resistant to coffee rust, which since 2011 has caused billions of dollars in losses for producers in Costa Rica and other Latin American countries.
Production techniques developed at the research facility also protect trees and cherries from the coffee berry borer, various species of nematodes — roundworms — and other pathogen agents, Rodríguez said.
Technologies developed at the global center are open source, meaning that it is available to other farmers.
"We want to help them improve their production and protect the quality of their crops," Rodríguez told The Tico Times.
The new variety also significantly improved production costs and eficiency.
"We managed to harvest more than 300,000 pounds just in our first year," Rodríguez said.
The Starbucks research and development project in Costa Rica started in 2004 when the company opened its Farmer Support Center. The facility allows agronomists and farmers to work together and share information about increasing coffee productivity and quality.
Links with Costa Rica consolidated in 2013 when Starbucks acquired the 240-hectare farm. The estate, located in the province of Alajuela, is the company's first and only experimental farm, Bianchini said. Crops of the new Hacienda Alsacia variety are planted within a 70-hectare area.
Bianchini noted that the production of the new variety will not have an impact on purchases that Starbucks makes from other Tico producers.
Buy it, brew it
Hacienda Alsacia is already available at all Starbucks shops in Costa Rica, and customers can order their espressos, lattes or cappuccinos prepared with the Tico coffee.
It is also available in 250-gram bags of whole beans, which customers can ask staff to grind for them if they prefer to take home ground coffee.
The coffee package also pays homage to Costa Rica, depicting the Poás Volcano slopes at Hacienda Alsacia, Bianchini added.
Costa Rica has been a major coffee supplier for Starbucks since the company started in 1971. The first Starbucks in Costa Rica opened in Escazú, southwest of San José, in 2012. Today the global brand has 11 cafés here.