Francisco Cascante, better known by his friends as "Paco," is an artist in the whole sense of the word: he's a musician, actor and artisan, and also likes to draw. He says that while his mother, a retired art teacher, gave him Nicaraguan blood, and his father, a retired graphic design teacher, gave him Costa Rican blood, "on both sides is the 'vein' of art… the matter of getting into the arts was a very natural and practically instinctive thing."
Cascante plays the guitar and the drums, and also offer drums classes; he studied scenic arts and music education for at time at the University of Costa Rica (UCR) before studying musical production at VonKelemen Academy. Along the way, he learned that one of his foremost passions is creating music for the theater. Two years ago, he also started a company called "Elefanteasis" ("The Elephant Fantasy"), where he started out designing bookmarks and moved on to handmade notebooks.
The Tico Times talked to the artist about his new project, the challenge of creating music for plays, and his path through the theater. Excerpts follow.
Where did the idea of making notebooks come from?
One of those days [when I was selling bookmarks] I came across Hortensia, a beautiful Argentine person who, along with some friends, has a company called "Para las Almas Sensibles"  ("For Sensitive Souls"). They were offering an artisan binding workshop. As soon as I found out about it, I did everything, the possible and impossible, to get a space in the workshop. There, I learned the art of binding that I have been perfecting over time.
Today the company is named "El Elefantero" and is in the process of development: the products I offer are mainly handcrafted notebooks and bookmarks. I also have some paintings to which I do not give much publicity. I need to define a specific personality for the company.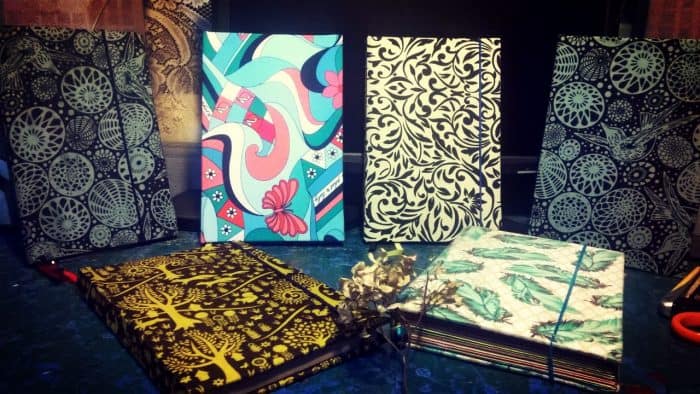 What inspires you when you  make a notebook?
I'm a person who believes in energies, including the energy that each person possesses and that in some way is perceptible. When I choose the colors of the sheets that the notebook will hold, I try to capture that energy… There is nothing that assures me that I did it correctly, but it is beautiful when I observe the people's reactions and notice their emotion when receiving their handmade notebook.
I try to make every notebook with the maximum possible love. A notebook can be a door to thousands of worlds: it can be a story, it can be a poem, it can be drawings or loose sentences. We know that we can express practically any human question or feeling without anyone's judgement. It leads you to a moment of release and expression, and all this I take into account in my work.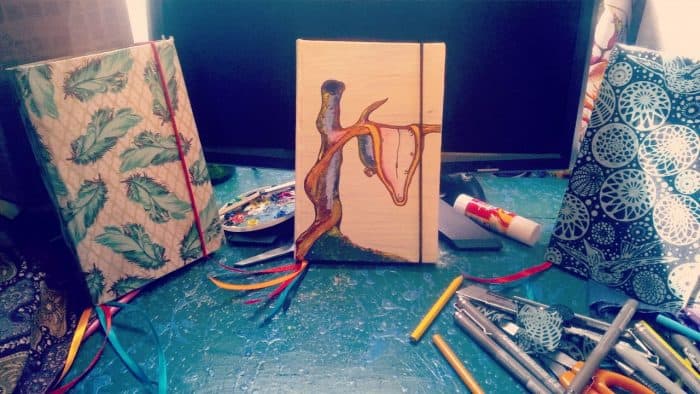 What's it like to create songs for theater?
We have to consider the concept that we want to achieve in the play. In the end, music in theater, if it is used well, is more than a support or reinforcement. The music becomes the scene itself, another character.
The play "Frappé," for example, was a story of abandoned dogs, played by puppets. In pre-production the target audience was already established: children. When the music is created, it is necessary to take this into account. Children are often very dynamic, playful and easily distracted or bored, so music should respond to this by being energetic, full of movement, fluent, and easy to understand.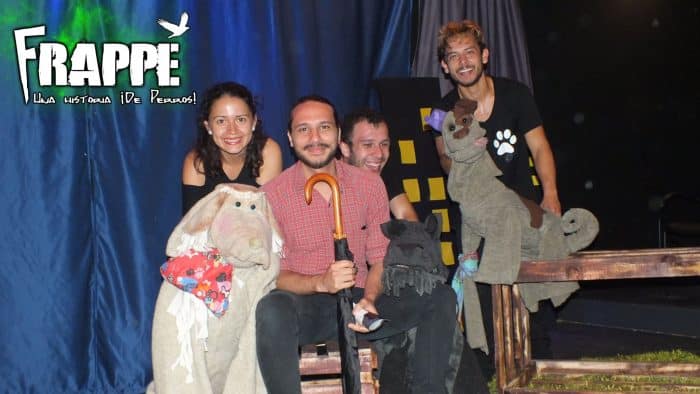 What's the creative process of creating the song?
Creating a piece of music to accompany an artistic performance is something very beautiful that requires caution. You have to analyze the text or the scene thousands of times to achieve the correct empathy with it. From choosing the correct scale and melody, to considering the accompaniment, to imagining the scene and how the music will affect the movement and qualities of the actors and the audience and the small accents and pauses that will further enrich the stage moment… all this must be precisely calculated, including the duration of the song.


What happened to your stint as a theater actor?
In high school there was a visual artst eacher, Benny Herrera, who always encouraged and motivated theatrical movement in students because of his own passion for it. When I was in ninth grade I found a call for auditions, I risked it, fighting all my fears, and got into a small theater group. I really loved doing it, maybe because I was an introverted person: I managed to live that euphoria of extroversion even for 30 minutes on stage. I decided to study Dramatic Arts at the UCR. I was in love with the career for two years, and then I had a loving breakup with it.
At the moment I feel a certain rejection towards the theater, or rather towards myself as an actor. Perhaps it was a necessary phrase, a return to introversion.