See also: A small town unites to help Hurricane Otto victims – the Costa Rican way
President Luís Guillermo Solís concluded this week's tour through the areas most affected by Hurricane Otto, lamenting the tragic loss of life but promising continued repairs and a return to normalcy.
His travels ended Wednesday in the Barra del Colorado region in northeast Costa Rica, where he was able to take the time to applaud the work of local officials and community members for their bravery during the storm.
"More than 4,000 people were evacuated in 48 hours thanks to the instituciones, the firefighters, the Red Cross, and especially the local people that were called to action and helped out," Solís said. "It was you, the community members, who saved lives and prevented any more deaths than those that unfortunately happened. I guarantee that any continuing problems will be attended with speed and transparency."
He added upon his return to San José that the emergency stage of the disaster has already passed, while reconstruction for many lives and rural communities has just begun.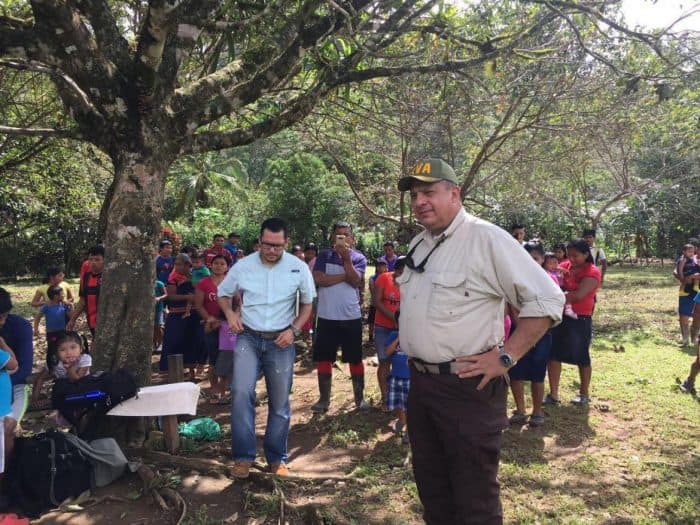 Preliminary numbers from government institutions including the Mixed Institute for Social Aid (IMAS) indicate that more than 270 houses suffered significant damage during the worst of the hurricane on Nov. 24. Some of those are being repaired or totally rebuilt through support from IMAS; thousands of families were forced into shelters during the hurricane.
IMAS allowed certain families to apply for subsidies to rent housing while repairs are made to their permanent homes. Total housing costs from the storm could cost upwards of ₡1.8 billion (more than $3 million), according to the government.
The Public Works and Transport Ministry (MOPT) and the National Roadway Council (CONAVI) have invested ₡11.59 billion (a little more than $21 million) on road repairs throughout the country. The majority of the affected routes – 350 of the 400 most affected points – have have been fixed and reopened for traffic.
Solís said Wednesday that the government has been made aware of the various aqueducts and farms destroyed or harmed by Otto and that officials will work to recover that important infrastructure as soon as possible. According to numbers from the National Water and Sewer Institute (AyA), more than 122 water sources have been reestablished already, as 37 more remain in repairs.
Still time to make donations
There's no denying that during the natural disaster, Costa Ricans, foreign residents and people around the world have rallied around those in need. Donations have been pouring in from seemingly every notable business, nonprofit organization, and even sites beyond Costa Rican borders.
The organizations mentioned in our original donation article continue to seek donations for anyone interested in helping reconstruction efforts in the Northern Zone, Caribbean, and Southern Zone communities.
Another donation site has popped up at www.hurricaneotto.org where potential donors can provide shelter, water, and new homes to those in Upala and Los Chiles who lost everything to Hurricane Otto. In coordination with the nonprofit Amigos of Costa Rica, a team of business leaders began the fundraiser to invest funds in the immediate needs of these hard-hit communities. According to the site, Atkinson Toyota USA and Purdy Motor Costa Rica will match all donations to $100,000.
Those interested can either donate to the GoFundMe page provided or send a tax-deductible check to an address given on the website.
See also: Here's how you can donate to Hurricane Otto relief in Costa Rica